Danny Tarkanian to run for US Senate seat held by Dean Heller
Updated August 8, 2017 - 5:40 pm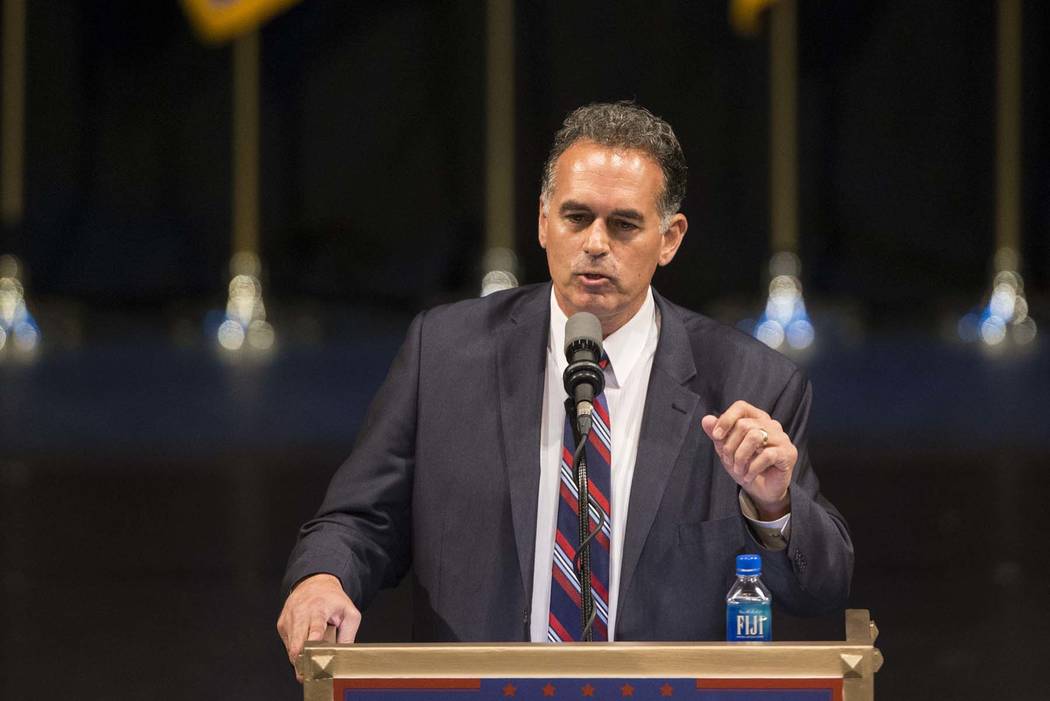 Frequent candidate Danny Tarkanian said Tuesday he will challenge fellow Republican Dean Heller, Nevada's vulnerable incumbent senator, in 2018.
In a statement announcing his candidacy, Tarkanian said Heller "turned his back on us."
"I think Dean Heller's changed his position on so many different votes that he's lost so much credibility with the voters," Tarkanian said in an interview with the Review-Journal. "He keeps breaking his promise to voters in Nevada. They feel they can't trust him anymore."
Heller's campaign dismissed Tarkanian as a "perennial candidate."
"Nevada voters have rejected him every time — including less than a year ago against Jacky Rosen," Heller's campaign spokesman Tommy Ferraro said in a statement. "He's wasted conservatives' time and cost the Republican Party seats up and down the ballot. If he ultimately files for U.S. Senate he will lose in the primary."
Tough primary ahead
Tarkanian's announcement sets up a tough primary battle with Heller, who has faced recent pressure from both Democrat and Republican groups. U.S. Rep. Jacky Rosen, a Democrat, also wants the seat.
Heller was considered vulnerable before Tarkanian announced his intentions, partly due to the Senate's failed attempts to repeal the Affordable Care Act, also called Obamacare.
After pushing for most of his senate career to repeal the health care law, Heller changed his approach in June, when joined Gov. Brian Sandoval to publicly oppose a proposal to repeal Obamacare. The move sparked the America First Policies super PAC, which is run by President Donald Trump's former campaign advisers, to launch a $1 million ad campaign against him the next day.
That ad campaign was cut short, but during a July meeting in which Trump attempted to persuade GOP senators to repeal Obamacare, the president issued a not-so-veiled threat to Heller.
Trump, sitting next to Heller, remarked "He wants to remain a senator, doesn't he?" as Heller grinned.
Despite voting in line with his party for the for the Senate's so-called "skinny repeal," Nevada voters are unhappy with Heller, according to recent polls.
A survey by Public Policy Polling showed that 22 percent approve of Heller's job performance, compared to 55 percent who disapproved.
Strategic National, a Republican-leaning consulting firm, reported that Heller's approval rating among Nevada Republicans is 31 percent, according to The Daily Caller. That poll also found that 43 percent of Nevada GOP voters disapprove of Heller.
The Strategic National poll also pitted Heller and Tarkanian against each other, with 38 percent support to Heller and 34 percent to Tarkanian. The results fell within the poll's 4.4 percent margin of error.
The Senate GOP's campaign arm released a statement soon after Tarkanian announced his run, saying it stands firmly with Nevada's senior senator. Heller was appointed to the Senate in 2011 and won re-election in 2012.
"Time and again, Senator Dean Heller has proven he is unafraid to put Nevadans first," said National Republican Senatorial Committee spokesman Michael McAdams. "The NRSC fully supports Senator Heller in his primary and general elections, and we are confident he will be re-elected."
Tarkanian with Trump
In a statement, Tarkanian said he is "proudly on the team of President Trump," and supports Trump's policies to repeal Obamacare, end sanctuary cities and defund Planned Parenthood.
Tarkanian accused Heller of helping Hillary Clinton win Nevada last year by being a "Never Trumper," and blasted him for his stances on the GOP's multiple pushes to repeal Obamacare.
Tarkanian said he not spoken to any third-party groups about support. A spokeswoman for America First Policies did not respond to requests for comment.
Tarkanian's history
Tarkanian, the son of the legendary UNLV basketball coach Jerry Tarkanian, is a businessman and attorney who has run unsuccessfully for secretary of state, state senate and the U.S. House and Senate. He won the Republican nomination in four of those five runs.
He did not make the general election in 2011 — when he last ran for U.S. Senate.
Tarkanian lost that GOP primary, coming in third to former state Sen. Sue Lowden and eventual nominee Sharron Angle. Angle went on to lose to Harry Reid in the general election.
But, Tarkanian is coming off the closest election of his career.
He defeated the party-favored Michael Roberson in last year's GOP primary for Nevada's 3rd Congressional District before losing to Rosen in the general by less than 1.5 percentage points. Tarkanian's three previous general election losses were by about 8 percentage points.
If Tarkanian and Rosen face off in November, he said he intends to use a pending defamation lawsuit he filed against her and her campaign.
The lawsuit centers on television and social media ads that used Tarkanian's past role as the registered agent for companies that acted as fronts for fraudulent charities. One ad, for example, said "seniors lost millions from scams Danny Tarkanian helped set up." Registered agents typically have a limited role and do not deal in day-to-day operations. Similar ads were used against Tarkanian in his other election bids.
"Jacky Rosen ran her whole campaign against me using defamatory attacks. She went as low as possible to get elected," Tarkanian said.
Rosen spokeswoman Ivana Brancaccio said the congresswoman is confident the lawsuit will be dismissed.
"While Danny Tarkanian is clearly playing political games, Congresswoman Rosen is serving her constituents and fighting for Nevada," Brancaccio said.
Contact Colton Lochhead at clochhead@reviewjournal.com or 702-383-4638. Follow @ColtonLochhead on Twitter. Contact Sean Whaley at swhaley @reviewjournal.com or 775-461-3820. Follow @seanw801 on Twitter.