GOP candidate for Senate in West Virginia calls Las Vegas home
Updated May 7, 2018 - 4:51 pm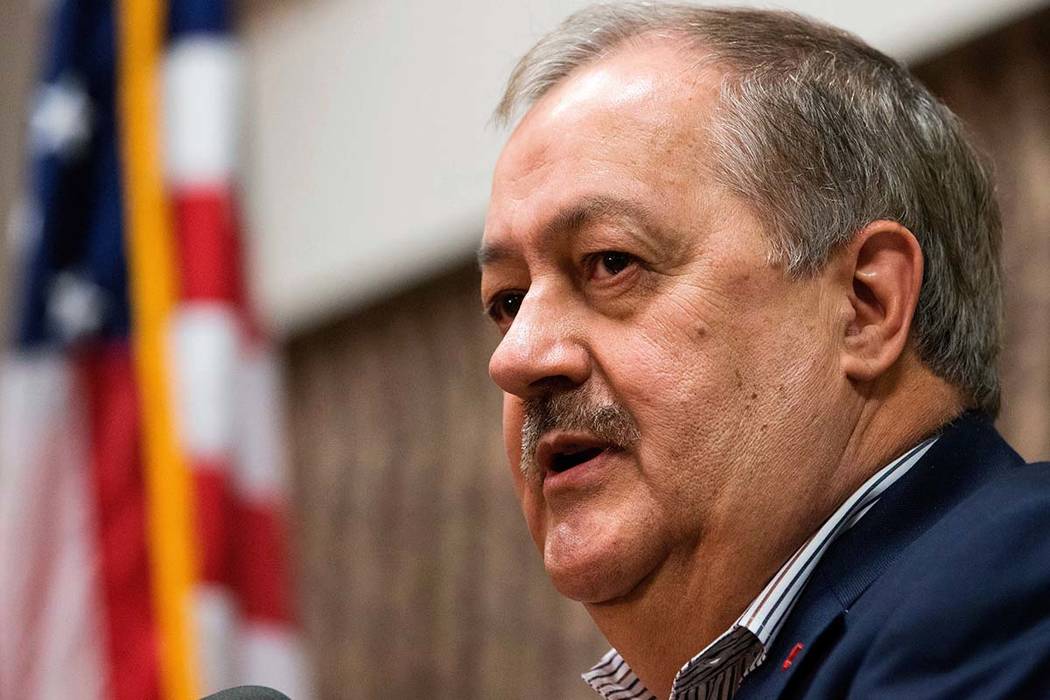 WASHINGTON — Don Blankenship is on probation after spending a year in prison for mine safety violations that contributed to the deaths of 29 West Virginia coal miners in 2010. Nonetheless, the coal baron has a shot at winning that state's GOP primary Tuesday — even though he's told probation officials that Las Vegas is his home.
Could Nevada get a third senator thanks to West Virginia voters?
That's unlikely, argue President Donald Trump, Senate Majority Leader Mitch McConnell and key Mountain State Republicans, who have warned that a Blankenship primary win could assure Democratic Sen. Joe Manchin's re-election.
To the great people of West Virginia we have, together, a really great chance to keep making a big difference. Problem is, Don Blankenship, currently running for Senate, can't win the General Election in your State…No way! Remember Alabama. Vote Rep. Jenkins or A.G. Morrisey!

— Donald J. Trump (@realDonaldTrump) May 7, 2018
Monday morning, Trump tweeted that Blankenship "can't win the General Election." Trump compared the coal baron to Roy Moore, the Alabama judge who won the GOP primary for the Senate seat vacated by Attorney General Jeff Sessions, only to watch Democrat Doug Jones win a race that should have been a slam dunk for Republicans.
Trump urged West Virginia Republicans to vote instead for Attorney General Patrick Morrisey or Rep. Evan Jenkins.
"He really wants to win that seat" from the Democrats, observed GOP consultant Matt Mackowiak.
Manchin's failure to support the GOP tax cut package and health care plan — despite his "centrist" brand — has disappointed Trump. At the same time, GOP Sen. John McCain's absence from Capitol Hill has punctuated how important one seat can be to the fragile 51-seat GOP majority.
The 68-year-old Blankenship, former CEO at Massey Energy, reacted to Trump's tweet by pronouncing that it meant he was "Trumpier than Trump" — with passion for draining the swamp, challenging entrenched GOP leaders and embracing politically incorrect rhetoric.
In a campaign ad, Blankenship pledged to "ditch cocaine Mitch" McConnell for creating "millions of jobs for China people" – a reference to the shipping business of the family of McConnell's wife Elaine Chao, the secretary of transportation who was born in Taiwan. Some 40 packages of cocaine were found on one of the company's ships.
"Cocaine Mitch," noted Henry Olsen of the Ethics and Public Policy Center, is not the sort of language winning campaigns use.
It's also unusual for recently convicted criminals to run for office. But on his Web site, Blankenship wrote that he beat the felony charges thrown at him and was convicted of a misdemeanor conspiracy charge. After his December 2015 conviction, he referred to himself as a "political prisoner."
In 2014, Blankenship's attorneys told the courts their client no longer lived in West Virginia, but instead voted and paid taxes in Nevada, and he had a Nevada driver's license.
In October 2017, the Charleston Gazette-Mail reported, a probation officer informed a federal magistrate, "Blankenship plans to make the district of Nevada his primary domicile, and has purchased a home in Las Vegas, Nevada."
Two months later, Blankenship's West Virginia voter registration application was approved, according to the secretary of state's office.
Election attorney Jan Baran explained that the U.S. Constitution sets few restrictions on running for U.S. Senate. To qualify, he said, "you simply have to reside in that state and be over the age of 30."
In 2000, GOP nominee George W. Bush picked fellow Texan Dick Cheney to be his running mate, despite language in the Constitution that discourages same-state tickets. In short order, Cheney changed his residence to Wyoming, where he also owned a home. Problem solved.
Baran sees Blankenship's return to West Virginia in the same light. "It's not a legal problem," he said. "It can be a political problem, of course."
West Virginia University political science professor John Kilwein doesn't see much of a political problem at all. He doesn't think Trump's anti-Blankenship tweet will dent the coal baron's standing; to the contrary, it reinforced suspicion that Blankenship could win the nod.
"If his campaign isn't dead after what happened with the mine explosion," said Kilwein, then his Las Vegas residency won't tilt the scale.
Nevada Republican Party Chairman Michael McDonald told the Review-Journal he had no idea that Blankenship was a Nevada resident.
Then added, "We love everybody coming to Las Vegas."
Contact Debra J. Saunders at dsaunders@reviewjournal.com or 202-662-7391. Follow @DebraJSaunders on Twitter.