Gov. Sandoval tells feds he's an opponent on Yucca Mountain
Updated April 28, 2017 - 10:54 pm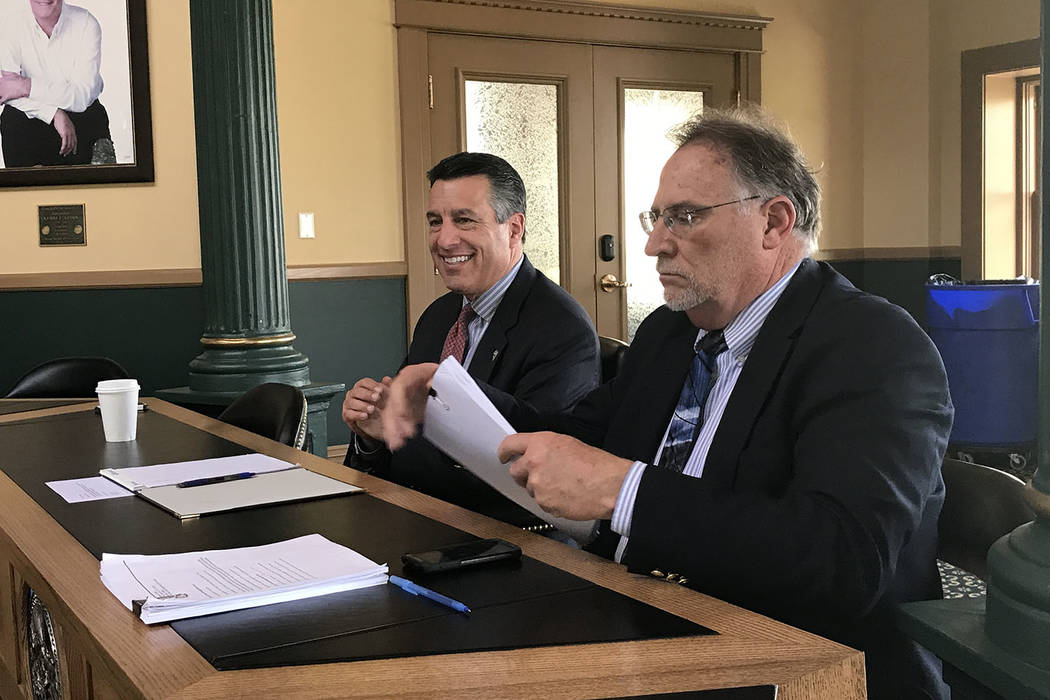 CARSON CITY — Gov. Brian Sandoval made it clear to the Trump administration that Nevada will fight any attempts to open the Yucca Mountain nuclear waste repository and will proceed with retail sales of recreational marijuana.
Sandoval, who just returned from a whirlwind, two-day trip to Washington, D.C., briefed reporters Friday at the Capitol on his discussions with key administration officials.
Yucca Mountain
Sandoval met with Energy Secretary Rick Perry, whom Sandoval endorsed early in the 2012 presidential race.
President Donald Trump and key congressional lawmakers are pushing to address the permanent disposal of 77,000 metric tons of waste temporarily stored at nuclear reactors across the country. Yucca Mountain, roughly 100 miles northwest of Las Vegas, was mothballed years ago when the Obama administration pulled funding for it, but the site is once again being eyed as a solution.
"It's no secret that he and I have a past relationship," Sandoval said of his friendship with Perry.
"I've always made it extremely clear to him that, when it comes to Yucca Mountain, I am absolute in my opposition to that project; that whether we're friends of not, we're not friends on this."
Sandoval said Perry understands that, and the tone of the conversation was essentially that both have a job to do, Perry for the Trump administration and Sandoval for Nevada.
"So I'm going to do my job better than they do," Sandoval told reporters.
Marijuana
In his meeting with U.S. Attorney General Jeff Sessions, Sandoval said, he reiterated that Nevada will move ahead with retail sales of recreational marijuana. The governor has proposed a 10 percent tax on retail pot sales and included $70 million in projected revenues in his budget.
Sessions is a former U.S. senator and U.S. attorney in Alabama. His public stance that marijuana remains illegal under federal law has raised concerns about a possible crackdown in states that have legalized pot.
"It's no secret he doesn't like it," Sandoval said.
Nevada voters legalized medical marijuana in 2000, and last November they approved adult recreational use, allowing for retail sales and possession of up to an ounce.
The governor opposed recreational marijuana but said he told Sessions Nevada will move forward with implementation after the voters spoke.
Sanctuary cities
Last week the Trump administration warned Clark County and other jurisdictions that they must prove they are enforcing federal immigration laws or risk losing hundreds of thousands of dollars in federal grants.
The threats come as the U.S. Justice Department pursues stricter enforcement of immigration laws and greater cooperation from cities and states amid a movement by some to declare themselves sanctuaries for undocumented immigrants.
Last year, Clark County was labeled noncompliant with federal law because the county jail declined immigration "detainers," U.S. Immigration and Custom Enforcement's requests to hold potentially deportable inmates for up to 48 hours after their scheduled release date.
The Metropolitan Police Department stopped cooperating in 2014 after a federal court ruled a woman in Oregon could not be held in jail past her release date without cause.
Metro shifted its policy in January and now starts the 48-hour detainer clock after notifying ICE at booking when a person is identified as a potential immigration violator.
Still, Clark County was included in two lists ICE published this year naming the top "non-cooperative jurisdictions" in enforcing federal immigration laws.
Sandoval said he told Sessions that Clark County is in compliance, and he urged the Justice Department to meet with Sheriff Joe Lombardo to work out misunderstandings.
"I think it's just a matter of putting them together," the governor said.
Contact Sandra Chereb at schereb@reviewjournal.com or 775-461-3821. Follow @SandraChereb on Twitter.
What he did in D.C.
During a trip this week to Washington, D.C., Gov. Brian Sandoval met with four of President Donald Trump's top officials, including Energy Secretary Rick Perry, Attorney General Jeff Sessions, Interior Secretary Ryan Zinke and EPA Administrator Scott Pruitt.
He also met with two White House staffers on infrastructure priorities.
Overall, Sandoval said he was pleased by the reception he received and gave the Trump administration positive marks for accessibility and responsiveness to Nevada.
He said his face-to-face meetings helped foster a relationship for continuing dialog on issues important to the state.