Heller, confident in re-election, promotes record in Congress
Updated July 7, 2018 - 11:56 pm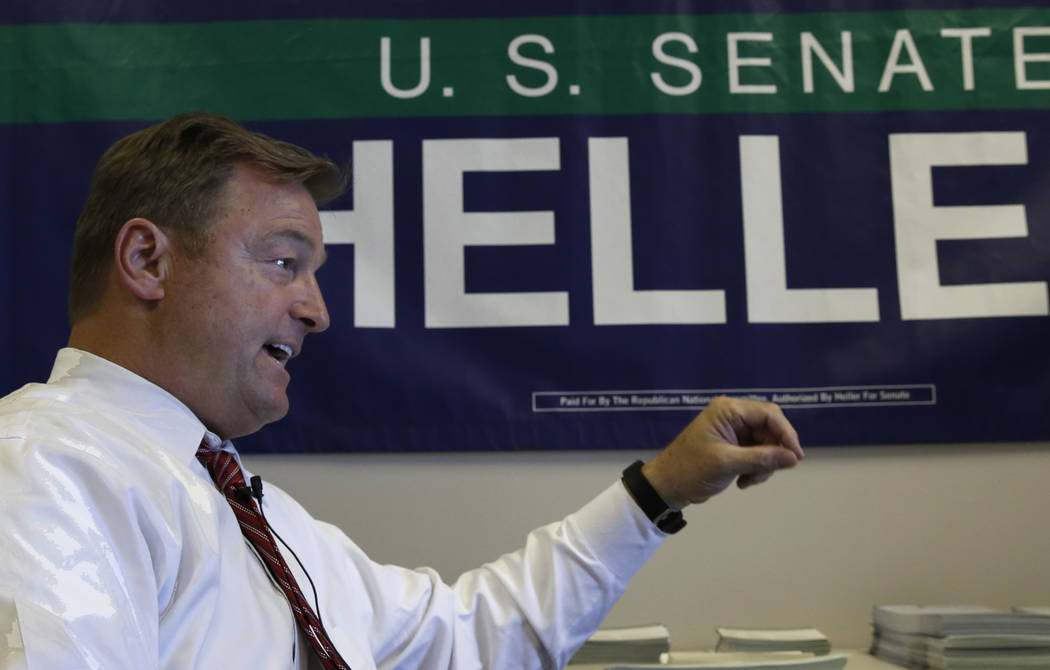 Many political analysts call him the most vulnerable Republican U.S. senator in the country. Dean Heller isn't losing sleep over the label.
"I have never lost an election," said Heller, Nevada's senior senator, who faces Democratic U.S. Rep. Jacky Rosen in his bid for re-election. "At the end of the day, Nevada wants someone who delivers for Nevada. What is on my opponent's record? Show me anything that she has done."
Heller, a 58-year-old father of four who moved to Nevada from California when he was an infant, got his start in politics in 1990 by winning a seat in the Nevada Assembly. He was elected Secretary of State five years later and then served in the U.S. House for two terms from 2007 to 2011 before being appointed by Gov. Brian Sandoval to the U.S. Senate and winning a full term to the upper chamber in 2012.
Now he's the only Senate Republican up for re-election in a state won by Hillary Clinton.
Republicans hold 51 seats in the Senate and may need to hold Heller's seat to keep the majority. Rosen has outraised him 2-to-1 — with 86 percent of her campaign cash from outside Nevada — in the past two quarters, campaign finance records show.
But it could be worse.
"I would rather be me than whoever comes out of the Arizona (Republican) primary," said Heller, referring to the race to replace retiring Sen. Jeff Flake, that includes embattled ex-Sheriff Joe Arpaio.
Heller said he'd "rather be me" than Sens. Joe Manchin, D-W.Va.; Joe Donnelly, D-Ind.; Heidi Heitkamp, D-N.D.; or Claire McCaskill, D-Mo. The four Democrats face difficult re-election campaigns and are viewed by the GOP as winnable seats in November.
Touting his resume
Heller says his record in Congress will carry him to victory against Rosen, who has spent less than one term in office.
In an exclusive interview with the Review-Journal, Heller said he has passed 86 pieces of legislation while Rosen has passed none. Rosen spokesman Stewart Boss refuted the claim, saying the congresswoman has directly co-sponsored six bills that have been signed into law and co-sponsored 398 bills overall. Rosen has agreed to a similar sitdown interview with the Review-Journal in August.
Heller pointed to a bill to restart the Yucca Mountain project that passed the House but was stopped in the Senate.
"She wasn't able to stop the funding of Yucca Mountain," Heller said. "It comes over to the Senate and we put a complete stop and killed the bill."
Heller has had a rocky relationship with President Donald Trump that included a Trump jab at Heller's re-election chances when the senator opposed an attempt to repeal the Affordable Care Act. Like many Republicans, Heller initially opposed Trump's presidential campaign but has since supported many of his policies, including tax reform and efforts to repeal the ACA.
Trump has since been a powerful ally for Heller, making the senator's path to re-election easier when he persuaded Danny Tarkanian to leave the Senate race and spending a whirlwind day in Nevada stumping for Heller.
Heller is still pushing the Graham-Cassidy proposal to repeal and replace the ACA, one of Trump's campaign promises.
"We're still having meetings to this day trying to figure out the best way to get that concept passed," he said. "If we have 51 votes, it'll come back in a heartbeat."
One strategy for congressional Republicans seeking re-election: touting the GOP tax bill that Heller helped author. Heller said it has created jobs and boosted salaries and bonuses for Nevada workers. As for the $1.5 trillion the bill is expected to tack onto the national debt, Heller said the only way to overcome debt is to grow the economy.
The senator also said he supports Trump's pledge to build a wall along the U.S.-Mexico border, but only after getting feedback from border agents about methods to enhance security. He also supports creating a path to legalization for people who were brought to the country illegally as children.
Heller strongly opposes so-called sanctuary cities, where local law enforcement officials do not cooperate with federal immigration authorities.
"I believe our local sheriff's department should be talking to the feds when they know there is a criminal element involved when it comes to our immigration policies," Heller said. "That's why I just introduced legislation to get criminal illegal aliens out of the country, and specifically on MS-13."
On the topic of gun control, Heller said he supports banning bump stocks but not assault rifles. He considers himself a defender of the Second Amendment and said Rosen wants to repeal it. Boss called that claim "absurd and dishonest."
Heller said he co-authored legislation to expand background checks and provide grant dollars to protect schools. Heller isn't opposed to arming teachers — his wife is a teacher — if they are trained and willing to carry a weapon.
"Let's get to the crux of the problem here," Heller said. "These young, white male adults that are coming in and shooting schools are all cowards. If they thought for a minute someone would be shooting back at them, they wouldn't go to that school. Or any school for that matter."
Contact Ramona Giwargis at rgiwargis@reviewjournal.com or 702-380-4538. Follow @RamonaGiwargis on Twitter.