House expected to OK Yucca Mountain bill, despite opposition
Updated May 8, 2018 - 6:29 pm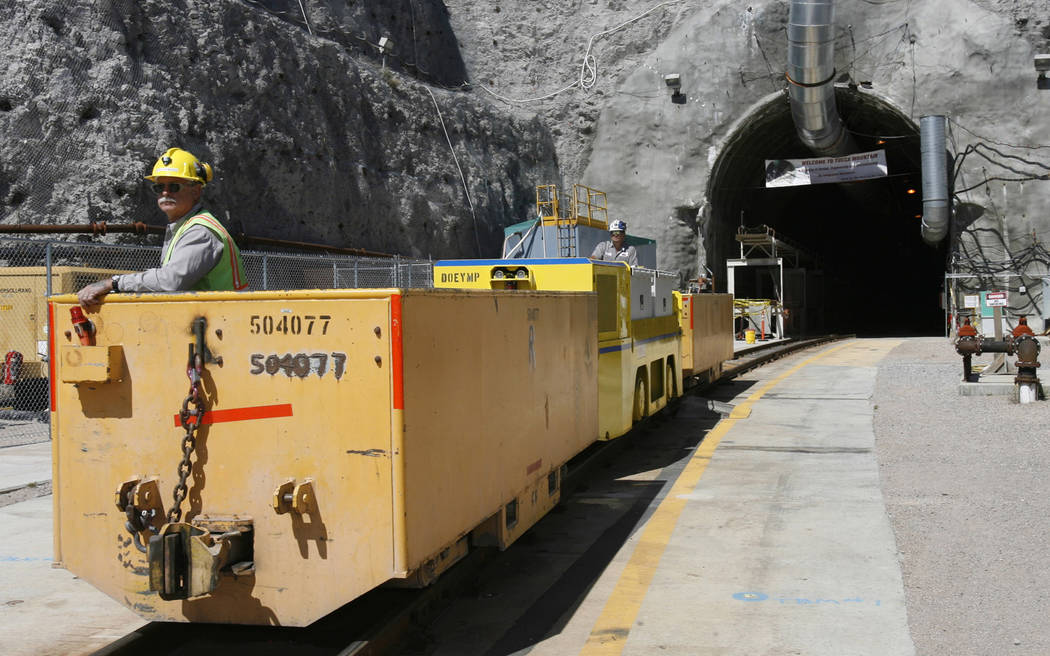 WASHINGTON — Despite growing local opposition in Nevada, Republican House leaders are pushing ahead with a vote this week on a bill that would revive the licensing process to open Yucca Mountain as a nuclear waste repository.
The House vote comes as business and tourism leaders in the state ramp up efforts to stop the Trump administration and Congress from moving ahead with plans to bury spent nuclear fuel rods and material below ground in a desert ridge 90 miles northwest of Las Vegas.
Rep. John Shimkus, R-Ill., who wrote the Nuclear Waste Policy Amendments Act of 2017, predicts passage of his bill by an overwhelming, bipartisan majority when the House holds a scheduled Thursday vote.
"This is an historic opportunity to solve a national problem and comply with the law as it was written," Shimkus told the Review-Journal in an interview.
Shimkus said he has visited Nevada on several occasions and said he has listened respectfully to concerns.
"I don't think they are credible," he said.
The bill would streamline the licensing process of the Department of Energy's application before the Nuclear Regulatory Commission to open Yucca Mountain for storage of waste produced at power plants in 39 states.
It would also increase the amount of nuclear waste to be stored at Yucca Mountain, from 70,000 cubic tons to 110,000 cubic tons, a measure designed to reduce the growing stockpile of material that has built up over the past three decades.
1987 designation
Congress in 1987 designated Yucca Mountain as a permanent repository for nuclear waste, but after $15 billion spent to research and study the site, the Energy Department's application was defunded in 2011 under the Obama administration.
The Trump administration has since sought to restart the licensing process, and Shimkus has moved his bill through the House Energy and Commerce Committee, which last year voted 49-4 to advance the legislation to the full House.
Shimkus is expecting an overwhelming bipartisan vote for passage by the House this week.
"I don't think there is a risk of this not passing on the floor," Shimkus said.
The anticipated House vote prompted the Las Vegas Metro Chamber of Commerce to write letters to lawmakers underscoring concerns about the Yucca Mountain project and potential damage to the "tourism-based economy of Southern Nevada."
Chamber officials, including President and CEO Mary Beth Sewald, raised safety issues in the May 7 letter, noting that the U.S. Geological Survey lists Nevada as the fourth-most-active seismic area in the United States.
Storing nuclear waste could also "elevate Las Vegas' profile for a potential terrorist attack," chamber officials said.
In addition, a letter of opposition was sent to lawmakers from the American Gaming Association, the Nevada Resort Association, the Las Vegas Convention and Visitors Authority, MGM Resorts International, Boyd Gaming Corp., William Hill U.S., Caesars Entertainment, Las Vegas Sands Corp. and Penn National Gaming.
Environmental groups including the League of Conservation Voters, the Nevada Conservation League and the Conservation Voters of New Mexico also sent a letter to House members opposing the development of Yucca Mountain, claiming rollbacks of environmental laws.
Concerns about shipping
Nevada business leaders, in their letter to lawmakers, said shipment of nuclear waste in casks to Yucca Mountain would mean moving radioactive material through 329 congressional districts in 44 states. An incident involving transportation of casks by rail or truck "should not be underestimated."
Las Vegas Mayor Carolyn Goodman also told House leaders in a statement Tuesday that the Yucca Mountain project should have the support of state, local and tribal leaders.
Although Gov. Brian Sandoval and the entire congressional delegation oppose development of Yucca Mountain, the state's rural counties, including Nye County, where Yucca Mountain is located, support the licensing process to determine whether storing nuclear waste in Nevada is safe.
Shimkus said development of Yucca Mountain would bring well-paying federal jobs to the region and help diversify the state's economy while posing little threat to communities.
But even with passage of the House bill, the Senate has been an obstacle to efforts to open Yucca Mountain. Last year, the Senate failed to provide funding for the licensing process.
Sen. Lamar Alexander, R-Tenn., chairman of the Senate appropriations subcommittee on energy, is expected to file a bipartisan bill later this year that would emphasize interim storage of nuclear waste until issues surrounding Yucca Mountain are resolved.
Shimkus said that eventually the House and Senate will reconcile differences. Until then, he said, it is important that the House is on record with a vote on his bill.
"I'm optimistic that good things are going to come," Shimkus said. "This is an important step."
The Review-Journal is owned by the family of Las Vegas Sands Corp. Chairman and CEO Sheldon Adelson.
Contact Gary Martin at gmartin@reviewjournal.com or 202-662-7390. Follow @garymartindc on Twitter.
House Majority Leader Kevin McCarthy has scheduled a Thursday vote on the Nuclear Waste Policy Amendments Act of 2017.
The House Energy and Commerce Committee advanced the bill on a 49-4 vote last June.
The bill:
— Withdraws 147,000 acres in Nye County from public use for a permanent repository.
— Authorizes the Department of Energy to store 110,000 cubic tons of nuclear waste.
— Gives DOE authority to enter into agreements with private contractors for interim storage of waste.
Source: U.S. House of Representatives.