Law enforcement group tells Michele Fiore she's 'unqualified' for Congress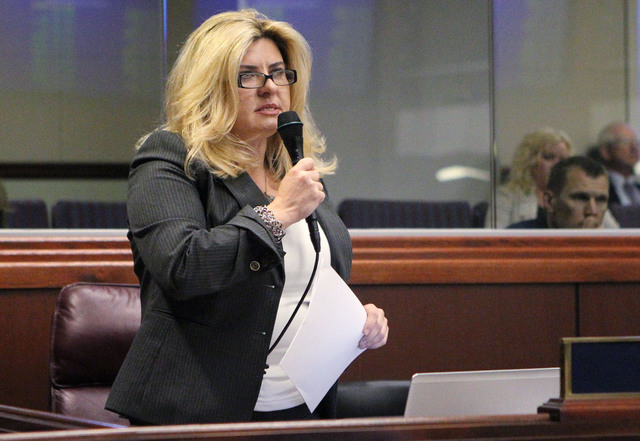 A Nevada law enforcement organization has criticized Assemblywoman Michele Fiore's April comments about pointing a firearm at an officer as "an embarrassment" to Nevada and says she's unfit for the congressional post she's seeking.
The Nevada Association of Public Safety Officers told the Republican legislator running for the GOP nomination in the 3rd Congressional District that she's "unqualified to hold the position of United States Congresswoman" in a letter sent to her on Thursday. The Review-Journal obtained a copy of the letter.
The association cites comments Fiore made this year on KLAS Channel 8 to Steve Sebelius, also a Review-Journal columnist. At the time, Fiore said: "I would never point my firearm at anyone, including an officer of the law, unless they pointed their firearm at me."
She also said: "Once you point your firearm at me, I'm sorry, then it becomes self-defense. Whether you're a stranger, a bad guy, or an officer, and you point your gun at me and you're gonna shoot me and I have to decide whether it's my life or your life, I choose my life."
Those comments distort the Second Amendment and tell her followers "they may point a firearm at a law enforcement officer with impunity and without life and death consequences," wrote Richard McCann, the group's executive director.
The group is an umbrella organization for 21 Nevada law enforcement agencies.
The letter closed with this: "Ms. Fiore, we no longer see you as a passionate advocate for your Second Amendment rights, which we support. Rather, these comments were utterly irresponsible, an embarrassment to your District and our State, and they continue to demonstrate why you are unqualified to hold the position of United States Congresswoman."
Asked to comment, Fiore said she supports local law enforcement and was talking about the Bureau of Land Management. Fiore supports Cliven Bundy, who was involved in an armed standoff in 2014 with the feds when the BLM rounded up his cattle for nonpayment of grazing fees to use public lands near Bunkerville. Bundy faces federal charges.
Fiore said McCann is "cowardly" for not contacting her directly first.
"They don't have the balls to call me and sit down and talk to me face to face," she said. "… Sending out a letter without a call to me — shame on them."
McCann took Fiore's reaction in stride, saying he'd already received a voicemail from her. He said the letter was a decision the board made, calling her comments "irresponsible." He noted that a couple who visited the Bundy standoff site in 2014 later killed two Las Vegas cops.
"Yet Michele continues to want to be that gun-toting momma who wants to stand up and be heard on the issue," he said. "Enough with the bravado. In this day and age, bravado gets you hurt."
Seven Republican candidates are running in the CD-3 race, which is an open seat. One of them, Annette Teijeiro, a medical doctor, said: "Everyone should respect and work in collaboration with all first responders, which include law enforcement, for the safety of our communities."
Contact Ben Botkin at bbotkin@reviewjournal.com or 702-387-2904. Find him on Twitter: @BenBotkin1