Nearly 4,800 more Nevadans registered to vote in August than in July
September 1, 2017 - 5:22 pm
Updated September 2, 2017 - 2:53 pm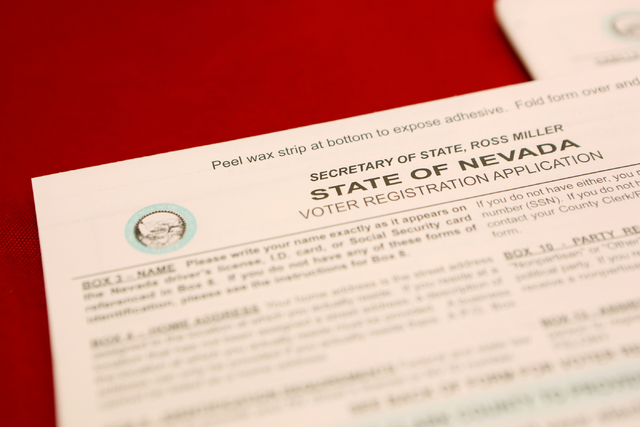 CARSON CITY — Nevada saw an increase of 4,790 active registered voters statewide in August from July, with nonpartisan registrations leading the way, Secretary of State Barbara Cegavske said Friday.
The newly registered voters increased the total in Nevada to 1,483,004.
The number of active registered voters in the Democratic Party increased statewide by 603; the number of active registered voters in the Republican Party increased statewide by 1,657; and the number of nonpartisan active registered voters increased statewide by 3,518.
The Libertarian and Independent American parties saw small increases, but other minor parties saw a dropoff of 1,359 active registered voters.
A portion of the decrease in the number of active registered voters within the compilation of "other" minor political parties is attributed to a technical glitch discovered in August. Because of the glitch, voter registration applications not containing a selection for political party affiliation were accidentally recorded as "other" instead of the correct affiliation of nonpartisan.
Of the 1,483,004 active registered voters in Nevada:
■ 580,451 are Democrats, 39.14 percent.
■ 490,922 are Republicans, 33.10 percent.
■ 314,511 are nonpartisan, 21.21 percent.
■ 65,707 are members of the Independent American Party, 4.43 percent.
■ 14,158 are members of the Libertarian Party of Nevada, 0.95 percent.
■ 17,255 are members of other minor political parties, 1.16 percent.
Contact Sean Whaley at swhaley@reviewjournal.com or 775-461-3820. Follow @seanw801 on Twitter.