Nevada brothel owner files 1st Amendment suit
Updated February 6, 2018 - 11:09 pm
Nevada brothel owner Dennis Hof says he was forced to cover the lovers.
In a free speech lawsuit filed in federal court this week, Hof alleges that Nye County officials pressured him into censoring a street sign.
"Instead of carving penises into rocks and public roads," Hof created a yellow and black, diamond-shaped "Lovers at Play" street sign directing traffic toward his Nye County brothels so customers would not get lost on their pursuit of satisfying lust, the complaint states.
An image on the sign near Love Ranch South depicted stick figures apparently preparing to engage in sexual activity. Not long after the sign was erected, Hof, a candidate for the Nevada Assembly, received a call late last year from Sheriff Sharon Wehrly.
Courtesy of Randazza Legal Group
The brothel owner covered the image before county officials stripped his license.
"However, this censorship is not voluntary — it is done out of fear of prosecution or other governmental retaliation for the speech," the lawsuit states. "This fear is not merely theoretical, but is the natural result of law enforcement threats, delivered to plaintiffs at the behest of the Nye County Official."
County Commissioner Dan Schinhofen "directed that the sign be censored because he did not like the content of the sign and exercised unfettered discretion in seeking to censor the sign's content," the suit alleges. "Schinhofen engaged in a routine pattern of threatening to schedule show-cause hearings based on brothel owners engaging in First Amendment protected free speech and expression."
The sign, which Hof stated was installed to ensure johns do not "get lost in residential neighborhoods," violated no local ordinances or state laws, according to the complaint, and should not be considered advertising because it does not identify the brothel or promote prostitution.
Hof and fellow brothel owners "have no desire to have their First Amendment rights trampled upon, and engaged in this self-censorship involuntarily after being threatened by the government," attorney Marc Randazza wrote.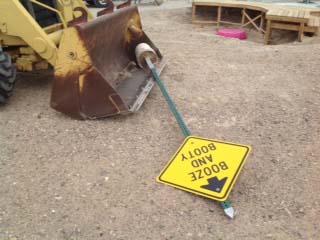 Courtesy of Randazza Legal Group
Hof, who is seeking unspecified damages, asked a judge to prevent county officials from enforcing censorship of the sign.
In an apparent effort to illustrate his sense of humor, Hof's lawyers also included images of a "Booze and Booty" street sign that appeared to be bulldozed, along with a still standing sign that depicts two bunny rabbits having sex.
"He has signs with these expressive elements in them that we think he has every right to have under our most beloved amendment to our Constitution," Randazza told the Las Vegas Review-Journal. "Certain civic-minded individuals have an understanding of what it means to be a patriot, and that's how I look at Mr. Hof."
Neither the sheriff nor the commissioner could immediately be reached for comment Tuesday.
County spokesman Arnold Knightly said officials could not comment on the lawsuit because it is being reviewed.
Contact David Ferrara at dferrara@reviewjournal.com or 702-380-1039. Follow @randompoker on Twitter.