Nevada election field getting crowded 2 days into filing
Updated March 6, 2018 - 6:15 pm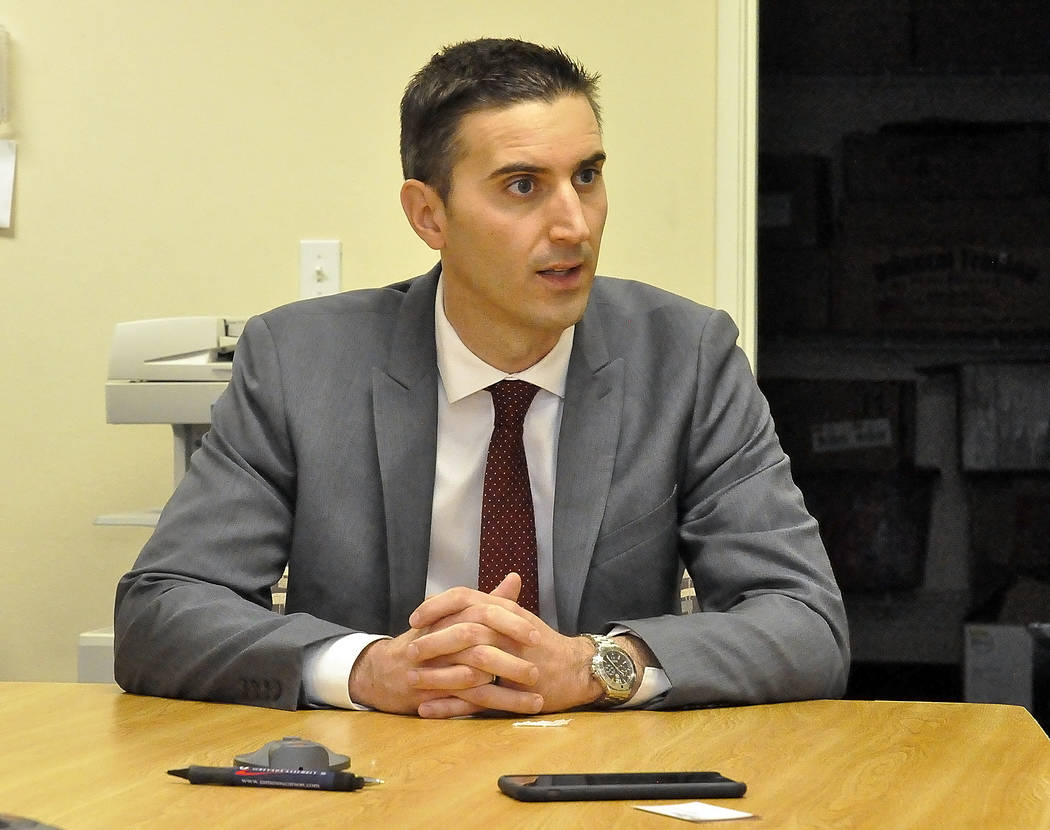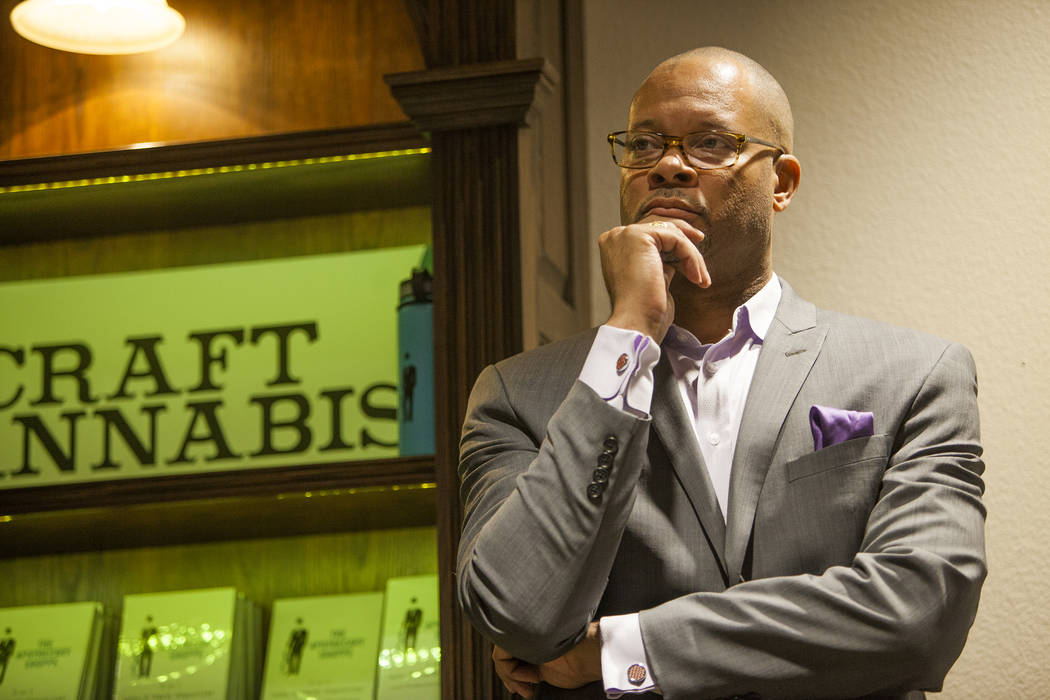 Nevada's candidate filing period continued Tuesday with some unexpected twists as dozens of candidates entered hotly contested Assembly races and crowded federal elections.
Progressive Democrat Amy Vilela officially entered the race to replace Rep. Ruben Kihuen in Nevada's 4th Congressional District. Kihuen is not seeking re-election following sexual misconduct claims that surfaced last year. Republican Cresent Hardy, the district's former congressman, filed for the seat on Monday.
More than 150 people have filed for candidacy two days into the filing period, which ends March 16.
The field in Nevada's 3rd Congressional District gained four candidates Tuesday, bringing the total to nine.
Republicans Thomas La Croix and Michelle Mortensen, Democrat Eric Stoltz and Independent American Harry Vickers filed on the second day, joining Republicans Patrick Carter, Eddie Hamilton, David McKeon, Victoria Seamen and Democrat Guy Pinjuv in the quest to replace Jacky Rosen, who is running for U.S. Senate.
Democrat Clint Roble, filed Tuesday to run for Congress in District 2, where Republican Rep. Mark Amodei is seeking re-election.
Both Vilela and Mortensen had announced their plans to run, but Tuesday brought a few surprises in Nevada Assembly races.
Four-term Assemblyman Elliot Anderson of Assembly District 15 announced he will not seek re-election, opening the field for a face-off in a district where registered Democrats outnumber Republicans 3 to 1. Anderson said he previously considered leaving office to focus on his career as an attorney — but in 2016 was urged to run again by Speaker Jason Frierson.
Democrats control 27 seats in the 42-member Nevada Assembly. They're vying to keep their majority and snag one additional seat — giving them a "super majority" and the power to override a governor's veto.
Political activist Howard Watts, a Democrat, immediately jumped into the fray for AD 15. "I have the knowledge, experience and work ethic to help advance good policy in the state," Watts said.
No Republicans have filed for the seat.
The race for Assembly District 12 is also heating up as four Democrats attempt to replace fellow Democrat James Ohrenschall, who is running for state Senate. The contenders are Gregory York, Walter Lee Seip II, Cinthia Moore and Anat Rachel Levy. Republican Richard Fletcher also entered the race.
Another battleground race is unfolding in Assembly District 21, where Republicans Cherlyn Arrington and Garo Atamian filed in hopes of challenging incumbent Democrat Ozzie Fumo. Democrats have 2,300 more registered voters than Republican in the Las Vegas district.
A little farther north, Assemblyman James Oscarson of Pahrump officially has competition from brothel owner Dennis Hof, who filed papers for District 36 on Tuesday.
Also Tuesday, Republican State Treasurer Dan Schwartz and Republican Bill Boyd filed to run for governor, Democratic Assemblyman Nelson Araujo filed for secretary of state and Republican Sherry Brooks and Democrat Danny Burleigh filed to run against U.S. Sen. Dean Heller.
State Senate Majority Leader Aaron Ford and Wes Duncan filed to run for attorney general.
Board of Regents
A number of people have jumped into the race for a seat on the state Board of Regents — the 13-member governing body that oversees the state's public colleges and universities. Four of the 13 seats are open.
Jack Mallory, David Olson and Laura Perkins have filed in District 1, where Cedric Crear is term limited and seeking the Ward 5 seat on the Las Vegas City Council.
District 12 has also garnered the interest of three individuals. Andrea Anderson, the incumbent, will face off against Amy Jennifer Carvalho and Andrew Coates in the primary.
The two other open seats have received little interest so far. In District 9, incumbent Carol Del Carlo is the only person who has filed for the race, and there has been no filing in District 4's seat, held by Allison Stephens.
School board
David Gardner, a former Republican assemblyman who shepherded the reorganization of the Clark County School District into law, filed for the Clark County School Trustee seat in District F. Gardner announced his intention in the summer and filed on Tuesday.
The seat is held by Carolyn Edwards, who is term limited. Gardner is joined so far by three other candidates for the seat.
Danielle Ford, a 32-year-old single mother of two children in the district and owner of a local marketing agency, filed on Monday. Ford, a dropout from Cimarron-Memorial High School, said she wants to help change the district so that it works for more than one type of student.
Kali Fox Miller, a 36-year-old attorney, filed Tuesday. She hopes to bring fiscal expertise to help solve the district's budget crisis.
Tammi Musemici, a 45-year-old hairstylist, also filed Tuesday and said she wants to give "a voice to the voiceless" on the board.
In District G, current board member Linda Cavazos — who was appointed to the board in August to replace outgoing Trustee Erin Cranor — has one challenger so far. Cavazos, a former teacher and current therapist, announced her run in January to keep the seat.
Ryan Scalia, a 22-year-old graduate of West Career and Technical Academy, also filed for the race. Scalia, who works as a manager in marketing for the Dotty's gaming tavern chain, said he's running because he believes the district hasn't been really taken care of.
As of noon Tuesday, no candidate had filed for the District D seat, currently held by first-term trustee Kevin Child. Child has previously said he would run for a second term.
School board races are nonpartisan races. A race with only two candidates will be decided in the June primary. If a race has more than two candidates, the top two vote earners will head to the November election, unless one of the candidates earns more than 50 percent of the vote in June.
Contact Ramona Giwargis at rgiwargis@reviewjournal.com or 702-380-4538. Follow @RamonaGiwargis on Twitter.
Review-Journal staff writers Natalie Bruzda, Meghin Delaney and Amelia Pak-Harvey contributed to this report.