Nevada PUC OKs policies to help rooftop solar industry grow
September 1, 2017 - 10:34 am
Updated September 1, 2017 - 4:10 pm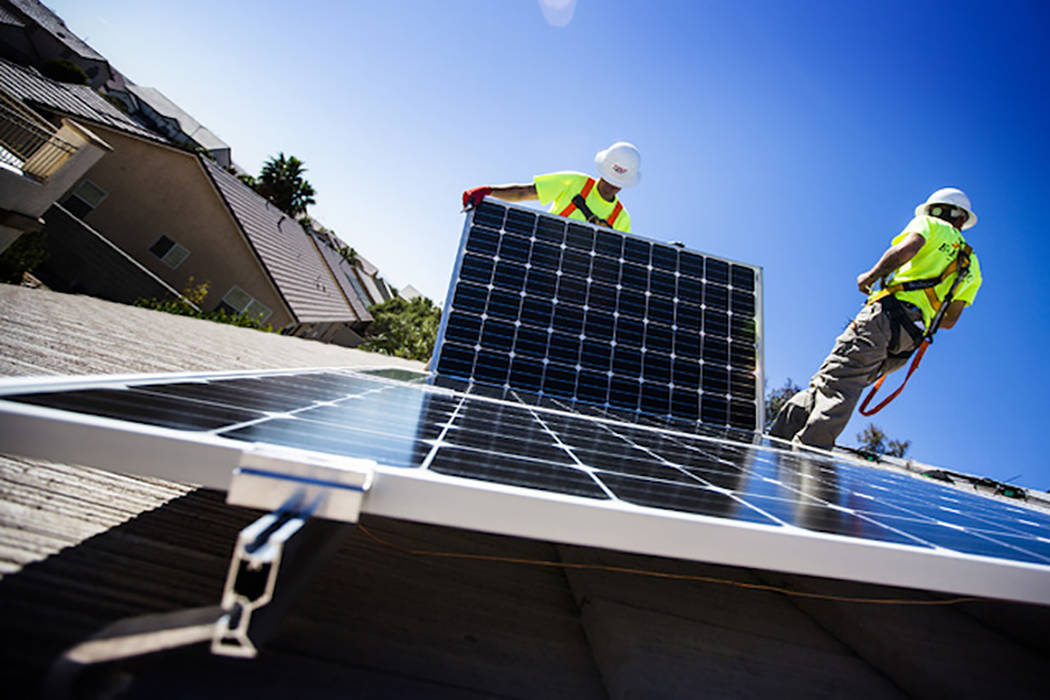 CARSON CITY — The Nevada Public Utilities Commission approved an order Friday that establishes net metering policies aimed at helping the rooftop solar industry grow.
The order, which is effective immediately, requires NV Energy to charge the same fees to customers regardless of whether they use solar. Solar users also get compensation for excess solar energy that they don't use through a credit on their bills.
The order follows the Legislature's passage this session of Assembly Bill 405, which was aimed at making rooftop solar financially viable. Solar energy advocates praised the commission's move.
"Nevadans have said loud and clear they want the choice to install solar on their own homes and see solar jobs grow again in Nevada," said Sean Gallagher, vice president of state affairs at the Solar Energy Industries Association. "That was the intent of AB 405, and we are pleased the Public Utilities Commission of Nevada recognized that in its ruling today."
He said solar businesses in Nevada "now have the certainty they need to get back to work, which means the jobs and economic benefits will follow in short order."
The order boosts the fortunes of the solar industry, which stalled in 2015 after electricity rates put rooftop solar users at a disadvantage.
Kevin Romney, general manager of Radiant Solar Solutions in Las Vegas, said: "Today's decision finally brought solar back to Nevada. Thanks to the hard work of Public Utilities Commission and the Legislature, I can begin hiring Nevadans again and my team can get back to work."
The commission's order turned down NV Energy's proposal to increase the fixed charges on power bills, which drew objections from the solar energy industry because of the impact on consumers who use less power. In its filing, NV Energy had said the proposal wasn't intended to generate more revenue. NV Energy's proposal also lowered the volumetric rate, which is based on the amount of power purchased.
In a statement, NV Energy President and CEO Paul Caudill said the utility respects the new policies and will work with customers choosing solar generation.
"We recognize the challenges associated with implementing public policy while balancing the interests of all customers, and value the efforts of the commission and its staff members," he said.
Contact Ben Botkin at bbotkin@reviewjournal.com or 775-461-0661. Follow @BenBotkin1 on Twitter.
RELATED
No 'solar wars' for Nevada, top official says
Sandoval says he will sign bill to bring rooftop solar back to Nevada