Nevada treasurer candidates try to spark voters' interest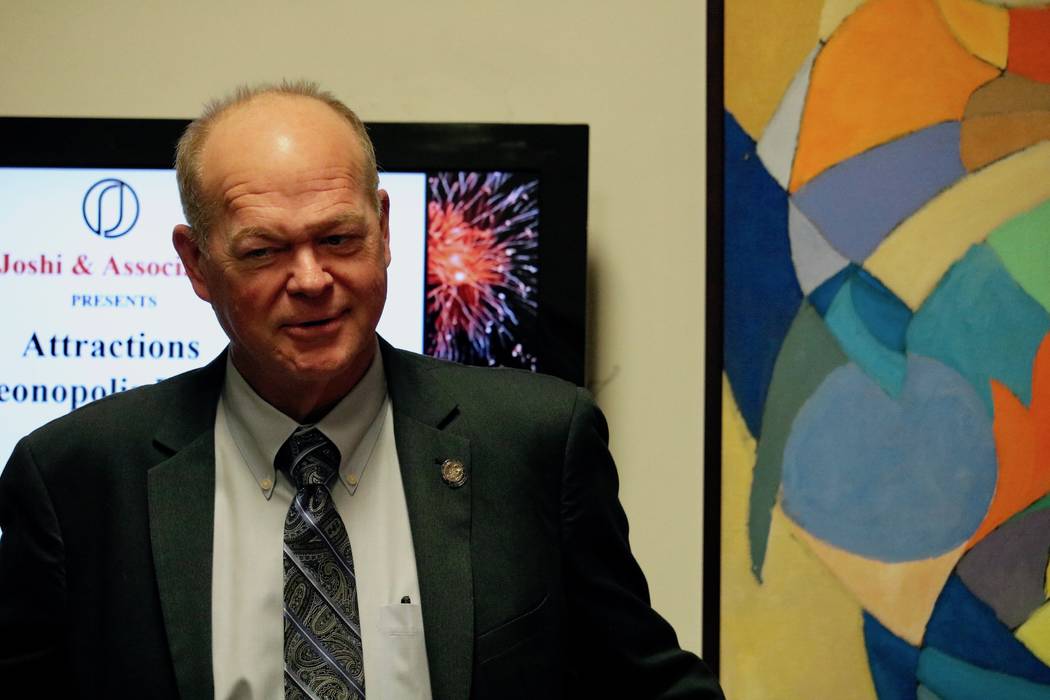 CARSON CITY — Compared to top-ticket statewide elections for governor or attorney general, candidates in down-ballot contests have a harder time getting the attention of voters to make their case for office. Voters focus less on such races, often defaulting to voting the party line.
"In front of every audience, when I get to the second syllable of the word 'treasurer,' you can just see the light go out of their eyes," Bob Beers, the Republican candidate for state treasurer, deadpanned Wednesday in a conversation about his race against Democrat Zach Conine. "So I've tried to keep campaign speeches short and be available for questions," he added, before offering up his mobile phone number.
Readers can find Beers's number, along with his and Conine's answers to questions about the race, in the Review-Journal's voter guide. The two, along an Independent American party candidate Bill Hoge, are vying to succeed outgoing Treasurer Dan Schwartz.
The treasurer is Nevada state government's chief financial officer. The office maintains and monitors the state budget, invests state funds, manages college savings plans, tracks unclaimed property and pays state bills. Lawmakers over the years have weighed making the job, and that of the state controller, an appointed rather than elected post, most recently last legislative session.
Conine said it's not easy "to get a ton of energy and interest in the race."
"It's a lot of work," he said. "But it's also exceptionally energizing to meet people across the state who have no idea that the Treasurer's Office has all these great programs they can take advantage of to help their kids and grandkids go to college."
Beers, 59, was a Las Vegas City councilman from 2012 until 2017, when he lost in a reelection bid. He also served three terms in the Assembly from 1998-2004, followed by two terms in the state Senate, from 2004 until 2008, when he lost his reelection bid. He ran second in the Republican primary for governor in 2006. He's a longtime certified public accountant who's also held positions as a chief business marketer.
"The treasurer job fits my resume to a T and will be a worthy exercise of my professional skills. And there's a professional challenge in it as well," Beers said.
"I have had a hand in managing government and private sector cash flows for 30 years, and my opponent hasn't," he continued, adding that Conine's qualifications include only "a couple of accounting classes on his way to a degree."
Conine, who turns 37 on Saturday, is a Las Vegas business consultant who has worked in the gaming industry and as an investment analyst. He lost a Democratic primary for an Assembly seat in 2016.
"I'm an investor professionally, and so I thought the chief investment officer of the state was a good opportunity to use the skills I've learned in the private sector in order to help people in the public sector," he said.
A background in accounting, he said, makes Beers better suited to a different office.
"I think there's a great spot for accountants at the state level and that's in the controller's office," he said. "The treasurer is an investor. It's not an accounting job. Accounting is an exceptionally valuable skill and it has nothing to do with being treasurer."
Contact Bill Dentzer at bdentzer@reviewjournal.com or 775-461-0661. Follow @Dentzernews on Twitter.