Sandoval wedding will mark the first by a sitting Nevada governor
Updated August 12, 2018 - 2:56 pm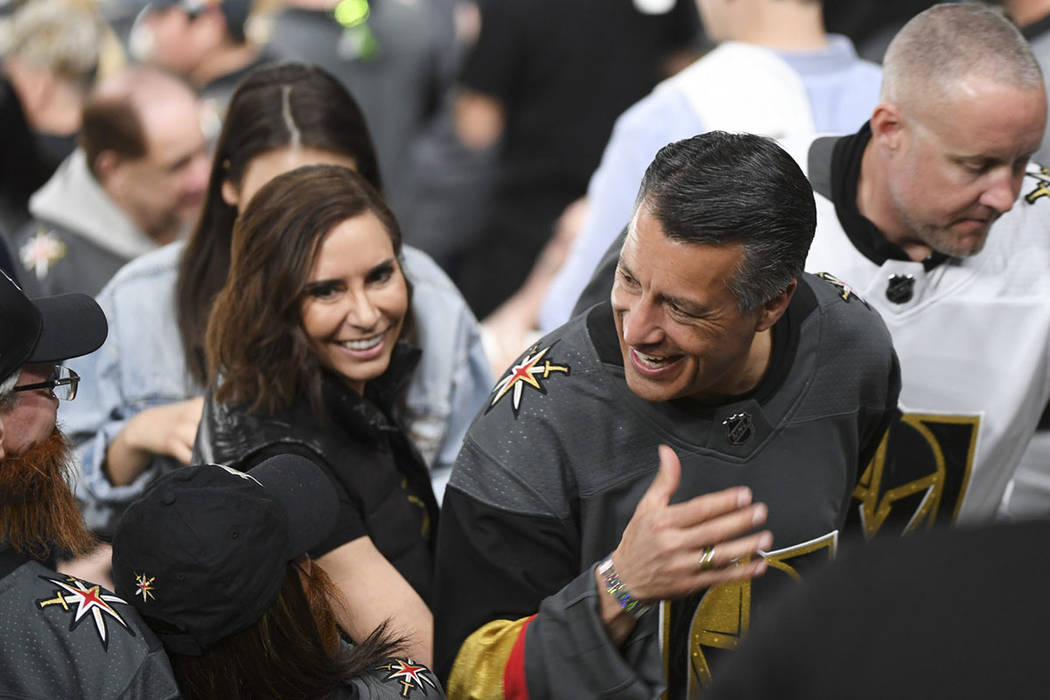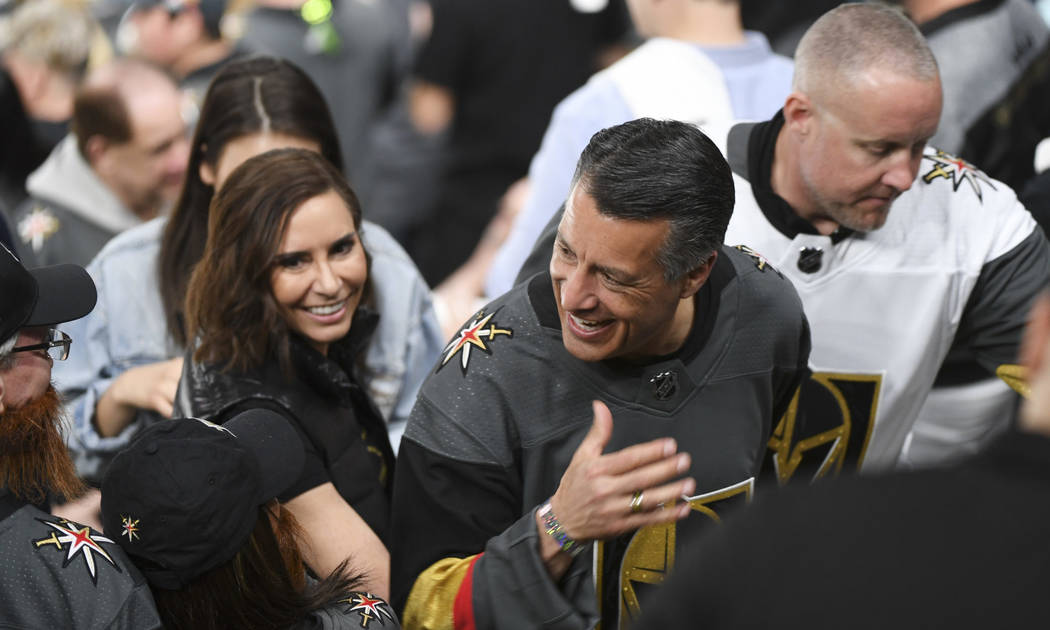 When Gov. Brian Sandoval gets married this weekend in Lake Tahoe, he'll become the first sitting governor in state history to tie the knot while in office.
Sandoval, whose divorce from his wife of 27 years, Kathleen, was finalized in February, will wed Las Vegas gaming executive Lauralyn McCarthy at an undisclosed location on Saturday, his office announced.
It's not clear how long Sandoval and McCarthy have been a couple. They were photographed together at a Vegas Golden Knights playoff game in April and were spotted together in Atlanta watching the Nevada
Wolf Pack's Sweet 16 game this spring, according to the Reno Gazette-Journal.
McCarthy, 48, is a 1992 journalism graduate of the University of Nevada, Reno, and works as the vice president of new markets at Aristocrat Technologies, a gaming machine producer. She is also a board member of Opportunity Village, a nonprofit that serves Southern Nevadans with intellectual disabilities and a trustee with Desert Research Institute.
Like Sandoval, McCarthy also was previously married. Clark County court records show that she and Kenneth Hanifan divorced in 2016 after nearly nine years of marriage. The court documents indicated that the couple had no minor children.
The governor's office has released few details about the wedding and said that the couple "requests privacy for themselves and their families during this special time."
Still, here are four things to know about the upcoming union and the future first lady of Nevada.
1. Sandoval, 55, wasn't the first governor of the Silver State to get divorced in office. His predecessor, Jim Gibbons, had a very public and bitter divorce in 2008.
But Sandoval will become the first governor in Nevada's 154 years of statehood to get married while in office, according to UNLV history professor Michael Green.
Oddly enough, while no Nevada governor has ever married during their term, it's happened on at least a few occasions in the country's highest executive office: The White House.
The last president to get married in office was Woodrow Wilson, who married Edith Galt in December 1915, a year after Wilson's first wife died.
President Grover Cleveland, 49 at the time, married his law partner's 21-year-old daughter, Frances Folsom, in October 1886.
Before that, President John Tyler, who served from 1841-45, also tied the knot while in office. Tyler's first wife, Letitia, passed away in 1842. Two years later he married Julia Gardiner, with whom he had seven children.
(Fun fact: John Tyler, who was born in 1790, still has two living grandchildren: Lyon Gardiner Tyler Jr., born in 1924, and Harrison Ruffin Tyler, born 1928).
2. The Governor's Mansion sits in Carson City while McCarthy lives in Las Vegas. So where will the soon-to-wed couple live for the remaining months of Sandoval's second and final term?
According to the governor's spokeswoman, a little in the north, and a little in the south.
"Governor Sandoval and Ms. McCarthy will spend their time between Northern and Southern Nevada, unless the responsibilities of their respective positions require their solo attention," said the spokeswoman, Mary-Sarah Kinner.
3. Many first ladies take up specific initiatives during their time in office. Kathleen Sandoval, for example, helped push for statewide standards for the juvenile justice systems and worked at the Children's Cabinet, a youth charity, in Reno.
McCarthy will be first lady of Nevada for only a handful of months, but if she does use the role as a way to champion a particular issue, she is likely to focus on helping Nevadans with disabilities.
"Ms. McCarthy has been a longtime advocate for persons with disabilities and will continue to advocate on these issues as well as maintain her seat on the Opportunity Village Foundation Board of Directors," Kinner said.
In a 2016 interview with Vegas Seven magazine, she noted her family's experiences with disabilities.
"I have two severely disabled siblings, and my family has spent our whole lives looking for the best quality of life for them. Opportunity Village is unique on the planet for the services it provides to the adult disabled. And it's all grassroots, started by Las Vegas families," she said at the time. "Every year … it is changing the way disabled adults live."
4. Much like the first lady of the United States is protected by the Secret Service, McCarthy will be entitled to protective service detail from the state Department of Public Safety as first lady of Nevada.
It's not clear at this time if she plans to use those services.
A previous version of this story incorrectly identified the location of the wedding.
Contact Capital Bureau Chief Colton Lochhead at clochhead@reviewjournal.com or 775-461-3820. Follow @ColtonLochhead on Twitter.