Steve Sisolak becomes Nevada's first Democratic governor in decades
Updated November 7, 2018 - 1:34 am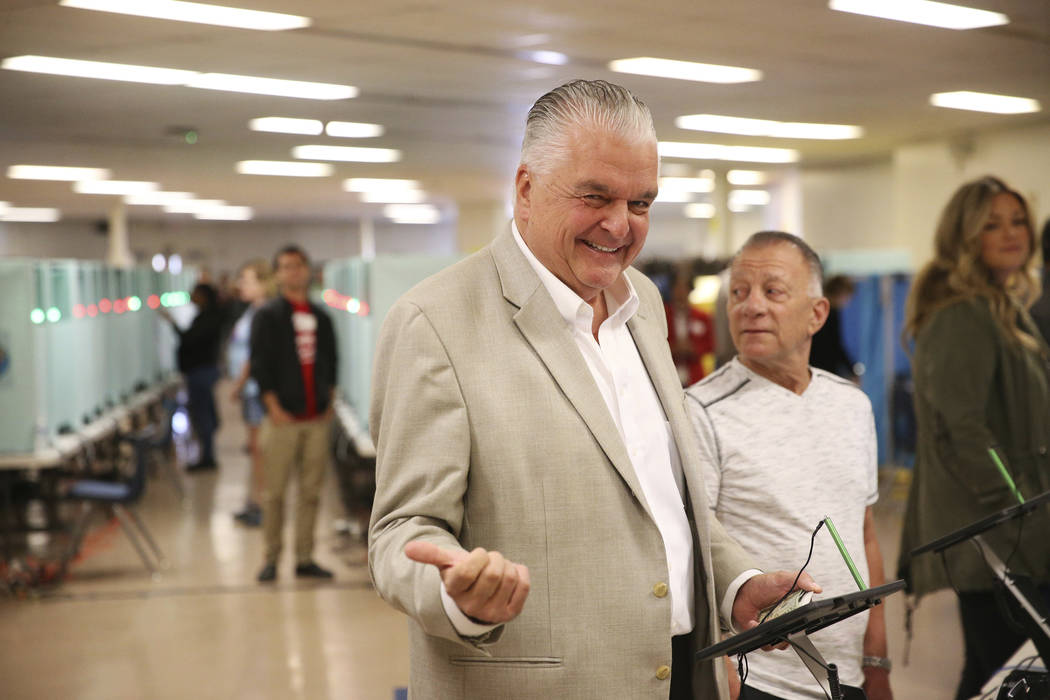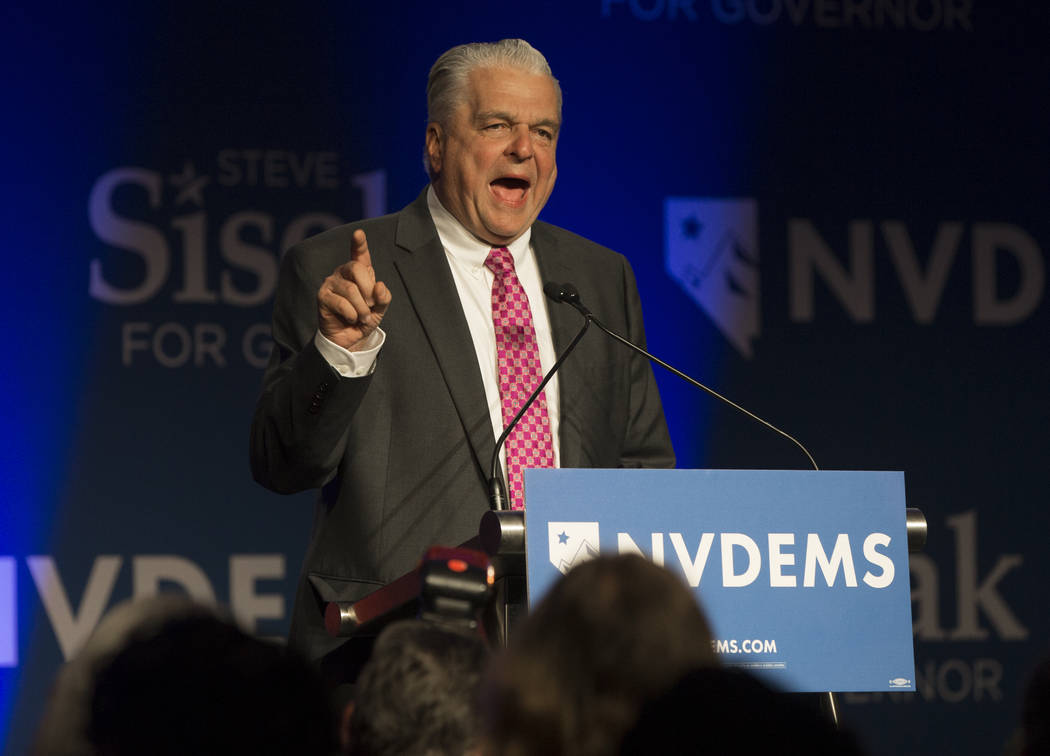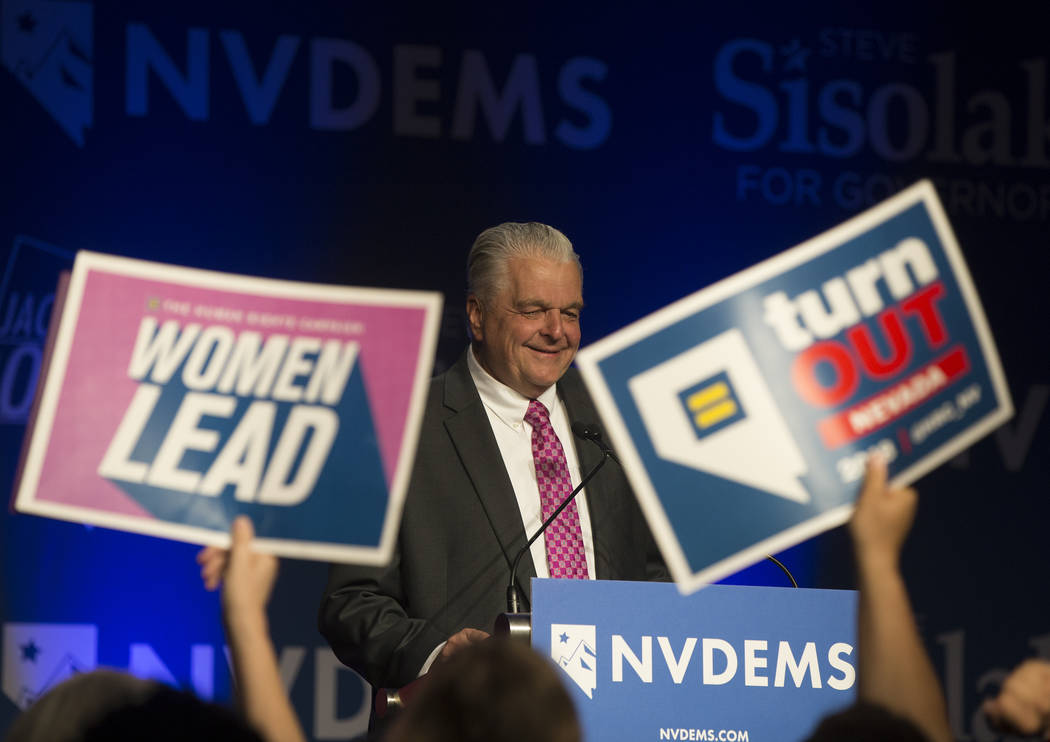 In what was one of the tightest gubernatorial races in recent Nevada memory, County Commissioner Steve Sisolak upended a rising Republican star to become the Silver State's first Democratic governor in two decades.
As of 1:30 a.m. Wednesday, Sisolak held 48.8 percent of the vote, compared to 45.9 percent for Republican Attorney General Adam Laxalt.
"Today, people from every corner of the state stood up and turned out to say it's time to bring people together. It's time to prioritize our schools, our jobs and our health care. It's time to stop the petty politics and get things done," Sisolak said in his victory speech from Caesars Palace. "I want all of you to know that, no matter who you voted for, I will work my heart out for you."
In a teary-eyed concession speech delivered shortly before midnight, Laxalt said he would help Sisolak in anyway he could.
"This was all of our campaign, not just my campaign. We can certainly take heart that we left it all on the field," Laxalt said. "We fought as hard as we could. To come up short is always difficult."
Sisolak will succeed Republican Gov. Brian Sandoval, who is term-limited.
Sisolak, 64, has spent two decades in elected office in Nevada. He is the chairman of the Clark County Commission, a body in which he has served since 2008. He previously served 10 years as a Nevada System of Higher Education regent.
He survived a bitter primary battle with fellow Clark County Commissioner Chris Giunchigliani that not only forced him to spend a significant amount (more than $6 million before the primary alone) but also pulled him left of the the moderate campaign he had hoped to run in order to survive.
Sisolak attacked Laxalt for the Republican candidate's desire to repeal the 2015 Commerce Tax championed by Sandoval, which has boosted education funding in the state, and for his early opposition to Medicaid expansion that the state received under the Affordable Care Act. Based on Tuesday night's results, it appears that Sisolak's message resonated with voters in the state.
Laxalt, 40, ran for governor after just one term as Nevada's attorney general, which is the only other elected office he has held. He is the grandson of Nevada political giant Paul Laxalt, who was one of former President Ronald Reagan's closest confidants and served as the state's governor from 1967 to 1971 and as one of its U.S. senators from 1974 to 1987.
Laxalt, a former prosecutor in the navy who rose to the rank of lieutenant with the support of President Donald Trump, has run a campaign that energized the Republican base both in Nevada's urban hubs and the rural parts the state.
His campaign focused heavily on conservatives' fear that Nevada is moving too far to the political left, claiming that his Democratic opponent would do everything he could to turn Nevada into its more liberal western neighbor, California.
Laxalt was unable to overcome a handful of missteps along the campaign trail, including drawing signficant criticism from women's groups after he said that he wanted to look at repealing Nevada's laws protecting a women's right to abortion, and the icy relationship with Sandoval, who withheld endorsement from the fellow Republican as his successor following a tense four years as the two clashed over policy and partisanship.
In total, the gubernatorial race saw unprecedented spending, with Sisolak's campaign spending more than $13.5 million dating back to 2017, while Laxalt's campaign spent $10 million.
The unprecedented level of spending dwarfs the amount seen in the last competitive race for governor in 2010, when Sandoval defeated Democrat Rory Reid in a race that saw the campaigns spend a combined total of $9.1 million.
The race also saw significant outside money, with the Republican Governors Association spending $9.9 million in Nevada and the Democratic Governors Association spending $7.7 million. The Koch network also got involved, spending more than $2 million to support Laxalt, while labor and teacher unions spent millions to help Sisolak.
And while Laxalt and Sisolak battled in the airwaves, they never made it to a debate stage for voters to see their contrasting styles — or contrasting policies — side by side.
Laxalt and Sisolak ran against independent Ryan Bundy, the son of Bunkerville rancher Cliven Bundy, as well as Libertarian Jared Lord and the Independent American Party's Russell Best.
Contact Colton Lochhead at clochhead@reviewjournal.com or 775-461-3820. Follow @ColtonLochhead on Twitter.