Trump caps western swing with campaign rally in Las Vegas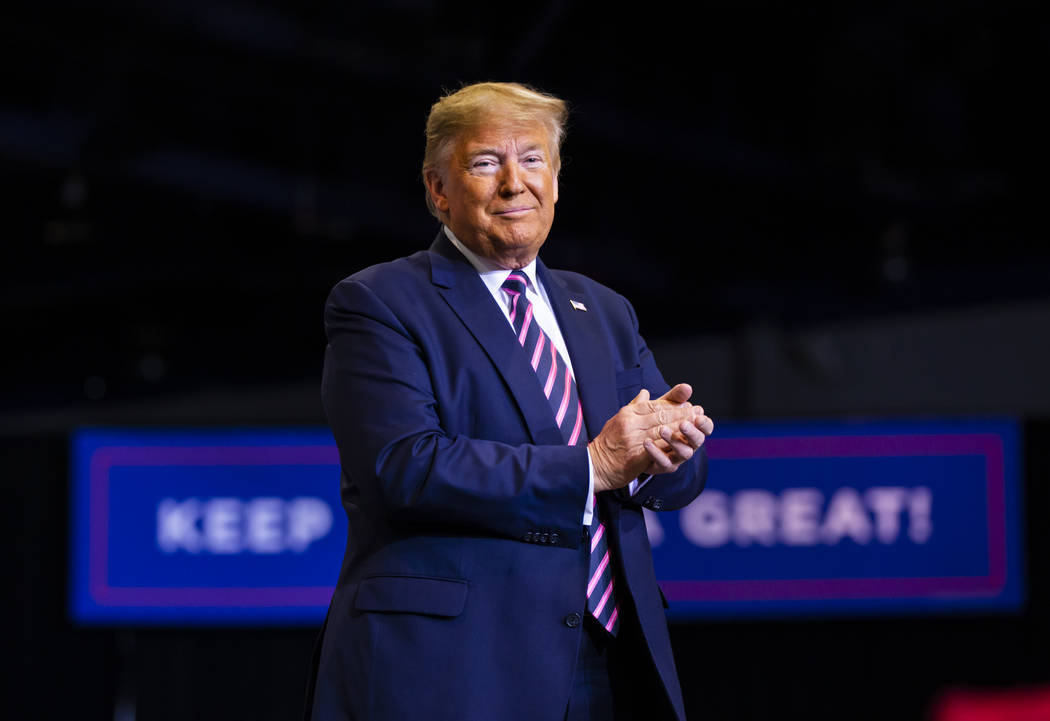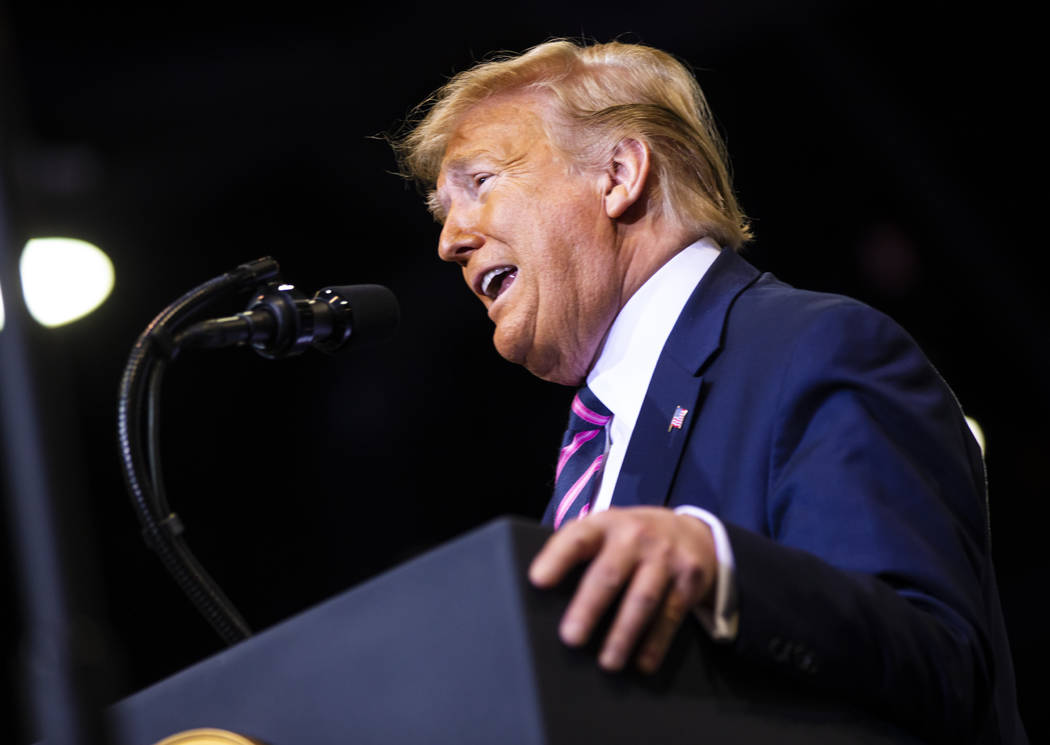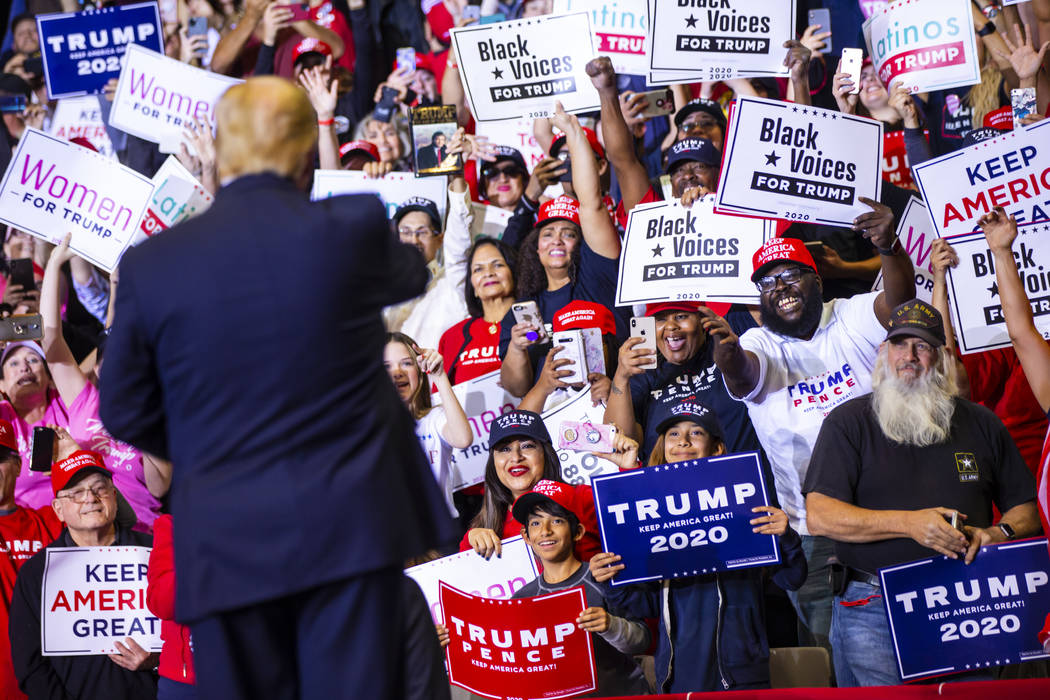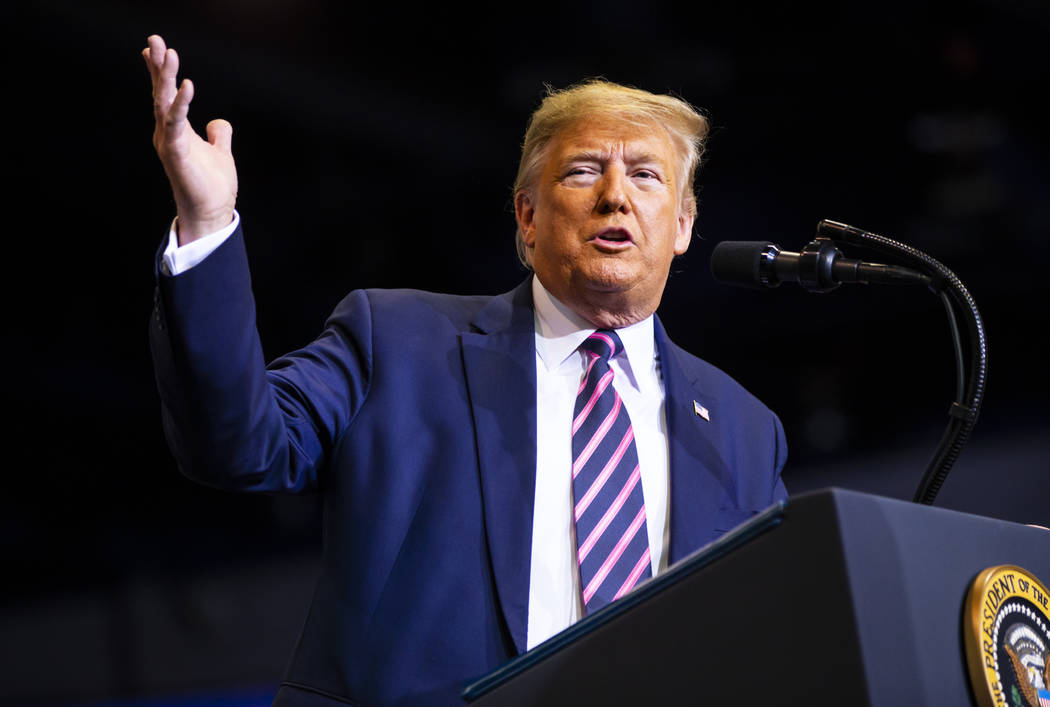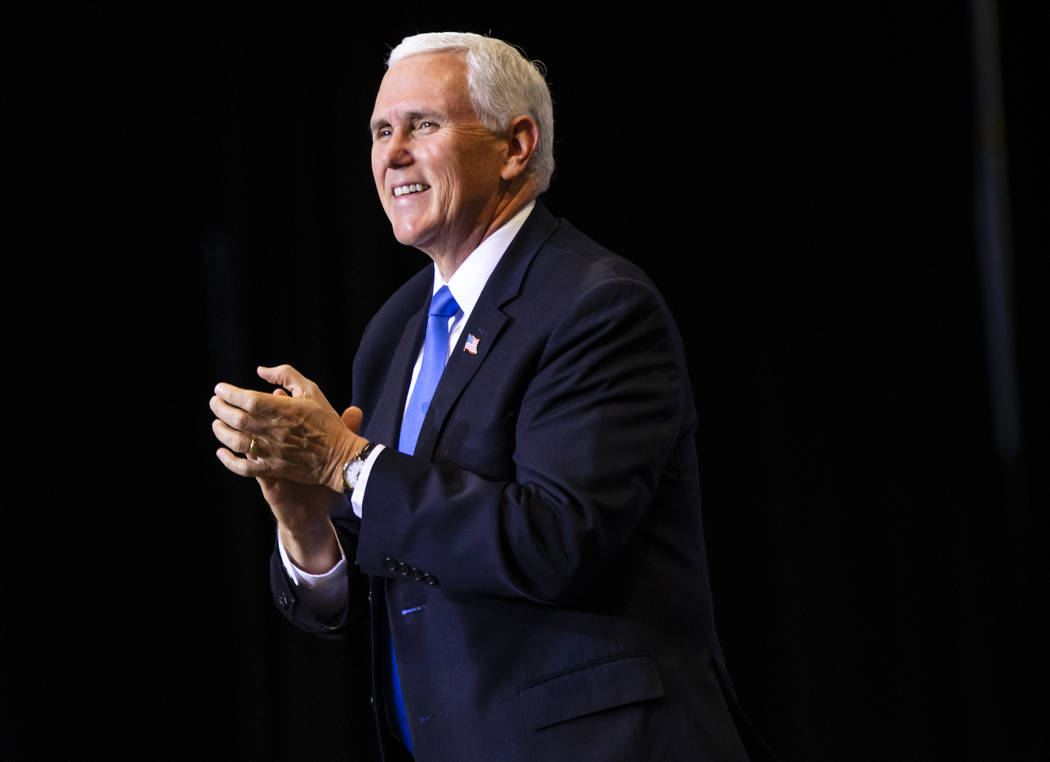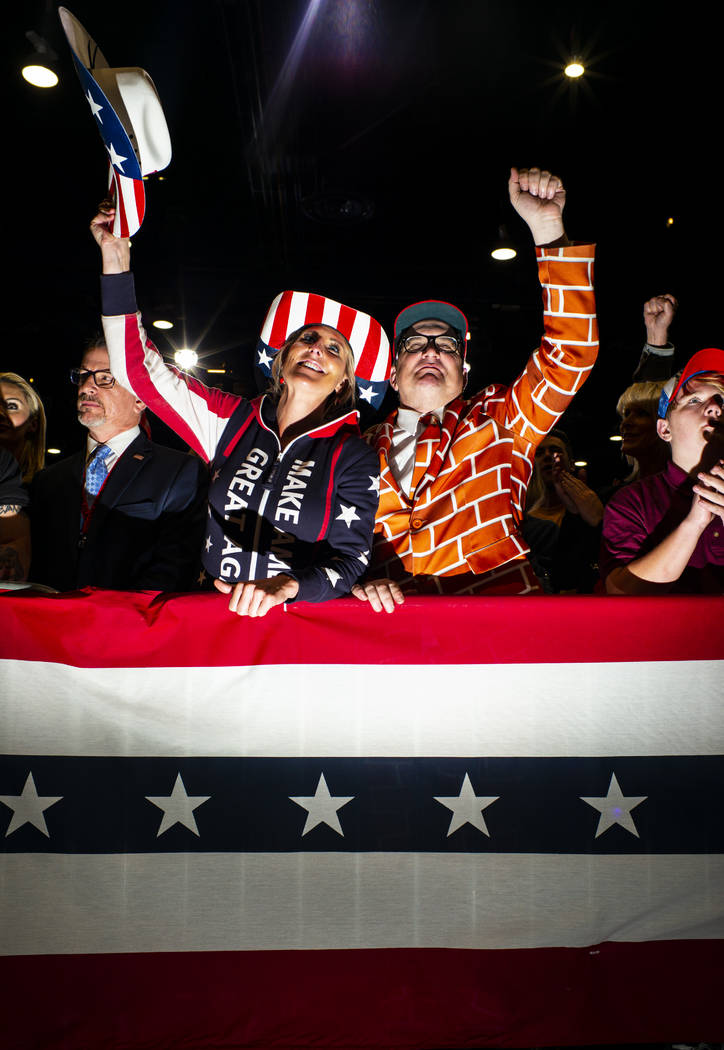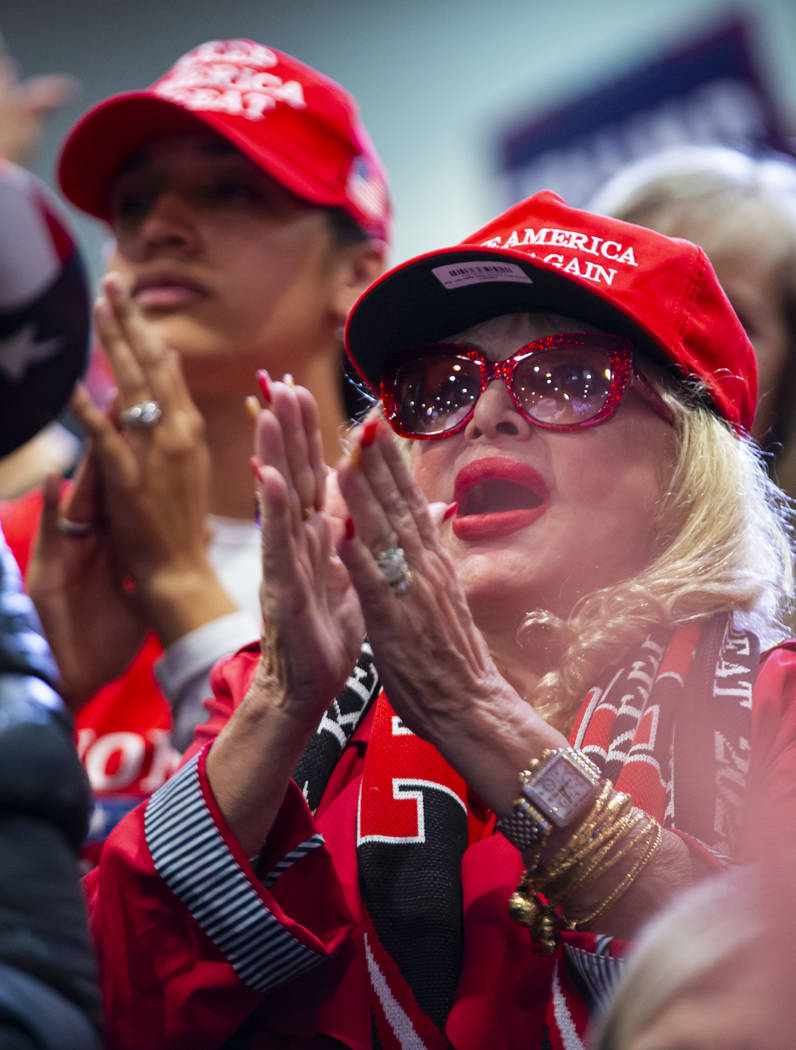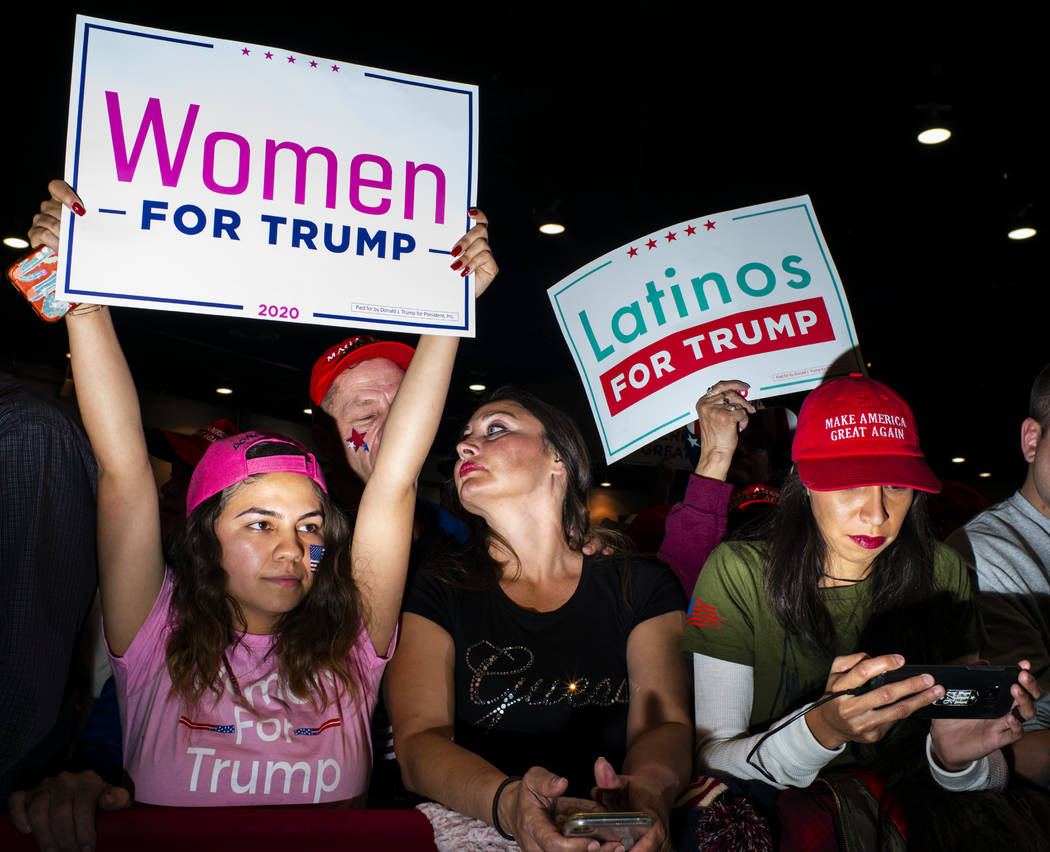 President Donald Trump mocked the seven Democratic presidential hopefuls during a rare daytime rally at the Las Vegas Convention Center Friday, one day ahead of caucuses in a state he believes he can flip in November.
The president also talked up his ties to Las Vegas and Nevada — "a state I love" — and noted that he has "a building down the road," referring to the Trump International Hotel where he spent the last three nights during a four-day tour of western states.
It was his third "Keep America Great" rally in three days, and completes a trip designed to garner Trump media coverage at the expense of Democratic hopefuls.
The president's western swing is in keeping with a pattern of attempting to dominate the news cycle during Democratic voting. He also held rallies in Des Moines, Iowa, ahead of that state's caucuses and in Manchester, New Hampshire, ahead of the New Hampshire primary.
On Friday, Trump mocked billionaire Michael Bloomberg, whom he calls "Mini Mike," and said the former New York mayor was gasping for breath after being attacked during Wednesday's Democratic debate by Sen. Elizabeth Warren, D-Mass., or "Pocahontas" as Trump calls her.
Trump said the Democratic nominee "can't be (former South Bend, Indiana Mayor Pete) Buttigieg," who he called "Alfred E. Neuman," a reference to the fictitious cover boy of Mad magazine.
"Bernie's too emotional," Trump said of Vermont Sen. Bernie Sanders. And former Vice President Joe Biden's "angry. That's what happens when you can't get the words out."
Trump called the other billionaire in the race, Californian Tom Steyer "Mr. Impeachment" and thanked Steyer for spending heavily to push for impeachment.
The president also referred to a recent action he took to stop funding "for the licensing of waste storage at Yucca Mountain so that we can focus on positive solutions.
"Why should you have nuclear waste in your back yard?" Trump asked twice.
Trump did not mention that his first three spending plans had budgeted funds to re-license Yucca Mountain after President Barack Obama made good on a campaign promise by cutting off most funds for the proposed nuclear waste facility in 2009.
"Sheldon do you have somebody in your newspaper back there who can write?" Trump asked, addressing donors Sheldon and Dr. Miriam Adelson sitting nearby. "Yucca Mountain, you're OK, please. He'll call up, Yucca Mountain is OK. That's the end of that. That's the end of that. So Yucca Mountain you're in good shape. Maybe they can finally report it properly."
The Review-Journal is owned by the Adelson family.
In response, RJ Publisher and Editor Keith Moyer said: "Add the Review-Journal to a long list of media companies that the president has woven into his ridiculous 'fake media' narrative."
Moyer added, "Mr. Trump is clearly not aware of the high caliber, balanced and in-depth coverage that RJ journalists have dedicated to the Yucca Mountain issue for decades. That's too bad."
After the event, campaign manager Brad Parscale tweeted that the event identified 15,079 voters, 73 percent from Nevada. Of those, Parscale said, 32 percent didn't vote in 2016, 27 percent were black, Latino or non-white and 18 percent were Democrats.
Trump lost Nevada in 2016 and a blue wave swept all but one statewide office to Democrats in 2018. Still, Nevada Republican Party Chairman Mike McDonald said he sees an energy among Trump fans, which includes people who haven't voted before.
McDonald told the Review-Journal Wednesday that the Las Vegas rally was scheduled in a week's time at the demand of an avid voter base in Nevada.
"It's hard to gauge. It's hard to tell somebody who's not part of it," McDonald said.
On Saturday, the Nevada Republican Party central committee will vote to bind its delegates at the Republican National Convention to Trump and to endorse the Trump campaign.
A Democratic strategist who has worked in Nevada, however, predicted Trump "could have a worse showing in Nevada than he had four years ago," when Hillary Clinton beat him by a slim margin.
The coverage of Trump's trolling of Democratic candidates before the caucuses, the strategist said, doesn't compare to the attention Democratic hopefuls have received. "He can't influence the trajectory of the primary."
Contact Debra J. Saunders at dsaunders@reviewjournal.com or 202-662-7391. Follow @DebraJSaunders on Twitter.