Senate OKs $1 trillion infrastructure bill with benefits for Nevada
Updated August 10, 2021 - 5:10 pm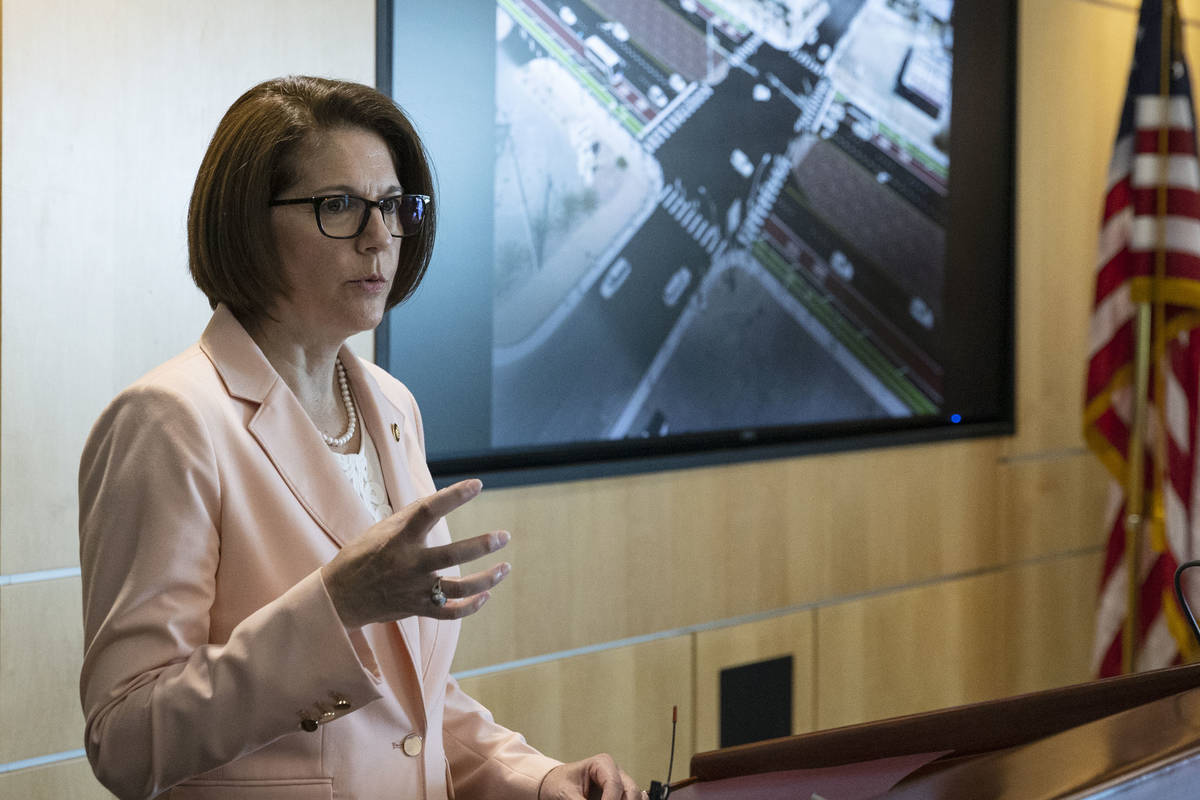 WASHINGTON — Federal funds to repair Nevada's dilapidated roads and bridges, build proposed water projects, prevent wildfires and expand broadband services and access throughout the state are part of a $1 trillion infrastructure bill the Senate passed on Tuesday.
Nevada Sens. Catherine Cortez Masto and Jacky Rosen joined Democratic colleagues and 19 Republicans who voted for the bipartisan bill, 69-30, giving President Joe Biden a key legislative victory on compromise legislation that the White House helped broker.
Biden called bill the framework for a "long-term boom" that would create jobs.
"This is a blue-collar blueprint to rebuild America," Biden told an East Room ceremony at the White House to celebrate Senate passage of the legislation that critics had recently pronounced as dead due to partisan gridlock.
Biden thanked Democratic and Republican senators: "Today we proved that democracy can still work."
Nevada's two senators worked to include specific program funding for the state in the massive bill that passed after a grueling weekend session on amendments.
"This is what we can do when we work together," Cortez Masto said.
She said she is "eager to see these historic investments uplift our state and spur an economic recovery that will benefit all Nevada families."
The measure now goes to the House for consideration.
Bipartisan group forges compromise
A bipartisan group of 22 senators worked hours and weekends to forge a bill that addressed concerns of conservatives and progressives, and that could muster the votes to overcome a filibuster and pass with support from lawmakers in both parties.
The bipartisan Senate group produced legislation that Rosen, one of the architects of the legislation, said would be "the most significant investment in American infrastructure since we built the interstate highway system."
The bill provides $65 billion for broadband expansion, much of it proposed by Rosen and other senators to provide telehealth, education and economic opportunities to rural and urban areas nationwide.
Rosen said it would make broadband access affordable to "unserved and underserved communities across Nevada."
Nevada would receive at least $100 million for broadband coverage across the state, providing access to 123,822 residents who currently lack it, according to White House estimates. About 825,000 Nevadans would be eligible for a connectivity benefit, based on income.
The broadband funding is part of $550 billion in new spending in the bill that would also pay for repair of roads, bridges and water infrastructure systems throughout the country.
Nevada has 28 bridges and over 1,090 miles of highway in poor condition, according to White House estimates. Based on funding formulas, the state would receive about $2.5 billion over five years for road projects, and $225 million for bridge repairs and replacement during that time.
Cortez Masto's language in the bill would allocate $450 million for a grant program for large-scale water recycling projects.
The funds could support a regional recycled water plant being sought by the Southern Nevada Water Authority and the Metropolitan Water District of Southern California to provide water to serve more than 500,000 homes in Nevada and Southern California.
Rep. Susie Lee, D-Nev., introduced the same bill in the House, citing the need for the project due to drought in the West.
Wildfire prevention, funds for airports
In addition, the Senate bill includes Cortez Masto's request for $3.4 billion in wildfire prevention activities, and $10 million for wildfire detection, including ALERTWildfire cameras for Lake Tahoe.
Rosen was instrumental in inserting $25 billion for airports, including $5 billion in available funds for projects in states like Nevada that rely heavily on tourism, an industry economically hard hit during the pandemic.
The state would also receive $38 million over five years to implement plug-in charging systems for electric vehicles, part of the Biden administration's effort to decrease emissions.
The U.S. Conference of Mayors, the National Governors Association, trade unions and business leaders urged Senate passage of the infrastructure bill, expected to create jobs and boost employment while addressing needs to the nation's aging transportation and water systems.
"The bipartisan deal is an historic investment in our future," said Dan Langford, CEO of Southwest Regional Council of Carpenters.
The union council helped organize workshops, visits and tours that included one attended by Vice President Kamala Harris in Las Vegas.
The Nevada AFL-CIO also endorsed the package as one that would create new construction jobs and good wages in the state.
House Speaker Nancy Pelosi, D-Calif., plans to take up the legislation when lawmakers return from their summer break later this month.
Rep. Dina Titus, D-Nev., a senior member of the House Transportation and Infrastructure Committee, inserted about $51 million in specific transportation projects for Southern Nevada in a bill passed earlier in the House.
Other projects for North Las Vegas and Pahrump were also inserted by Rep. Steven Horsford, D-Nev., and northern highway projects were requested and included in the House bill by Rep. Mark Amodei, R-Nev.
Contact Gary Martin at gmartin@reviewjournal.com. Follow @garymartindc on Twitter.