Taking a closer look at Nevada's energy choices ballot question
October 30, 2016 - 9:48 pm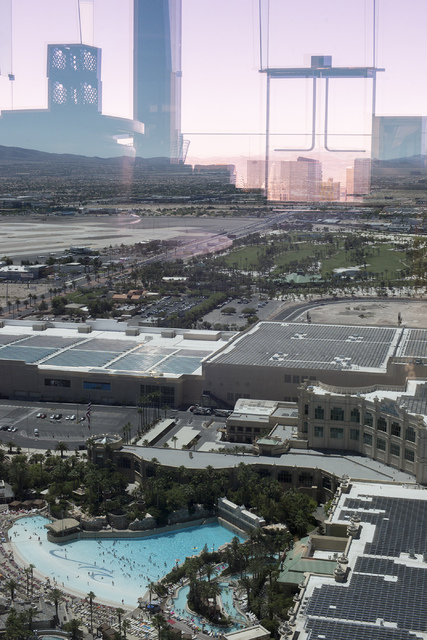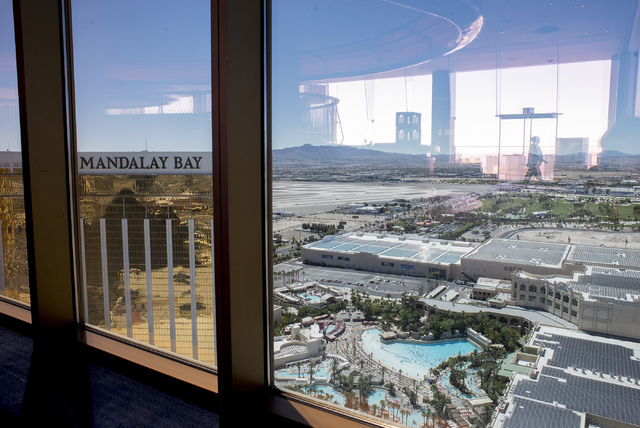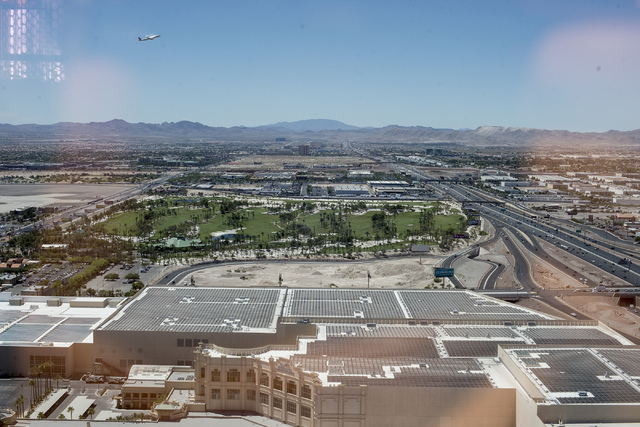 CARSON CITY — Nevada voters are being asked whether they want to approve a change to the state constitution to allow the state's energy market to be opened to competition, giving consumers a choice in where they buy their power.
It would be a long road, however, before consumers could find themselves shopping for the best energy deal the way they now shop for a mobile phone carrier.
If voters approve Question 3 on Nov. 8, it would have to pass a second time in 2018 before it could take effect.
Legislative and regulatory changes would then push any changes even further into the future. The effective date is by July 1, 2023.
The measure is backed by a group called Nevadans for Affordable Clean Energy Choices, and was qualified for the ballot with funding almost exclusively from the Las Vegas Sands Corp. It has strong voter support. An Oct. 20-23 Review-Journal poll showed 61 percent in favor of the ballot question, 22 percent opposed and 17 percent not offering an opinion.
Several major companies, including the data storage company Switch, electric car maker Tesla and MGM Resorts International, are also supporting the measure.
But the measure was challenged in Carson City District Court by two individual Nevada residents named as opponents, although there is a connection to the Nevada state AFL-CIO. No court date has yet been set.
"The passage of Question 3, the Energy Choice Initiative, will lead to the creation of thousands of new green energy jobs and ensure Nevada's future as a state on the forefront of innovation and green energy technology," said Karen Griffin, a spokeswoman for the measure.
"Nevada is one of the special places in the U.S. where solar, wind and geothermal resources are abundant," she said.
"To ensure the vitality of Nevada's economic and environmental future, we must harness those resources to improve our economy, encourage new green tech companies to bring their businesses here, and protect our environment."
While the proposal is commonly referred to as deregulation, supporters argue the word is a misnomer. If approved, the regulatory structure now in place is not proposed to change. Instead, it would require an open market for consumers to purchase electricity.
COMPANIES WANT ENERGY CHOICE
MGM Resorts is already in the forefront of the new energy paradigm.
The company left as a retail customer of the monopoly electric company NV Energy as of Oct. 1, using an existing Nevada law to purchase its own energy supplies on the wholesale market. The company paid just under $90 million for the right to do so. The exit fee is intended to defray the company's share of costs of infrastructure developed by NV Energy to ensure a reliable supply of electricity to its customers. The company still relies on NV Energy to deliver its purchased power through its transmission system.
The company has also installed one of the largest continuous, rooftop photovoltaic arrays in the world at the Mandalay Bay convention center.
Supporters say consumers will benefit under competition.
"Nothing is more important to Switch than ensuring Nevada creates a well-regulated open energy market that not only protects all consumers, but ensures low-cost access to renewable energy," said Adam Kramer, executive vice president of strategy for the company.
"We look forward to working with the Nevada Legislature to craft the energy policy that will positively shape the future of Nevada for decades to come."
According to the ballot question sponsor, nearly one-third of Americans already have the ability to choose their electricity suppliers, and data from states with energy choice shows lower electricity costs across all sectors — residential, commercial and industrial — with a nearly 20 percent cost savings for consumers.
If the Energy Choice Initiative passes, Nevada will be one of the first in the West to create retail energy choices, supporting greater innovation, job creation and new renewable energy technologies.
But there is opposition, particularly from the Nevada AFL-CIO with its 50,000 members and the Culinary Local 226 with its more than 57,000 members.
Danny Thompson, executive secretary-treasurer of the AFL-CIO labor organization, said states that have pursued competition have seen rates increase significantly. Yet energy rates for Nevadans have been maintained and even decreased in recent years as the price of natural gas has declined, he said.
NV Energy's rates are regulated by the Nevada Public Utilities Commission, whose primary objective is protecting ratepayers, Thompson said.
While large companies might be sophisticated enough to take advantage of the change, average residential customers might not have the wherewithal to do the same thing, he said.
"If California is any indication, your rates are going to go up," Thompson said.
California was one of the first states to pursue deregulation, but by 2000, wholesale electricity prices rose dramatically and California's electricity system was experiencing energy shortages and blackouts.
Since Nevada rates are low, the question is why there is a need for a change, and even if there are some ways to make the delivery of energy better, it should be done at the Legislature, not put in the state constitution where it cannot be changed without voter approval, he said.
DISAGREEMENTS OVER BENEFITS
NV Energy is neutral on the issue. If the measure is approved, the utility would continue to operate the infrastructure that delivers power to homes and businesses with competition.
Twenty-four states, including Nevada with the provisions that allow large retail customers to leave the utility, offer some form of competition or deregulation.
The ballot language in opposition to Question 3 states that open markets haven't produced lower prices for residents or businesses in states that have tried it. The argument against the measure also notes that utilities plan 20 years ahead for reliable service while deregulation would take away that safety net, exposing ratepayers to unpredictable energy markets.
Proponents argue that under Question 3, the safety, reliability and quality of Nevada's energy would continue to be regulated by the Legislature, the PUC and the federal government.
New Yorkers have seen electricity prices drop 34 percent while Texas rates have dropped below the national average, proponents say in arguing for passage.
But the Electric Markets Research Foundation in February released a new study that found retail choice of electricity adopted in 14 states and the District of Columbia since the late 1990s has accomplished little for residential consumers.
"Nearly two decades later, there is little evidence that retail choice has yielded any significant benefits," the study concluded.
A report released in April 2015 by Paul Zummo, manager of policy research and analysis at the American Public Power Association, found that electricity rates are higher in deregulated states compared with regulated states.
Citing information from the Energy Information Administration, deregulated states reported average revenue per kilowatt hour of electricity in 2014 at 12.7 cents compared with 9.4 cents for regulated states. While the numbers varied from year to year, the comparison held true all the way back to 1997.
There is evidence that residential customers of NV Energy, doing business as Nevada Power in Southern Nevada, are doing better with their monopolistic rates than in other states.
The information agency has data that shows Nevada has the second lowest increase in residential electricity prices of the 48 contiguous states from 2002 to 2013 at just over 25 percent.
Recent testimony from Anne-Marie Cuneo, director of the regulatory operations staff for the PUC, also suggests Nevada rates are low.
In a filing on the rooftop solar grandfathering issue, Cuneo said that when adjusted for inflation, the Sierra Pacific Power Company's rates are 38 percent lower now than in 1985, and Nevada Power's rates are only 8 percent higher over the same period. Sierra Pacific is NV Energy's Northern Nevada electricity provider.
The Review-Journal is owned by the family of Sheldon Adelson, chairman and CEO of Las Vegas Sands Corp.
Contact Sean Whaley at swhaley@reviewjournal.com or 775-461-3820. Follow @seanw801 on Twitter.
RELATED
Nevada Poll: Voters strongly support Questions 3 and 4
Culinary union urging members to vote against Question 3
Legal challenge filed in court against Nevada energy competition ballot Question 3