Three from Nevada tribes win awards for fight for voting rights
November 24, 2016 - 3:37 pm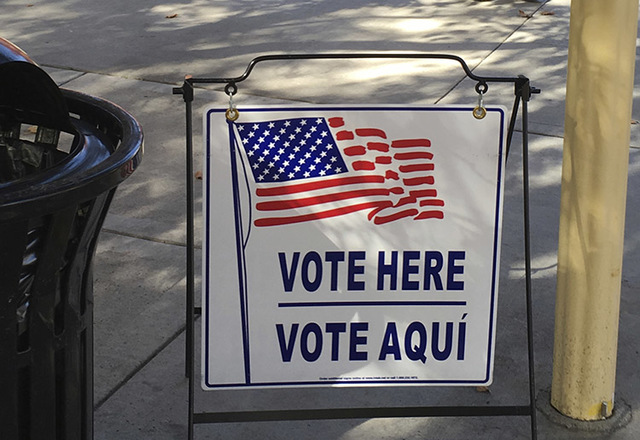 RENO — The Nevada Indian Commission honored three Native Americans who successfully fought a pair of counties and the secretary of state to get satellite polling places on two reservations.
Ralph Burns and Jimmie James of the Pyramid Lake Paiute Tribe, and Johnny Williams Jr. of the Walker River Paiute Tribe received American Indian Community Leader of the Year awards during the commission's recent banquet ceremony at the governor's mansion.
Commission executive Sherry Rupert told the Reno Gazette-Journal the award was for courage and effort to secure the chance to vote.
Burns, James and Williams were among plaintiffs in a lawsuit against Nevada Secretary of State Barbara Cegavske and Washoe and Mineral counties, which initially denied the tribes' requests for early voting and Election Day polling places.
U.S. District Judge Miranda Du in October issued a temporary injunction in Reno requiring the counties to put early polling places on two northern Nevada reservations. The ruling affected voting in the communities of Nixon and Schurz.
Similar legal battles have been fought in recent years in Utah, Alaska, Montana and the Dakotas.
Stacey Montooth, spokeswoman for the Reno-Sparks Indian Colony, helped nominate the men she called "truly authentic Native Nevadans" who "laid the foundation for another 1.7 million American Indian people to finally enjoy this essential right."
The nomination by Montooth noted the 9th U.S. Circuit, including Nevada, is home to 172 federally recognized tribes in the states of Alaska, Arizona, California, Washington, Idaho, Hawaii, Montana and Oregon.
James, who said he was involved in a similar lawsuit that failed in 1964, felt the fight was the right thing to do. He and Williams said they were surprised to receive the award. Burns didn't respond to a request for comment.
"I guess we did our part," Williams told the Gazette-Journal. "We won. It was really a good thing here. We had a lot more voters than what we normally had … in our little town."
Washoe County Registrar Luanne Cutler said adding polling places in Nixon probably helped increase community turnout in two precincts from 102 of 180 registered voters in 2012 to 184 of 233 registered voters this year.
Figures from the Native American advocacy group Four Directions showed turnout in Schurz increased from 254 in 2012 to 303 in 2016. The group said 141 people cast early ballots — nearly one-third of the 434 registered voters.