Trump adviser Roger Stone arrested, faces obstruction charge
Updated January 25, 2019 - 10:26 pm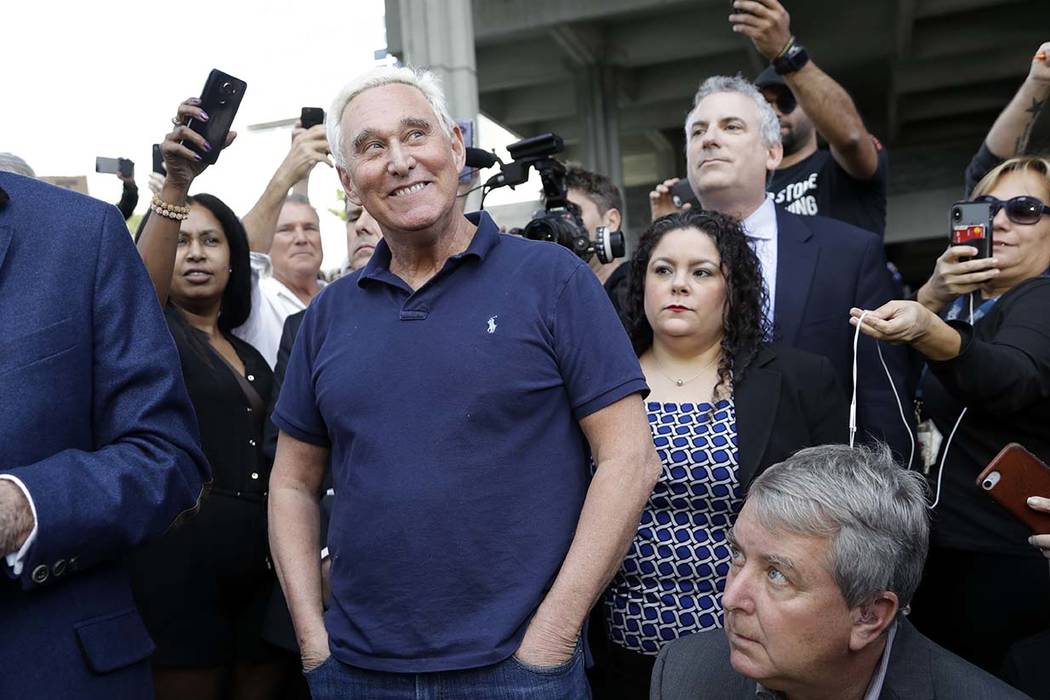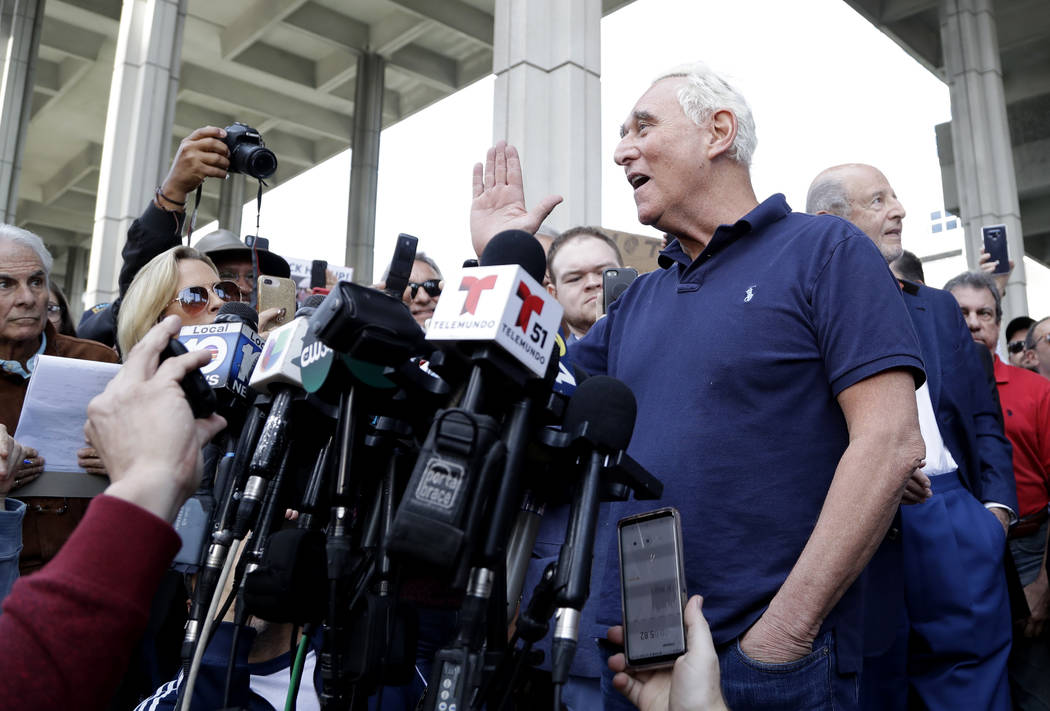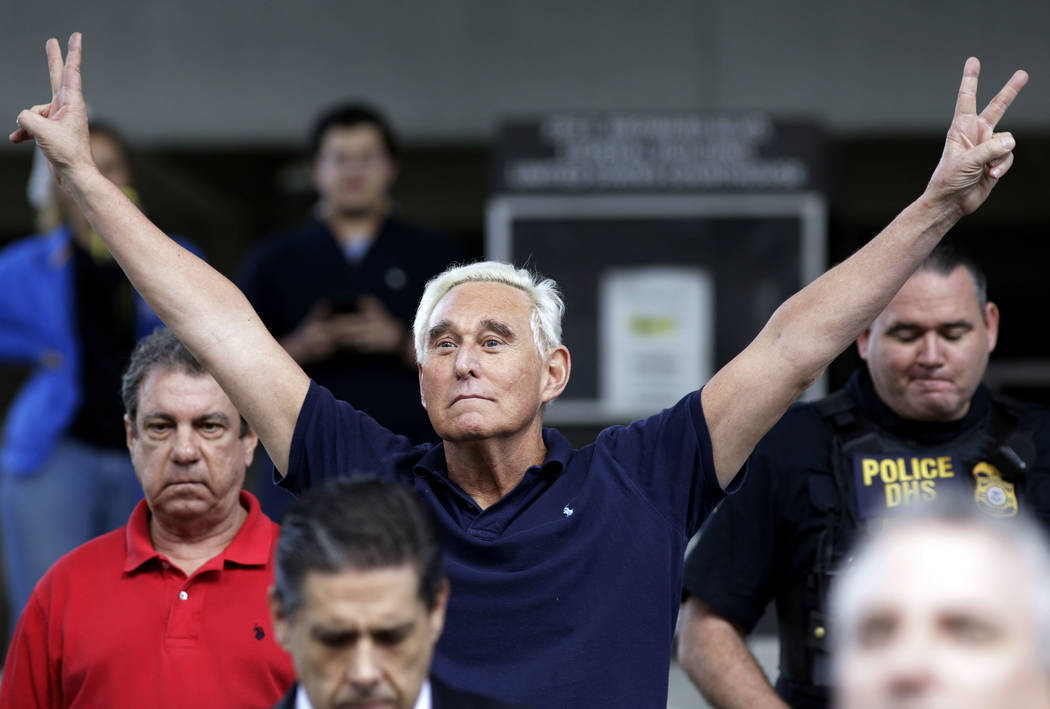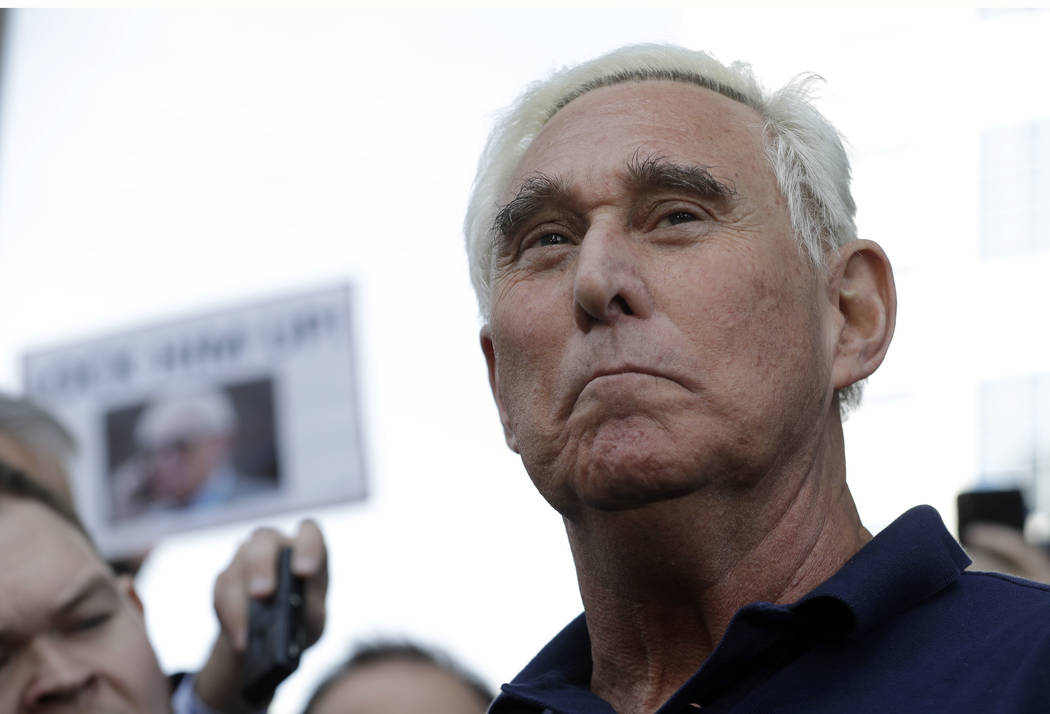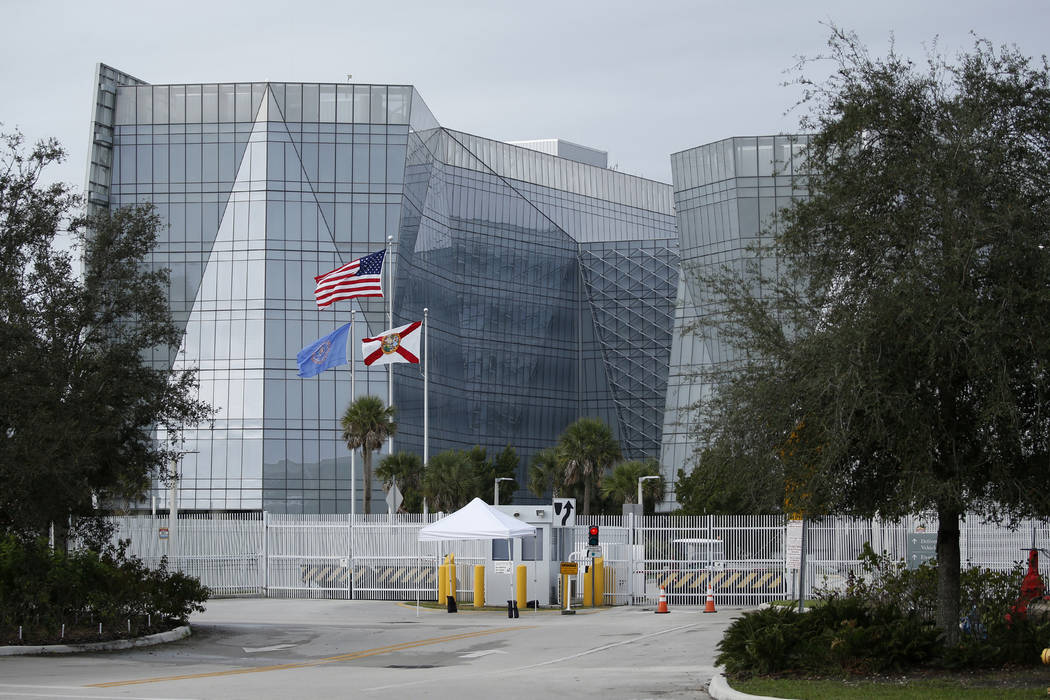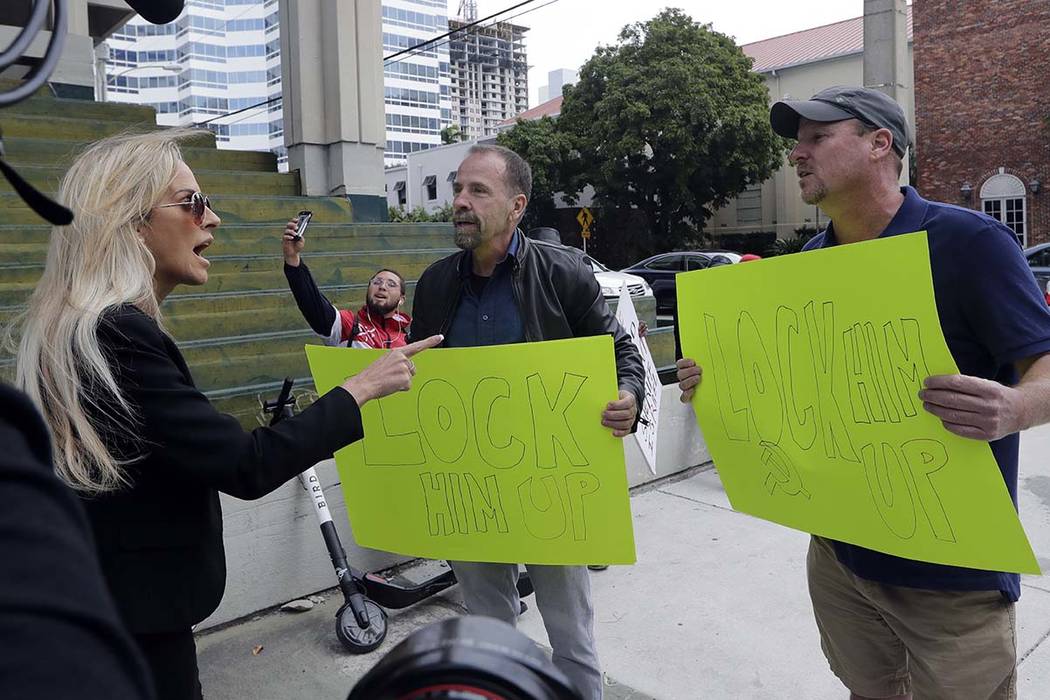 WASHINGTON — Federal authorities arrested Roger Stone, a longtime political adviser to President Donald Trump, at his Florida home Friday based on a seven-count indictment released by special counsel Robert Mueller.
The indictment charges that Stone obstructed a House Intelligence Committee investigation into Russian interference in the 2016 elections, made five false statements to the committee and engaged in witness tampering by pressing an associate to lie to the committee.
A handcuffed Stone appeared before a federal judge in Fort Lauderdale later Friday and was released on $250,000 bail.
"I will plead not guilty to these charges," Stone said outside the courthouse. "I will beat them in court. I think this is a politically motivated investigation."
Stone also said he would not testify against Trump because he did not want to bear false witness.
As Stone spoke, hecklers jeered at him and chanted, "Lock him up."
After his remarks, Stone, clad in a blue polo shirt, gave a dramatic Nixonesque victory sign. Stone worked on President Richard Nixon's re-election campaign and has Nixon's face tattooed on his back.
Trump responded to the indictment Friday morning in a post on Twitter.
Greatest Witch Hunt in the History of our Country! NO COLLUSION! Border Coyotes, Drug Dealers and Human Traffickers are treated better. Who alerted CNN to be there?

— Donald J. Trump (@realDonaldTrump) January 25, 2019
"Greatest Witch Hunt in the History of our Country! NO COLLUSION! Border Coyotes, Drug Dealers and Human Traffickers are treated better. Who alerted CNN to be there?" it said.
CNN, which had been staking out Stone's home, captured the scene of multiple armed FBI agents as they conducted the predawn raid at Stone's home in Fort Lauderdale. It was an arrest reminiscent of that of onetime Trump campaign chairman Paul Manafort.
GOP bad boy
The indictment provides examples of Stone, 66, a dapper old-school GOP bad boy and longtime friend and political adviser to Trump, boasting that he had a back-channel communication with WikiLeaks founder Julian Assange.
In July, the indictment asserted, Stone directed an associate, Person 1, to get in touch with Assange — referred to in the document as "the head of Organization 1" — to discern if WikiLeaks had damning information on Democratic presidential nominee Hillary Clinton.
Later Stone told the House Intelligence Committee that Person 2 was the go-between between Stone and WikiLeaks, which released emails from the Democratic National Committee that Mueller has charged were hacked by Russia.
According to the indictment, Stone later tried to direct Person 2 to "stonewall it. Plead the fifth. Anything to save the plan."
In December 2017, the document alleged, Stone urged Person 2 to do a "Frank Pentangeli" — a reference to a character in "The Godfather: Part II" who feigned ignorance during a criminal trial.
As Person 2 resisted, Stone threatened to "take that dog away" from Person 2 in an April email, and he berated the unnamed radio talk show host as "a rat" and "a stoolie," according to the indictment.
In a May email, Person 2 told Stone, "You should have just been honest with the house Intel committee. … You opened yourself up to perjury charges like an idiot."
The Associated Press and other media on Friday identified Person 1 as Jerome Corsi and Person 2 as New York radio host Randy Credico.
White House press secretary Sarah Sanders told CNN, "The charges brought against Roger Stone have nothing to do with the president, have nothing to do with the White House."
Fifth campaign aide arrested
Stone, who was fired from the Trump campaign in 2015, is the fifth onetime Trump campaign aide to be indicted by the special counsel.
A Virginia jury convicted Manafort on tax and bank fraud charges in August. In September, he cut a plea deal on felony counts of conspiracy.
Three other former campaign aides — former Manafort right-hand man Rick Gates, former national security adviser Michael Flynn and campaign policy adviser George Papadopoulos — have pleaded guilty to charges that included making false statements to federal investigators.
In December, Trump quoted Stone in a post on Twitter: " 'I will never testify against Trump.' This statement recently made by Roger Stone essentially stating that he will not be forced by a rogue and out of control prosecutor to make up lies and stories about 'President Trump.' Nice to know that some people still have guts!"
Richard Serafini, a former federal prosecutor turned defense attorney, noted the indictment did not show any Russian collusion with the Trump campaign. The question, he said, is whether that is because there was no collusion — "and if that's the case, why are they lying about it?" — or because Mueller chose not to reveal evidence of collusion as part of a strategy to build a case.
Contact Debra J. Saunders at dsaunders@reviewjournal.com or at 202-662-7391. Follow @DebraJSaunders on Twitter.