Trump, Democrats strike deal to reopen government for 3 weeks
Updated January 25, 2019 - 6:41 pm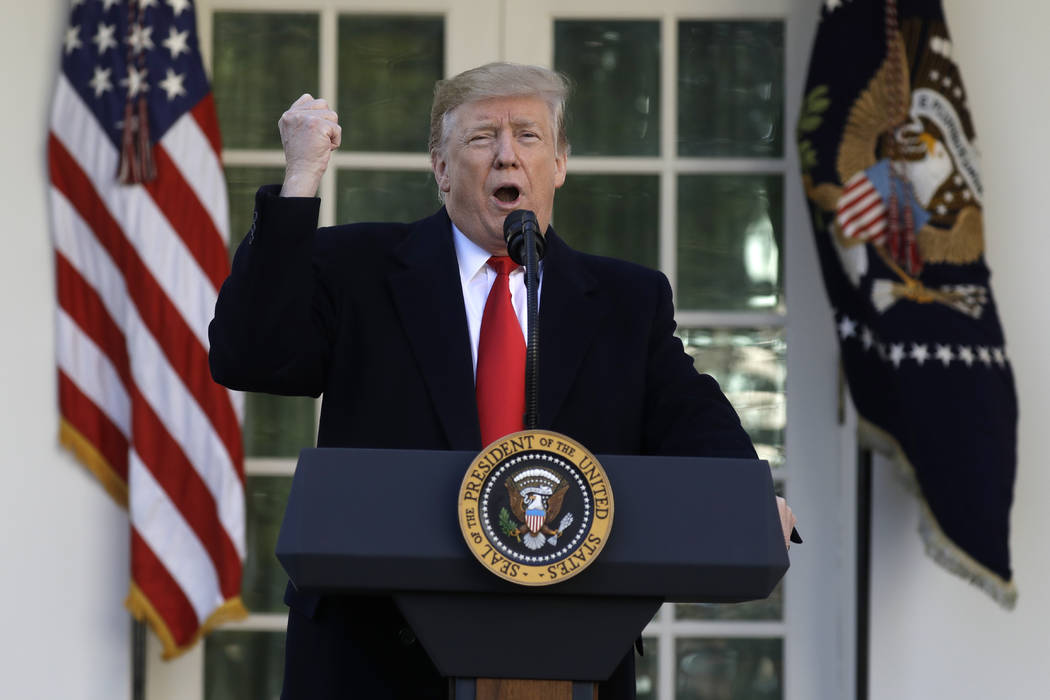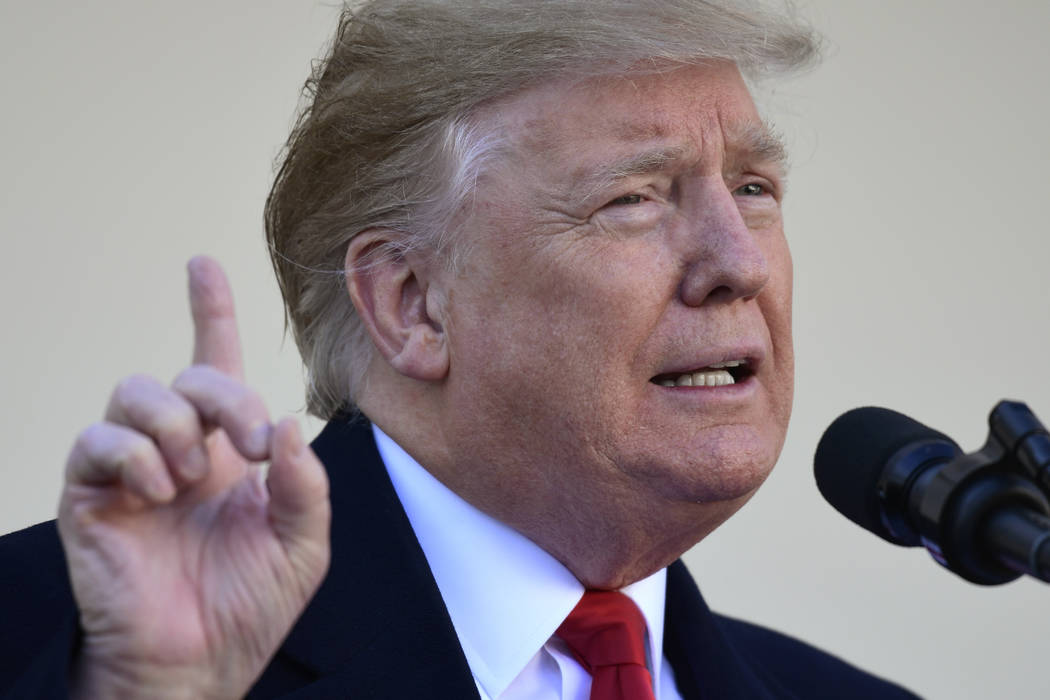 WASHINGTON — President Donald Trump and congressional Democrats reached agreement Friday to reopen the shuttered government for three weeks while the White House and Congress continue negotiation on the contentious issue of a border wall.
"We have reached a deal to end the shutdown and reopen the government," Trump told a news conference in the Rose Garden.
House Speaker Nancy Pelosi, D-Calif., thanked federal workers who suffered financial hardships during the shutdown, the longest in U.S. history.
"It's sad, though, that it's taken this long to come to an obvious conclusion," Pelosi said, adding that policy differences should never be an excuse to close the government.
The Senate and House later passed by voice vote a resolution funding government at current budget levels. Late Friday, Trump signed it into law.
The deal would allow 800,000 federal workers, including 3,500 in Nevada, to collect back pay following the partial government shutdown, which has threatened the aviation industry and crippled small businesses with federal contracts.
Legislation was signed by Trump last week to provide back pay to federal workers once the shutdown was over and as soon as payroll departments can process and distribute paychecks and make direct deposits.
Under the deal reached Friday, the government would reopen for three weeks, until Feb. 15, allowing negotiations over the president's demand for a border wall to continue.
But Trump made clear that he was prepared to shut down the government again if he is not satisfied with the outcome of those talks.
"I wish people would read or listen to my words on the Border Wall," Trump said in a tweet late Frida . "This was in no way a concession. It was taking care of millions of people who were getting badly hurt by the Shutdown with the understanding that in 21 days, if no deal is done, it's off to the races!"
Democrats united
Democrats remained united in their opposition to Trump's demand for border wall funding, and ultimately forced the president to concede to sign a bill largely identical to one he rejected in December that led to the closure of 25 percent of the government.
"Hopefully, now the president has learned his lesson," said Senate Minority Leader Chuck Schumer, D-N.Y.
A bipartisan House-Senate conference committee will have 21 days to craft legislation to address border security, including possible fencing or barriers, to submit to Trump for his signature.
A permanent solution still faces hurdles, and Trump implied he could still declare a national emergency if Congress fails to provide a solution to his satisfaction.
Trump said later at the White House that the administration would work with Democrats, and if that fails, "we'll do the emergency because that's what it is. It's a national emergency."
Sen. Catherine Cortez Masto, D-Nev., said she stood ready to negotiate with the administration once the government is opened.
Rep. Mark Amodei, Nevada's lone Republican in the congressional delegation and a member of the House Appropriations Committee, said he was "pleased to hear we have reached a deal to immediately reopen the federal government as Congress works to prioritize funding for border security."
"I look forward to shocking the nation with a constructive outcome in three weeks," Amodei said. "Stay tuned."
The deal to immediately reopen the government does not include money for a wall, and was prompted partly by dire consequences that the shutdown has caused over the past month.
Flight delays due to a lack of air traffic controllers were reported at LaGuardia Airport in New York on Friday.
Transportation Security Administration agents at airports nationwide also have been forced to work without pay during the shutdown, with many of the lower-paid employees forced to seek nutritional assistance or go to community food banks.
David Cox, the national president of the American Federation of Government Employees, said Friday that the plight of TSA workers poses risks to the security and safety of the system.
"It is simply impossible to maintain an elite level of safety and security with a workforce that is exhausted, hungry and financially anxious," Cox said.
Senate votes
The president's announcement came just one day after the Senate blocked his $5.7 billion proposal for a border wall in exchange for a temporary extension of a program to protect undocumented immigrants brought into this country as children.
Senators also blocked a Democratic stop-gap bill to reopen the government for two weeks.
The Senate voted largely along party lines as Trump and Democrats dug in on their positions.
Ironically, Trump agreed to a deal Friday that was nearly identical to bipartisan legislation proposed in December to keep the government open at current funding levels while border security discussions continued.
Trump had signaled then that he would sign the stop-gap bill, but reversed course after he was criticized by conservative pundits for caving in to Democrats on the issue.
His abrupt shift resulted in the partial government shutdown that lasted 35 days.
The irony of Trump's decision to agree to similar terms a month later, after more than a month of financial pain to federal workers, was not lost on Democrats.
"It took far too long for this senseless Trump tantrum to come to an end," said Rep. Dina Titus, D-Nev.
Federal employees were forced to unnecessarily suffer, Rep. Susie Lee, D-Nev., said, "all because of partisan games that could have been resolved on day one."
"And simply reopening the government won't help them pay the late fees and fines they've been charged over the past 35 days," said Rep. Steven Horsford, D-Nev.
Horsford said Congress has an obligation to make Nevadans "whole for all of the financial costs they've incurred during this wasteful and senseless shutdown."
Despite warnings of further economic disruptions, Trump has threatened another shutdown over his demand for a border wall, a key pledge in his 2016 presidential campaign that included the claim that Mexico would finance the construction.
His demand that U.S. taxpayers now foot the bill for the wall remains part of Democratic objections to his request, as well as arguments that a physical wall would be ineffective and immoral.
Immigration advocates saw the president's announcement Friday as a concession.
"Isolated, defeated and desperate, President Trump flew the white flag today," said Frank Sharry with America's Voice, a pro-immigration advocacy group with offices in Washington and Las Vegas.
Conservative pundits criticized the president after his announcement and what they called a capitulation to congressional Democrats.
"Good news for George Herbert Walker Bush: As of today, he is no longer the biggest wimp to serve as President of the United States," said conservative commentator Ann Coulter on Twitter.
Contact Gary Martin at gmartin@reviewjournal.com or 202-662-7390. Follow @garymartindc on Twitter.