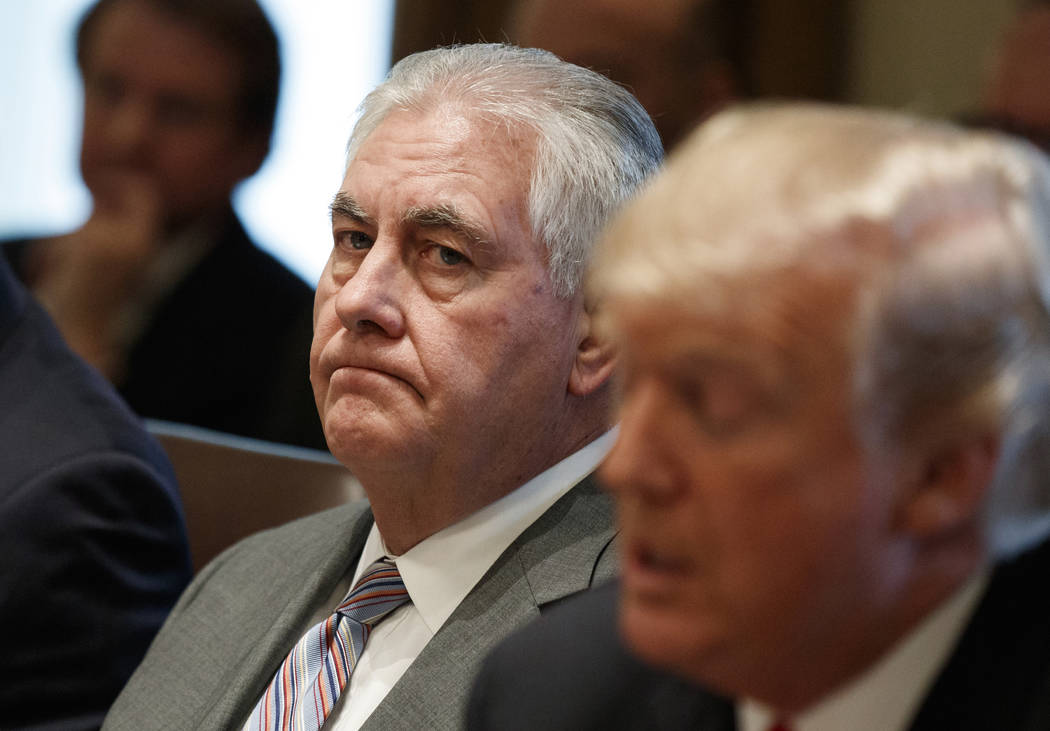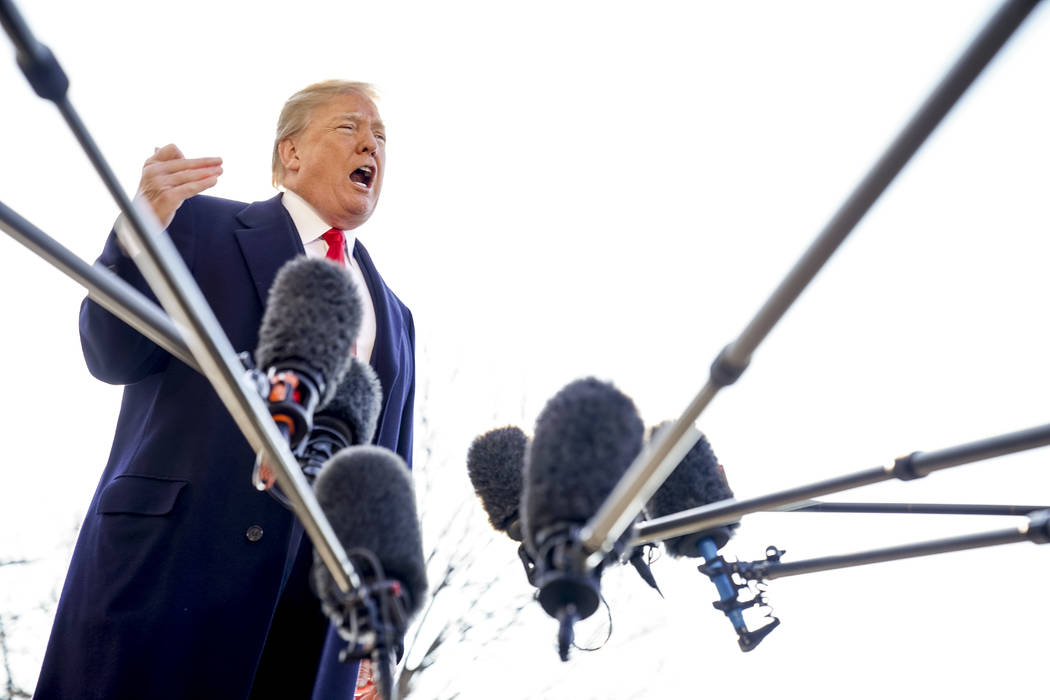 WASHINGTON — President Donald Trump played musical chairs with his Cabinet Tuesday, ousting Secretary of State Rex Tillerson and replacing him with CIA chief Mike Pompeo.
The president also replaced Pompeo with Deputy CIA Director Gina Haspel, who would be "the first woman so chosen," according to a morning Trump tweet.
Trump's relationship with Tillerson, has been rocky over the last year. Tillerson reportedly called Trump a "moron" at a Pentagon meeting in July. Trump later suggested that he had a higher IQ than his top diplomat.
"We disagreed on things," Trump told reporters at the White House.
The president also repeatedly undermined Tillerson. In October, Trump tweeted that Tillerson "is wasting his time trying to negotiate with Little Rocket Man," Trump's nom de tweet for North Korean strongman Kim Jong Un.
Last week when Trump announced his decision to accept Kim's invitation to negotiate face-to-face, he did so without consulting Tillerson first.
Mike Pompeo, Director of the CIA, will become our new Secretary of State. He will do a fantastic job! Thank you to Rex Tillerson for his service! Gina Haspel will become the new Director of the CIA, and the first woman so chosen. Congratulations to all!

— Donald J. Trump (@realDonaldTrump) March 13, 2018
Tillerson's firing was reminiscent of Trump's firing of FBI Chief James Comey in May — part public-shaming, part dismissal through an intermediary. Comey was speaking to FBI staffers in Los Angeles and when he saw the news that he had been canned flashing on a TV screen, he at first thought it was a joke.
Trump also did not personally notify Tillerson, who had just returned from his first diplomatic mission to Africa. Undersecretary of State for Public Diplomacy and Public Affairs Steve Goldstein tweeted, "The Secretary did not speak to the President this morning and is unaware of the reason, but he is grateful for the opportunity to serve, and still believes strongly that public service is a noble calling and not to be regretted. We wish Secretary-Designate Pompeo well."
Goldstein was fired later in the day.
'A proud American'
According to CNN, Chief of Staff John Kelly had alerted Tillerson on Friday that Trump would replace him, but Kelly did not say when. When Tillerson addressed the media Tuesday afternoon, he revealed that Trump had phoned him from Air Force One around noon, hours after Trump tweeted about Tillerson's ouster.
Without taking questions, Tillerson closed, "I'll now return to private life, as a private citizen, as a proud American."
The decision to hire Tillerson, a former Exxon Mobil CEO, to head the State Department came as a surprise after Trump had entertained nominating other, better known figures, including former New York Mayor Rudy Giuliani and 2012 GOP presidential nominee Mitt Romney. But former Secretary of State Condoleezza Rice had recommended Tillerson.
Yet Tillerson never quite settled into Foggy Bottom and he never managed to staff the department properly.
Trump's preference for Pompeo, who developed a strong rapport with the president over daily intelligence briefings, had made the CIA chief the person most often named as Tillerson's replacement. "We're always on the same wavelength," Trump said.
Democrats took note Tuesday of the administration's apparent revolving door.
"The instability of this administration in just about every area weakens America," Senate Minority Leader Chuck Schumer, D-N.Y., said in a statement. "If he's confirmed, we hope that Mr. Pompeo will turn over a new leaf and will start toughening up our policies towards Russia and Putin."
"Whenever Tillerson's successor goes into meetings with foreign leaders, his credibility will be diminished as someone who could be here today and gone tomorrow," said House Minority Leader Nancy Pelosi, D-Calif.
But Sen. Lindsey Graham, R-S.C., tweeted, "One of the most important jobs for the Secretary of State is to make clear to the world the President's policies and priorities. No one has a stronger relationship with President Trump than Mike Pompeo."
Pompeo's wide resume
Pompeo brings a wide resume to the job. The native Californian graduated first in his class at West Point, served in the Army and graduated from Harvard Law School where he was editor of the Harvard Law Review. Pompeo started Thayer Aerospace in Kansas, became president of Sentry International, and was serving his fourth term representing Wichita in the House of Representatives when Trump tapped him to head the CIA.
On Twitter, Trump's Ambassador to the United Nations Nikki Haley called the Pompeo pick "a great decision." Other conservatives reacted favorably to the Pompeo pick as they see a national security hard-liner who like Trump opposes the Iran nuclear pact, supports the Guantanamo Boy detention center in Cuba and has called CIA interrogators accused of torture "patriots."
The Council on American-Islamic Relations executive director Nihad Awad opposes Pompeo's confirmation on the grounds that he "expressed Islamophobic views." After the 2013 Boston Marathon bombing, Pompeo said, "It casts doubt on the commitment to peace by adherents of the Muslim faith."
CAIR also opposes promoting Haspel, a career intelligence officer at the CIA since 1985, because she "personally oversaw the torture of detainees." According to a 2017 New York Times profile, Haspel "oversaw the torture of two terrorism suspects and later took part in an order to destroy videotapes documenting their brutal interrogations at a secret prison in Thailand."
On The Cipher Brief, a web site where former national security officials often weigh in, Haspel won kudos from both sides of the aisle. Former CIA director Michael Hayden, who was appointed by President George W. Bush, observed, "I think Gina's choice to stay in the director job will make CIA the most calm spot in the American government for the foreseeable future."
Former Director of National Intelligence James Clapper, an appointee of President Barack Obama, offered, "I think the world of Gina; she is capable, smart, very experienced, well respected by the Agency rank and file, and a great person. I think it's much better to have intelligence professionals serving in senior intelligence positions."
Tillerson's departure follows other high-profile exits of 2018, including Chief Economic Adviser Gary Cohn and Communications Director Hope Hicks.
On Monday, Trump's long-time personal aide, John McEntee, was escorted out of the White House. The Trump campaign announced Tuesday morning that McEntee will serve as the campaign's senior adviser for campaign operations.
Before he boarded Marine One to begin his first trip as president to California Tuesday, Trump sparked speculation on who will be the next staffer to leave the White House when he told reporters, "So I've gotten to know a lot of people very well over the last year and I'm really at a point where we're very close to getting the Cabinet and other things that I want."
Contact Debra J. Saunders at dsaunders@reviewjournal.com or 202-662-7391. Follow @DebraJSaunders on Twitter.