Trump, GOP leaders huddle to plot legislative, political strategy
January 5, 2018 - 6:00 pm
Updated January 5, 2018 - 10:19 pm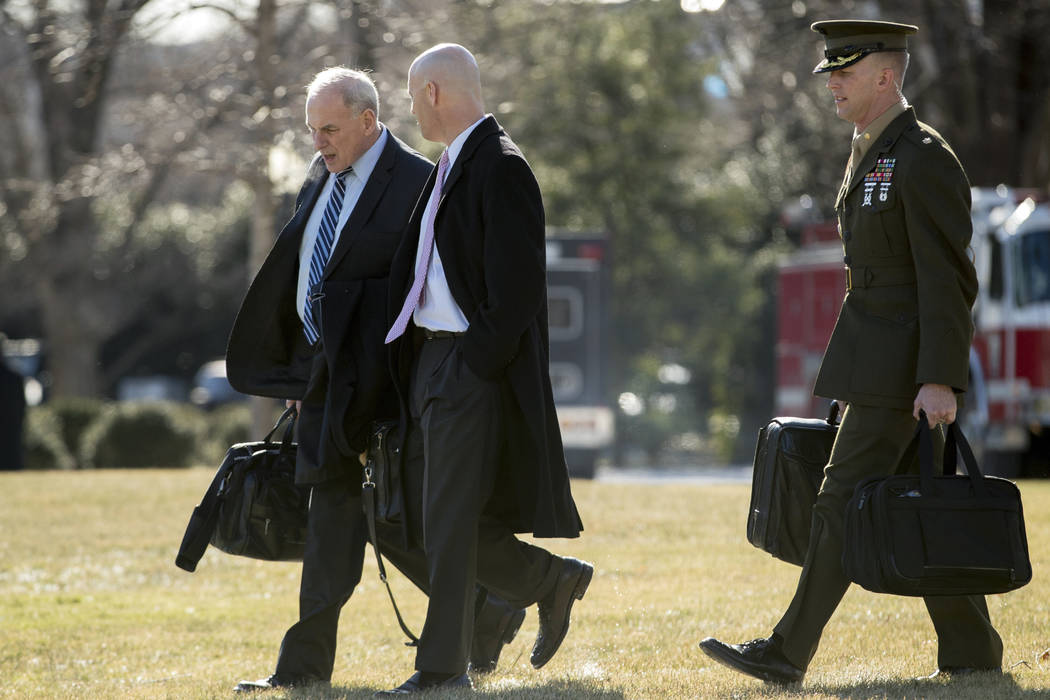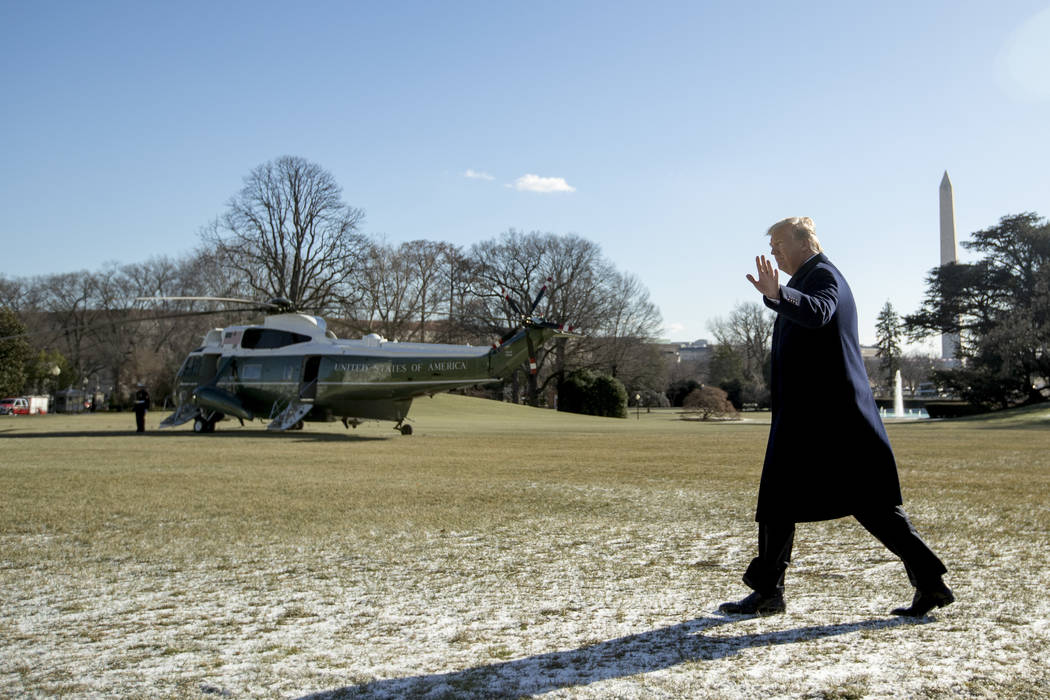 WASHINGTON — President Donald Trump and congressional GOP leaders huddled at the presidential retreat Friday for a two-day summit on legislative priorities and the midterm elections that could reshape Congress.
"We have a lot of things to work on, a lot of things to accomplish," Trump said on the South Lawn of the White House before boarding Marine One for a trip to Camp David in Maryland.
Trump and GOP leaders are plotting legislative and political strategy as they seek to protect their majorities in the House and, more importantly, in the Senate, where they have a razor-thin 51-49 edge.
Electoral victories by Democrats in elections last year have Republicans worried about a potential Democratic wave election in 2018, although both parties see possibilities of picking up seats.
Rep. Gregg Harper, R-Miss., this week became the sixth House GOP committee chairman to announce his retirement, joining more than a dozen fellow Republicans who plan to exit Congress after this term.
"His strong and principled leadership will surely be missed," said House Majority Leader Kevin McCarthy, R-Calif., who is participating in the strategy summit at Camp David.
In the Senate, Sen. Dean Heller, R-Nev., is considered the most vulnerable Republican incumbent, and the only GOP senator running for re-election in a state carried by Hillary Clinton in 2016.
Heller faces a GOP primary challenge from Las Vegas lawyer Danny Tarkanian, a Steve Bannon-backed candidate.
Rep. Jacky Rosen, D-Nev., has the backing of former Senate Minority Leader Harry Reid, D-Nev., in her bid to unseat Heller.
The list of lawmakers resigning or not seeking re-election includes several accused of sexual harassment, misconduct or embarrassing disclosures, including Rep. Ruben Kihuen, D-Nev., whose 4th Congressional District is considered competitive.
Recent midterm elections have favored the non-presidential party. And Democrats appear buoyed by victories in 2017 in Virginia, New Jersey and Alabama.
Sen. John Cornyn, R-Texas, the second highest ranking GOP leader in the Senate, said he likes the political map for GOP pickups.
Senate incumbents from the non-presidential party generally have an easier path to re-election than those from the presidential party, said Kyle Kondik, an elections expert with the University of Virginia's Center for Politics.
However, "we are in a very partisan era, and Democrats are defending seats in some of the president's best states, like North Dakota and West Virginia," Kondik said. "So there are competing forces at work."
A lot of topics are on the agenda for this weekend's retreat. After passing a tax-cut package under budget rules that allowed simple majorities, Trump and Republican leaders face higher hurdles for spending legislation and a budget deal that will include increases for military spending, immigration reform and border security proposals.
Trump plans to meet with Democratic senators at the White House next week to continue discussion on immigration reform proposals that would provide protection from deportation for 800,000 immigrants brought into this country illegally as minors.
In exchange, Trump wants increased funding for the Department of Homeland Security to build a wall on the Mexican border and visa program reforms.
Trump also wants to push an infrastructure bill, one area where Democrats have said they are eager to work with the administration and Republican colleagues.
Contact Gary Martin at gmartin@reviewjournal.com or 202-662-7390. Follow @garymartindc on Twitter.
Retreat attendees
Among those meeting with President Donald Trump are:
Vice President Mike Pence, Senate Majority Leader Mitch McConnell, R-Ky., Sen. John Cornyn, R-Texas, the majority whip, House Speaker Paul Ryan, R-Wis., and House Majority Leader Kevin McCarthy, R-Calif.
Also attending will be several Trump Cabinet members, including Secretary of State Rex Tillerson, Defense Secretary Jim Mattis, Homeland Security Secretary Kirstjen Nielsen and White House budget Director Mick Mulvaney.