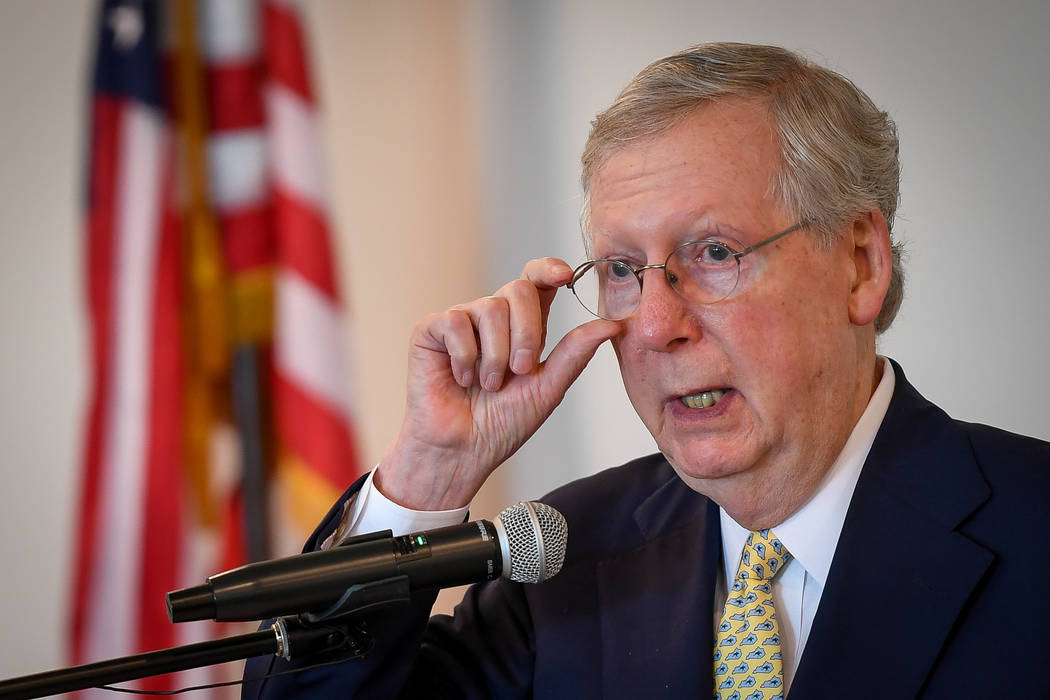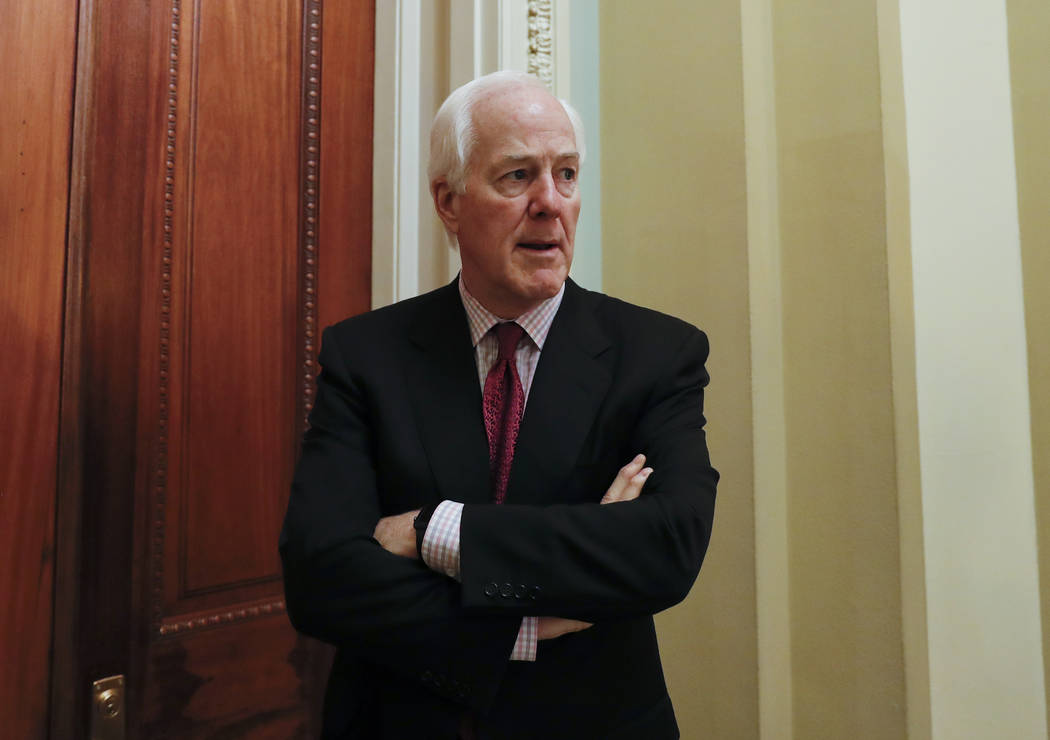 WASHINGTON — Senate Republicans returned to the nation's capital Monday and faced added pressure from President Donald Trump to complete a health care bill before the August recess.
"I cannot imagine that Congress would dare to leave Washington without a beautiful new HealthCare bill fully approved and ready to go!" Trump said in an early morning tweet.
Senate Majority Leader Mitch McConnell, R-Ky., said the Affordable Care Act, commonly referred to as Obamacare, has proved costly for Americans and continues to implode, with insurers pulling out of states, including Nevada.
"Unless we do something about that, even more Americans are going to get hurt," McConnell said.
I cannot imagine that Congress would dare to leave Washington without a beautiful new HealthCare bill fully approved and ready to go!

— Donald J. Trump (@realDonaldTrump) July 10, 2017
Senate Majority Whip John Cornyn, R-Texas, said a vote on a Senate health care bill could come as early as next Tuesday.
So far, Senate Republican attempts to repeal Obamacare and replace it with a suitable alternative have failed.
The GOP leaders face high hurdles in patching together a piece of legislation that can appease both conservatives and moderates and pass in the Senate, where Republicans hold a slim 52-48 majority.
Democrats are united against repeal of the ACA, which was passed in 2010 without a single GOP vote.
Republicans now control the House, Senate and the White House. Many GOP lawmakers and Trump campaigned on pledges to repeal the ACA, which mandated people purchase health care plans and provided federal subsidies.
Earlier draft
A Senate bill to replace the ACA would eliminate most mandates and taxes and offer tax credits instead of subsidies for low-income people eligible for aid.
The draft bill was pulled from floor consideration before July 4 when the Congressional Budget Office said the legislation would result in 22 million more people uninsured over a 10-year period.
Centrist and moderate senators withdrew their support for that draft, and more continued to peel away after a July 4 holiday week back in their home states with constituents.
Republican lawmakers are expected to see revisions to the Senate health care vote Tuesday during a weekly caucus luncheon.
Sen. Dean Heller, R-Nev., spent the July 4 break at holiday parades, a retreat to the mountains and roundtable discussions about veterans issues.
Heller is one of a growing number of GOP senators who have said they would not vote for the current Senate health care draft, citing deeps cuts to Medicaid and an end to expansion of that program that allowed 200,000 people in Nevada to enroll.
Although Heller has been involved in Senate GOP talks on the bill, he is being targeted in political ads by special interests who see him as a pivotal vote and Democrats and left-leaning groups who see him as vulnerable in the 2018 election.
Rep. Jacky Rosen, D-Nev., has announced she will challenge Heller for the seat.
Another Republican senator, Jeff Flake of Arizona, also faces re-election in 2018. On Monday, pro-Obamacare protesters flocked to Flake's office on Capitol Hill.
Several vulnerable Democrats are also under attack over the health care bill, including Sen. Joe Manchin, D-W.V., and Sen. Heidi Heitkamp, D-N.D. Both represent states Trump won handily in 2016.
Democrats remain opposed
Despite the pressure, Democrats have remained in opposition to repeal of the ACA.
Sen. Catherine Cortez Masto, D-Nev., and other Democrats have offered to work with Republicans to shore up insurance markets and fix Obamacare flaws.
The number of uninsured in Nevada dropped after Obamacare was implemented, and 1.2 million Nevadans are currently insured despite pre-existing conditions, Cortez Masto said.
"I'm ready to work across the aisle to improve the ACA, not repeal it and endanger countless lives along the way," she said.
McConnell has warned that if the Senate does not vote to repeal the ACA, GOP leaders will be forced to work with Democrats to bolster Obamacare.
In an effort to bring more conservatives on board, Sen. Ted Cruz, R-Texas, has offered an amendment that is part of the GOP revision.
The Cruz amendment would allow insurance companies to sell reduced-coverage plans — so long as they offer just one that adheres to Obamacare mandates.
Senate Minority Leader Charles Schumer, D-N.Y., called the Cruz amendment more cruel and mean than the House bill, which passed earlier this year.
Schumer said that even with the Cruz amendment, Senate Republicans were no closer to the required 51 votes to clear parliamentary hurdles and bring the legislation to the Senate floor.
Senate GOP leaders said a new CBO analysis on revisions could come as early as Friday, allowing a vote on a procedural motion on the bill to be scheduled for next week.
Contact Gary Martin at 202-662-7390 or gmartin@reviewjournal.com. Follow @garymartindc on Twitter.
Senate health bill timeline:
—Senate GOP leaders pulled their bill from consideration June 27.
—Republican lawmakers continued talks on a revised bill over July 4 holiday break.
—Revisions of the bill could be presented to GOP senators at caucus luncheon Tuesday.
—Republican leaders could schedule a vote as early as next week.
—The White House wants work on a health care bill completed before the August recess starts July 31.
Source: Senate GOP leaders, U.S. Senate
Related
Lawmakers return to Washington with big list of priorities