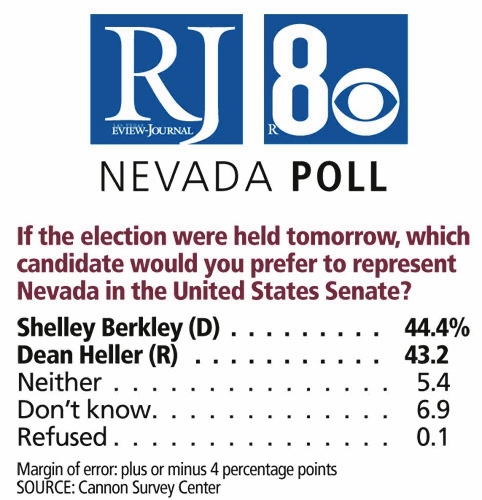 WASHINGTON — For many people, the dawn of a new year can mean a fresh start, a clean slate. For the politicians running to represent Nevada in the U.S. Senate, the view close to the new year is a nearly level battlefield judging from the latest measure of public sentiment.
Republican Sen. Dean Heller and Democratic Rep. Shelley Berkley are all but tied in their bid for the federal office. Berkley holds a 44.4 percent to 43.2 percent lead in the poll of registered voters conducted for the Las Vegas Review-Journal and 8NewsNow.
The survey confirms the Nevada race will be among the closest — and among the hardest fought — contests in a year in which Republicans are making a bid to grab Senate control.
Conversely, Democrats led by Majority Leader Harry Reid of Nevada are looking to the Silver State as an opportunity to take a seat out of Republican hands and help hang on to their majority. Heller was appointed to the body in May and will face voters on Nov. 6 for the first time as a Senate incumbent.
"Honestly, I just expect this to be a nip-and-tuck race all the way," said Jennifer Duffy, who analyzes Senate campaigns for the Cook Political Report.
"I don't expect it to change barring a major mistake by one of (the candidates) or a major change in the overall environment," Duffy said, such as a sudden resurrection of the state's troubled housing market or a steep drop in its highest-in-the-nation jobless rate.
Slightly more than 5 percent of Nevadans said they preferred neither Heller nor Berkley, while 6.9 percent said they were undecided. The formal filing period for office starts March 5.
No major figures have signaled interest in challenging the established candidates since businessman Byron Georgiou dropped out of the Democratic primary in August.
Berkley's 1-point lead is within the poll's margin of error, which was plus or minus
4 percentage points. The survey of 600 registered voters was conducted Dec. 12 through Tuesday by the Cannon Survey Center at the University of Nevada, Las Vegas. Pollsters conducted telephone interviews from databases that included both land lines and cellphones.
STRENGTHS AND SOFT SPOTS
Heller and Berkley start the year with identifiable strengths and also potential soft spots judging from the survey, according to Eric Herzik, a political science professor at the University of Nevada, Reno.
The poll shows Berkley outgaining Heller by 50.6 percent to 36.9 percent in populous Clark County, including Las Vegas, where she has served as a U.S. House member since 1999.
In the remainder of Nevada including Washoe County, Heller holds an advantage of
55.9 percent to 31.8 percent over Berkley. Heller, a Carson City native, served as secretary of state from 1994 to 2006 and as a House member from 2007 until he was appointed to the Senate.
Heller has a 49.4 percent to 35.5 percent lead among independent voters, a demographic that is expected to hold a key to the contest.
Among Democrats, Berkley gets 74.9 percent backing while losing 11.1 percent of her base to Heller. Among Republicans, Heller is supported 77.1 percent, but 13.8 percent of GOP voters said they would prefer the Democrat.
"Both of them have to do better among their partisans," Herzik said. "Shelley Berkley needs to seal the deal with them and Heller the same with Republicans."
Herzik added Heller should be particularly concerned by potential GOP defectors, who he compared to Republicans who came out in support of Reid in 2010 rather than tea party Republican challenger Sharron Angle.
"The Republican Party is split," Herzik commented. "Heller losing 14 percent of Republicans and having 12 percent undecided is something he needs to work on, but he has time to turn those numbers around."
"The numbers that should concern Berkley are the independents who are breaking for Heller," Herzik said, although he said it might be hard to pinpoint why at this still-early stage.
CANDIDATES' CAMPS RESPOND
Berkley campaign spokesman Eric Koch said the poll was "a clear indication that Shelley Berkley and her jobs agenda have the momentum in this race."
The Berkley campaign noted her poll numbers have remained stable since the summer, indicating that she survived a potentially damaging New York Times story in September about her lobbying on health care matters and a Republican attack last month on her husband buying and selling foreclosed homes during the recession.
"It is a sign clearly that Heller hasn't found a message yet," a Democratic strategist said. "They thought maybe they had one, but it is not one that is moving the numbers."
Given the Democratic Party's superior Election Day get-out-the-vote machinery coupled with aggressive messaging to paint Heller as "anti-middle class" and "pro-Wall Street," the Berkley camp "is very comfortable with where we are in this race," the strategist said.
On the other hand, Heller campaign adviser Mike Slanker said the numbers suggest Berkley is underperforming in her vital Southern Nevada stronghold, contending she will need well more than
50 percent there to offset Heller's expected strong performance in the rurals.
"If I were a 13-year member of Congress, I would be terrified at the Clark County number," Slanker said. "And remember Dean Heller has never run an ad in Las Vegas. This is her high-water mark."
Heller "is well-positioned to win this race," Slanker said. "The 14-point advantage with independents we currently hold is dramatic. The race being even at this stage is no surprise."
BATTLE FOR SENATE CONTROL
Senate control following the 2012 elections could hinge on Nevada and a handful of other states that are developing into too-close-to-call contests, such as Virginia, Montana and Massachusetts, analysts have said.
The Democrats hold a 53-47 majority at present but are defending 23 seats compared with 10 for Republicans. Nevada and Massachusetts, where GOP Sen. Scott Brown faces consumer advocate Elizabeth Warren, are seen at the top chances for Democrats to unseat Republican incumbents.
Nevada, with Virginia, are two key swing states whose Senate contests will intersect with the presidential election, said Duffy and Nathan Gonzales, an analyst with the Rothenberg Political Report.
"The top of the ticket will impact the kind of challenge Heller will have," Gonzales said. "If (Mitt) Romney is the nominee, that is probably the best case for Heller. He has broader appeal to voters in the center" than if Newt Gingrich or Ron Paul emerge as the GOP nominee.
A Review-Journal poll published Thursday showed Obama beating Romney by 6 percentage points if the election were held today. He would beat Gingrich and Paul by even wider margins, according to the survey.
"Berkley will benefit from the focused resources of the Obama campaign and will benefit from Reid's campaign operation," Gonzales said. "She will need all of those to be successful. It is going to be a tough race in a swing state."
"This is going to be one of the top Senate races in the country," Gonzales said. "Both candidates are going to have plenty of money. Democrats could help themselves by winning in Nevada because they have a lot of other vulnerabilities around the country."
Contact Stephens Washington Bureau Chief Steve Tetreault at stetreault@stephens media.com or 202-783-1760.
Expanded Poll Results