Henderson gets 28 medical pot applications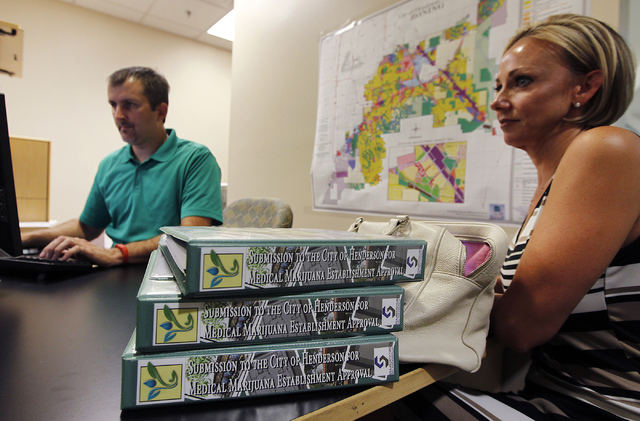 Henderson seems poised to cash in on the medical marijuana industry.
The city received 28 applications for medical marijuana establishments by the end of the application period Thursday, nearly three times as many as the city's low-end estimate going in.
Each application, which included at least two applicants that were approved by Clark County in June, was filed with a $10,000 nonrefundable fee.
Bristol Ellington, assistant city manager, said the city had anticipated receiving between 10 and 15 applications.
"I'm very happy with the number of applicants," Ellington said. "We just didn't know (how many) going in."
The city is expected to receive state approval for five dispensaries, but is not limited on the amount of cultivation and manufacturing facilities it will be allowed to approve. City officials would prefer facilities that cultivate, produce and dispense at one location.
It wasn't immediately known how many applications were for combined facilities, and how many were for dispensaries only. Clark County received 79 applications for 18 available dispensaries, and 105 for either cultivation or production facilities.
While jurisdictions are limited on the number of dispensaries, they are not limited on approving the number of other establishments.
Attorney James Dean Leavitt, who successfully helped an applicant obtain a dispensary license in the county, said the Henderson process was much smoother.
"In Henderson, I would call with questions and I would get someone knowledgeable on the phone," said Leavitt, who is working with a different applicant this time.
The Henderson City Council approved regulations for medical marijuana establishments July 1, and was able to start taking applications July 7. However, the city had received only two applications by the end of business Wednesday. Ellington said the city anticipated the late influx because the county had experienced something similar.
Applicants also had to pay $180 and file a distance separation document, showing they met city requirements of at least one mile between dispensaries, 300 feet the separation to community facilities, such as child daycare, recreation centers for children and adolescence, and religious facilities, and 1,000 feet to public parks and playgrounds.
Ellington said the city doesn't know yet how many applicants also went through the county's process earlier this year.
Mike Cathcar, Henderson business operations manager, said the city will review the applications for initial finding of suitability, including background and financial backing checks.
Henderson with then send all preliminary suitable applications to the state. The state will accept applications from Aug. 5 to Aug. 18. It will then have up to 90 days to review them, then rank the best qualified applicants to operate dispensaries before applicants go before the council again, likely late this year.
Debra Freeman, a managing member for dispensary applicant Serenity Wellness Center, said she is more comfortable with the city's process because the state will do a blind review of the applications. The County Commission vetted all applicants before sending the final 18 to Carson City.
"I think the Henderson process is very fair," Freeman said. "The state will identify the best packages with no names attached, so it gives everybody an even platform."
Freeman said she is applying with Las Vegas and North Las Vegas, but wasn't prepared to apply for the county.
If approved by the state, applicants will have to apply for a conditional use permits and business licenses and be approved by the City Council.
Contact Arnold M. Knightly at aknightly@reviewjournal.com or 702-477-3882. Find him on Twitter: @KnightlyGrind.