Henderson pot dispensaries on the move
February 10, 2015 - 8:46 am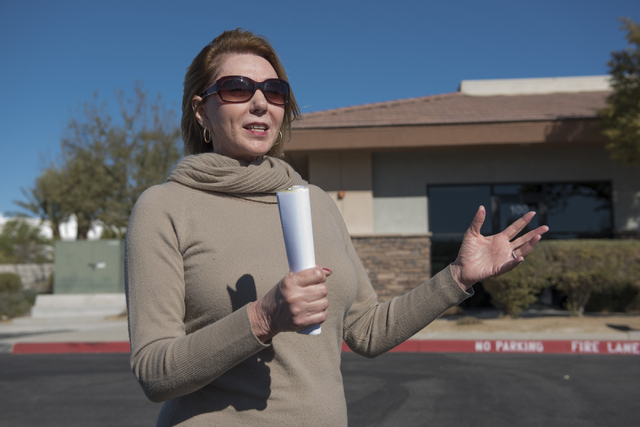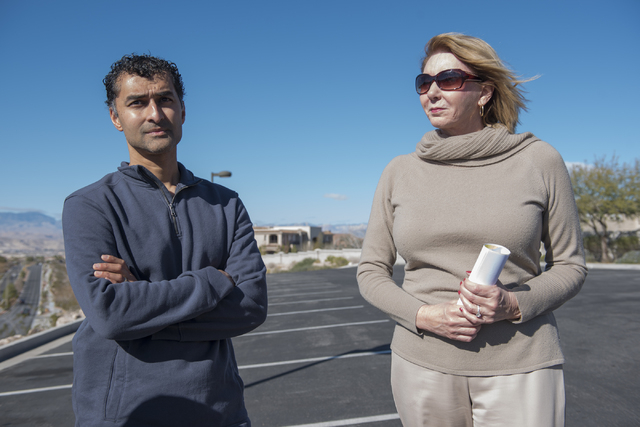 As Henderson prepares to consider approving its first medical marijuana dispensary, four other proposed shops are seeking new locations within the city.
The latest to change plans is Jenny's Dispensary, whose owners nixed a potential site near Sun City Anthem last week after neighborhood opposition.
During a special meeting Tuesday, the City Council is scheduled to review applications for one dispensary, Great Basin Care, and four cultivation facilities.
Great Basin's proposed location near Sunset Road and Green Valley Parkway is just east of McCarran International Airport — as close to the Las Vegas Strip as possible while being within Henderson city limits.
Jenny's Dispensary had planned to open in a quiet shopping center at the southern end of Eastern Avenue, where its neighbors would have included a dentist, a barber, a Realtor and an Edward Jones financial adviser.
But after opposition from residents and businesses became apparent at a Feb. 2 forum, the dispensary applicants and their landlord-to-be decided to break off the engagement.
"Their voice has been heard, and we're listening," Matt Stone, whose company manages the shopping center, said Monday.
He said there was now no chance of the dispensary opening at Anthem Hills Professional Plaza.
The dispensary's CEO, David Rosen, said people who attended the meeting objected to the site, not to medical marijuana in general.
Rosen is an Illinois political fundraiser who has worked with Democrats including Hillary Clinton, Al Gore and Andrew Cuomo.
Jenny's would first need state approval for a new site before coming back to the city for final approvals.
Sam Vott, one of the nearby residents who had campaigned against the location, was glad to hear the news.
The father of four, whose cul-de-sac just over the wall behind the building the dispensary would have occupied, said he'd had trouble sleeping since learning of the plans recently. He was determined to do what he could to stop the shop from opening there, but wasn't sure how far he and other residents would get.
"A lot of people have told me, 'Oh, good luck' and 'Nothing's going to matter. It's a done deal. It's set in stone,' " Vott said.
Residents said they weren't opposed to marijuana or even to a dispensary in their neighborhood — just to that site.
"I'd be just as opposed if it were a liquor store, a Starbucks, a cigar shop," said Di Redman, who owns a real estate firm in the same shopping center.
They said such retail businesses, with large numbers of customers moving in and out, don't suit the neighborhood. They also worried the dispensary — an all-cash business with huge amounts of marijuana on site — would attract criminals to the area.
Vott, Redman and others agreed they would be fine with a dispensary in a busy shopping center just up the road that includes Vons, CVS and a bank branch.
City Attorney Josh Reid said consideration of two other dispensary applicants — Clear River Wellness and LivFree Wellness — is on hold while their owners seek permission from the state for new locations within Henderson. Jenny's made a similar move Thursday when its lawyer asked the city to postpone this week's hearings.
The fifth Henderson applicant approved last year by the state, Wellness Connection of Nevada, also is on hold while it works out details of a new site near the Galleria at Sunset mall with state and city officials.
City staff had recommended approving Jenny's location near Sun City Anthem.
Dispensaries must be at least 1,000 feet from any school, public park or public playground.
But there is no such requirement for distance from homes.
In addition to opposing the location, nearby residents were upset no one had told them about the plans until this year — despite the applications being filed in early 2014.
"The people most affected are the last to know," Vott said.
Contact Eric Hartley at ehartley@reviewjournal.com or 702-550-9229. Find him on Twitter: @ethartley.
Pot news
Want to know more? Read all of our coverage here.