Las Vegas could have nation's first government-regulated pot lounges
December 13, 2017 - 7:07 pm
Updated December 13, 2017 - 10:53 pm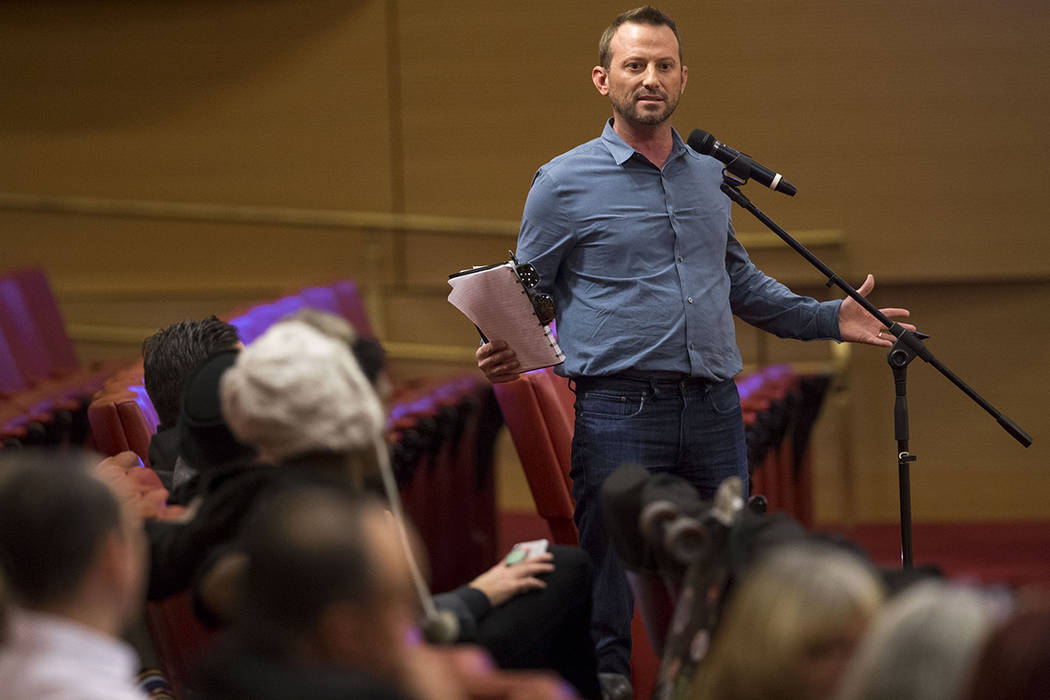 Pot cafes, stoned yoga and painting while puffing could be just around the corner in Las Vegas.
Las Vegas officials are considering an ordinance proposed by Councilman Bob Coffin that would allow the city to license marijuana consumption lounges. The proposal comes months after the Nevada Legislature's legal arm issued an opinion that nothing in state law prevents local municipalities from allowing such businesses.
On Wednesday during a public workshop about the ordinance, Assistant City Attorney Bryan Scott said lounges could be approved in March, which could put Las Vegas in the running for having the nation's first government-regulated marijuana consumption lounges.
But Coffin says he's not interested in being first.
"I'm not suggesting we rush into it," he said in an interview after the workshop. "We'll do it right."
The ordinance, which Coffin said is being drafted and could change before the City Council votes on the issue, would allow for a variety of consumption-friendly businesses, such as restaurants in which patrons can smoke marijuana, yoga studios, coffee shops and even a smoking while painting class.
The lounges would not be allowed to have or serve any alcohol or to store marijuana on-site. Employees would not be allowed to work under the influence of marijuana or alcohol, city staff said.
The idea for the ordinance would roll out as a pilot program that would likely run for two years, with the regulations potentially being adopted as permanent after that period, officials said.
And the final language, as well as when the program could ultimately roll out, would be up to the City Council.
Issues to hash out
There could be some sticking points in the ordinance that could delay the process, some of which were brought up during Wednesday's workshop.
Las Vegas lounges would be allowed to provide consumption tools and paraphernalia but would be prohibited from selling the drug. State law also bans marijuana deliveries to anywhere other than a private residence, so customers would have to bring their own products into the lounges.
Andre Rhodes, co-owner of Nevada Wellness Center, and Ben Sillitoe, CEO of Oasis Cannabis dispensary, both said they are worried those factors could cause a surge in the black market, because it could be difficult to ensure the marijuana being brought into the lounges was purchased legally, and it could foster places for illegal sales to occur.
Rhodes and Sillitoe said that combination of factors could cause complications and conflicts with the Cole Memo, the 2013 document that instructed federal prosecutors not to go after cannabis businesses that abide by state laws. That could give the federal Department of Justice and Attorney General Jeff Sessions reason to crack down on Nevada's nascent industry.
Darcy Adelbai-Hurd, senior management analyst for the city of Las Vegas, said applicants would need to address those issues, including how to comply with the Cole Memo, in a safety plan that would be required to obtain a license.
Other cities' approaches
At least two other cities have a head start on Las Vegas.
Voters in Denver passed Initiative 300 in 2016 to legalize and regulate marijuana consumption lounges within the city. But crafting the regulations proved to be a lengthy and hotly debated process, and it wasn't until this week — 13 months after the initiative passed — that the city received its first application for a consumption license, the Denver Post reported.
West Hollywood plans to accept applications for eight consumption lounges that would be attached to cannabis dispensaries starting in January, when California's legal recreational marijuana market opens.
But marijuana advocate Scot Rutledge says lounges are needed for the portion of the 43 million tourists visiting Las Vegas annually who want to legally consume marijuana.
"This isn't about what other cities are doing, because there's no one doing it yet," Rutledge said. "Whether it be gambling, drinking, strip clubs, people are used to coming here to do things that need to be well regulated."
Contact Colton Lochhead at clochhead@reviewjournal.com or 702-383-4638. Follow @ColtonLochhead on Twitter.