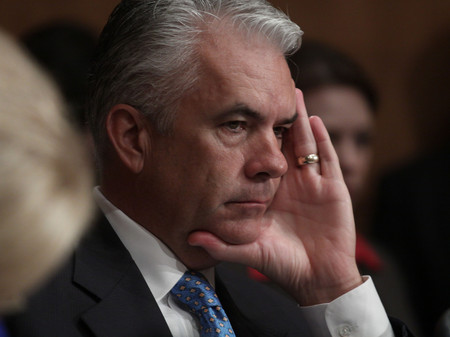 The official silence from the Senate Ethics Committee and U.S. Department of Justice makes watching the investigation into alleged corruption by Sen. John Ensign, R-Nev., a little like watching interpretive dance: lots of stuff is happening but it is tough to say what it means.
Ensign is accused of using his status as a senator in a failed attempt to cover the tracks of an extramarital affair with former political employee Cindy Hampton.
Hampton's husband, Doug Hampton, a former employee in Ensign's Senate office, says the senator lined up lobbying contacts and work to get the betrayed husband out of his hair.
Hampton also says Ensign's family paid his family $96,000 in severance pay for leaving. Ensign says it was a gift. If it was the former, Ensign could have violated financial reporting requirements.
But just how far the Senate Ethics Committee and the Justice Department will go in investigating the details and what that will mean for Ensign is less clear.
Most recently, sources have confirmed the Ethics Committee has issued subpoenas to a former Ensign consultant, a Nevada company Hampton says he helped to lobby Ensign and others. Some say the subpoenas show the Ethics Committee is advancing the investigation and that the Justice Department could take action next.
"All these entities grind slowly and it is not surprising it has taken this amount of time," said one Washington, D.C., source who is following the investigation closely and has worked on similar cases.
The source says if the Ethics Committee, whose focus is Senate-related issues, digs up anything suggesting laws were broken, the Justice Department could step in. That would up the ante for Ensign. He could face serious legal consequences.
"They're not up against any window here. It is not like his term is ready to come to an end," the source said.
Melanie Sloan, however, sees the Senate ethics probe as a sign the Justice Department may take a pass and let Ensign off the hook, legally speaking. Sloan is the executive director of Citizens for Responsibility and Ethics in Washington and a critic of politicians alleged to be corrupt.
Typically, the Justice Department wouldn't conduct a simultaneous investigation, said Sloan, a former assistant U.S. attorney. "That is not 100 percent. But that is traditionally how it is handled. I find that very disappointing."
Sloan says the Justice Department's botched handling of an investigation into corruption allegations against former Sen. Ted Stevens, R-Alaska, has made department officials tentative.
"The department has egg on its face after the Ted Stevens debacle and I don't think they are in a rush to prosecute any senator," she said.
HECK CRITICIZED OVER PLEDGES
Critics from both ends of the political spectrum are going after former Republican state Sen. Joe Heck for his stance on taxes and tax pledges.
The pledges by the group Americans for Tax Reform are documents for candidates to sign to declare they will oppose tax increases if elected.
In March, when Heck was an early-stage candidate for governor, he said he wouldn't sign such a pledge because "voters elect politicians to make the right decision based on the circumstances."
However, as a candidate for the congressional seat held by Rep. Dina Titus, D-Nev., Heck has signed a pledge.
The Democratic Congressional Campaign Committee has called Heck a "campaign flip-flopper."
Rob Lauer, another Republican seeking the Titus seat, has said Heck "is pretending to be a fiscal conservative."
Heck campaign manager Grant Hewitt says neither assertion is true.
He says Heck hasn't changed his philosophical stripes; he just realized folks wanted more than a promise when it comes to fighting taxes.
Hewitt said that after traveling the state campaigning, Heck decided signing the document was a good way to elevate his stance from words to action.
"His word was his bond, he was going on that. As we traveled around the state we heard over and over again people's word wasn't good enough," Hewitt said. "We needed to put our word to paper and Dr. Joe Heck did that."
ANGLE GAINS MOMENTUM
Although Danny Tarkanian and Sue Lowden are the favorites in the Republican primary to challenge Sen. Harry Reid, D-Nev., there's another candidate quietly gaining ground.
Strident conservative Sharron Angle, a former assemblywoman, was the choice of 13 percent of Republicans responding to a recent Mason-Dixon Polling & Research survey. Lowden and Tarkanian were at 25 and 24 percent, respectively.
"I don't count Angle out," said Brad Coker, managing partner of Mason-Dixon. "The conservative wing of the Republican Party is very strong in primary elections."
Of the remaining candidates, Coker said: "I think the rest of them are single-digit also-rans at this point."
Contact reporter Benjamin Spillman at bspillman@reviewjournal.com or 702-383-0287.
THE POLITICAL EYE
Read the blog