Program flies unwanted Las Vegas pets to Canada
December 2, 2013 - 10:33 pm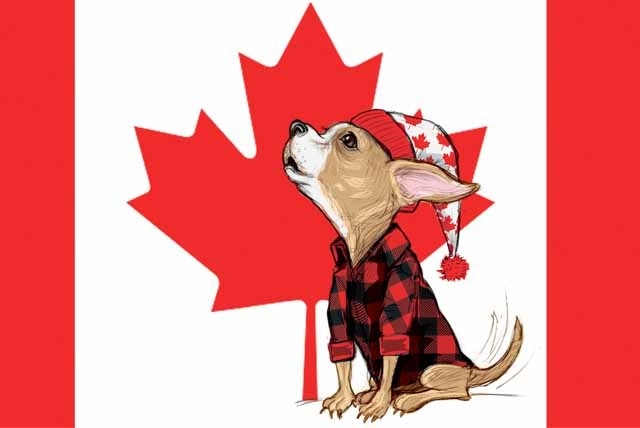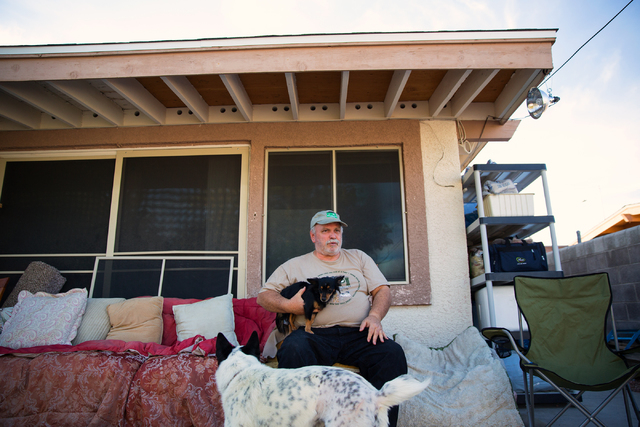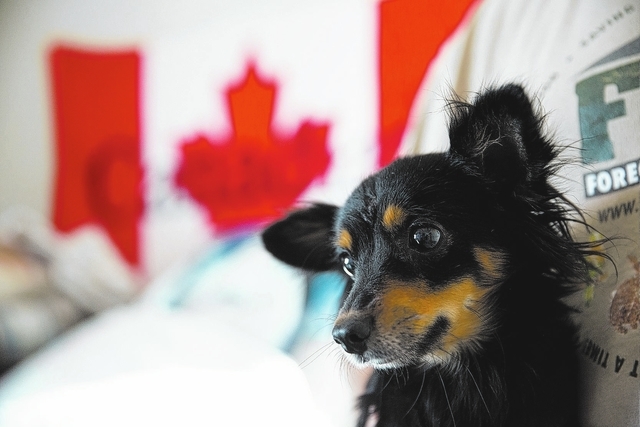 Canada to Las Vegas:
Give us your tired, your hungry, your homeless, your wretched, your quirky; give us your Chihuahuas, your Jack Russells, your poodles and your pugs. Please. You have too many of them, and we have too few of them.
As it turns out, Canada is the new home each year for hundreds of small abandoned dogs from Las Vegas, the result of a special program carried out by Foreclosed Upon Pets Inc. The animal rescue operation born from the foreclosure crisis in 2008 has since expanded its efforts, exporting dogs northward.
Twice a week for the past 2½ years, Everett Croxson, the organization's executive director, picks up 16 dogs from the Lied Animal Shelter in Las Vegas, then ferries them to the McCarran International Airport. There the animals — yipping and yapping and barking and howling — are loaded onto a commercial airline.
Ultimate destination: Vancouver, British Columbia, with a layover in Seattle.
No drinks will be served, but their lives will be spared.
In fact, as many as 40 percent of the dogs rescued by Croxson alone are shipped to Canada, where they are offered for adoption by a chain store called Petcetera — the equivalent of PetCo or PetSmart in the United States.
On the receiving end, with open arms, is Richard Kaga, the executive vice president of Petcetera, which has 18 stores in Canada, from Alberta to British Columbia to Nova Scotia.
Canada has strict neutering and spaying laws, which have been in place in many of the provinces for more than a decade, Kaga said. The result is that backyard and professional breeding do not exist to the extent that they do in the United States. And that has led to a shortage of dogs, mostly smaller breeds.
"For whatever reason, we have a shortage of small dogs here, and to be quite honest, we were shocked at the size of the problem in Las Vegas," said Kaga, who has been working with the Lied Animal Shelter and Croxson to find homes for dogs.
Since the program started in 2010, Croxson said he has exported as many as 1,100 small dogs, with nearly three-fourths of them Chihuahuas, followed by terrier mixes, then poodles.
Said Croxson: "I consider Las Vegas the Chihuahua capital of the world."
And yet the good news is that cases of abandoned dogs because of foreclosures aren't as common as they once were. At least not to the extent that they were back in the fall of 2008 when homeowners were forced to abandoned their homes and in some cases their pets.
It wasn't difficult to find tragic tales of dogs and cats that had been ditched, left in the streets or dumped in parks or empty homes, with maybe, if they were lucky, a bag of food and bowl of water nearby.
The grim discoveries were more common than local real estate agents care to remember.
"Actually, the majority of the dogs and cats that I've found, I usually found dead inside the houses," said Holly Marquardt, a Las Vegas real estate agent who said she has come across 18 dead dogs and cats in the past three years.
Her sister, Karen Marquardt, also a real estate agent, said that the abandonments occur in just about "every part of town," from Summerlin to Spring Valley to Henderson to the southwest valley.
"There was one case where a dog was hit by a car, broke his leg, and the owner just left him in the home with a bag of food," Marquardt said.
That would be Boots, who is running around despite suffering a broken leg that is a tad shorter than all the others. He is a collie mix with black spots. And he's up for adoption.
He came through the Lied Animal Shelter, which happens to be the highest-volume, single-site animal shelter in the United States, according to its website. It takes in an average of 117 dogs and cats each day. In 2012, it opened its doors to nearly 43,000 unwanted animals, with nearly 23,000 dogs and 18,000 cats.
To put that number in perspective, Los Angeles County's six different animal shelters brought in 65,000 animals that year.
And while an estimated 65 dogs and cats are put to sleep every day in Las Vegas, statistics are looking up, according to the Animal Foundation's annual report released last week. In all, euthanizations in 2011 dropped 13 percent while intakes decreased by 9 percent.
But those promising statistics depend upon the generosity of volunteers, who are all animal lovers, and people such as Croxson. His home has long served as a temporary hub for abandoned animals that are either shipped to Canada or handed off to other rescue operations in the Las Vegas Valley, where they are either adopted or taken to foster homes.
The contrast between the United States and Canada is mind-boggling, said Croxson, 61, who has been in the animal rescue business long enough to know the difference.
"Over here in the United States, we're just one big puppy mill," said Croxson, "Las Vegas included."
He added: "Let's face it. People are breeding for money in their backyards, and the concept of spaying and neutering never enters their heads, even if the laws exist. Even if there are such laws on the books."
Then there's Canada.
"It's a well-oiled country. The laws are strict. Not everybody is in the breeding business to make a buck, and the economy isn't nearly as bad as ours. So Canadian citizens can actually afford their pets," he said.
One of the biggest problems is that animal lovers get in over their heads in Las Vegas, especially around Christmastime, he said. They end up buying or adopting a puppy or a kitten, only to realize that they can't afford it once New Year's rolls around. What came in a pretty bow and package ends up being left to the streets.
Which is why Croxson is coming out with a new education campaign to enlighten the public. It's called STAMP. And it stands for Secure, Train, Alter, Microchip and Plan the fate of your pet.
If animal owners would heed these five instructions, the world of dogs and cats would be much less overpopulated and fewer of these pets would be facing a death sentence, he said.
Contact reporter Tom Ragan at tragan@reviewjournal.com or 702-224-5512.