Projections for Yucca revised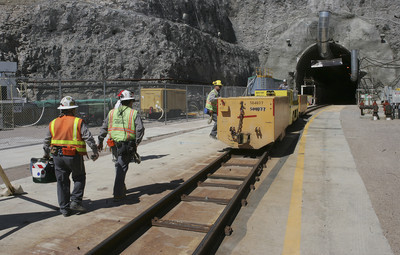 WASHINGTON — The Department of Energy on Tuesday issued new cost estimates for a Yucca Mountain nuclear waste repository that would be bigger, would operate longer and would cost billions of dollars more than earlier planned.
The department in a long-awaited report announced the price tag on the proposed Nevada waste site has grown to an estimated $96.2 billion. Counting inflation, costs increased by 67 percent over DOE's previous estimate, which was $57.5 billion in 2001.
In the intervening years, the project has been delayed and redesigned. DOE officials also made a key assumption that the repository will be expanded by Congress to make room for larger volumes of spent nuclear fuel being generated by commercial power plants.
Lawmakers in 1982 set a 70,000 metric ton capacity limit for the repository. The Yucca Mountain project director said Tuesday the newest cost figures reflect a repository that would hold 122,100 metric tons of high level waste from the U.S. military and operating nuclear power plants, including 47 that have been granted license extensions to run another 20 years.
"This is our current estimate of what the whole repository program is going to cost — how much to build it, operate it and close it down," said Ward Sproat, director of DOE's Office of Civilian Radioactive Waste Management. Sproat said $96 billion "is a lot of money, but compared to what? I would argue strongly the cost of doing nothing is a lot higher."
About $16 billion of the new cost estimate stems from inflation since 2001, Sproat said. Other cost hikes are because of larger amounts of waste to be stored and to refinements in repository designs, he said.
While costs have grown, so has the amount of nuclear waste needing to be disposed, Sproat said. When broken down into a unit price, the cost per fuel bundle has grown only 10 percent, he maintained.
The "total system life cycle" cost purports to include everything associated with the Yucca project for a 150-year period since it was initiated in 1983 to when DOE says it would be decommissioned, the year now set for 2133.
The new cost figures make room for 26 percent more nuclear waste for disposal than previously estimated, according to DOE's report. By extension, DOE would run nuclear waste trains to the Yucca site for an additional 16 years, and insert nuclear waste canisters into Yucca Mountain for an additional 25 years.
If more reactors are built as part of the touted "nuclear renaissance," the government could be faced with further expansion at Yucca or the need to build a second repository.
The report is likely to provoke debate in Congress, and concern over dollars. The DOE costs are based on a best-case scenario that envisions the repository largely being constructed and receiving waste by 2017, a schedule that even department officials have said is unlikely.
The new cost estimate also underscores the Yucca program's financial shakiness. It assumes Congress will appropriate more than $1 billion a year for construction when lawmakers have not allocated more than half that amount in most recent years.
It also figures Congress will enact "fix Yucca" legislation to remove a number of regulatory obstacles, but lawmakers have shown little interest in that so far. It also assumes no delays from licensing protests and lawsuits, which would come as a surprise to attorneys for the state of Nevada who are said to be preparing stacks of challenges.
Sproat said more delays mean more costs. The Energy Department did not run specific calculations of where the project might end up cost-wise under less favorable scenarios.
The DOE also did not calculate the cost of leaving waste stored at power plants for any extended period, an option that Nevada lawmakers and some environmental advocates have urged the government to consider.
The Energy Department in June reached a key milestone when it sent the Nuclear Regulatory Commission a 17-volume application to build a Yucca repository. The NRC is conducting a preliminary review to determine whether the application warrants being docketed for an intensive 3- to 4-year licensing process.
Bob Loux, who spearheads Nevada's official opposition to the Yucca project as director of the state Agency for Nuclear Projects, said the Yucca cost report is of limited value.
"What's the point of this?" Loux asked.
Loux said the DOE did not make it possible to get a clear picture of how much it would cost to build a repository limited to 70,000 metric tons of waste, which is current law.
"Secondly I think most people would take the DOE number for construction and throw in another half," said Loux, who said the cost for the Yucca site could end up closer to $120 billion to $150 billion.