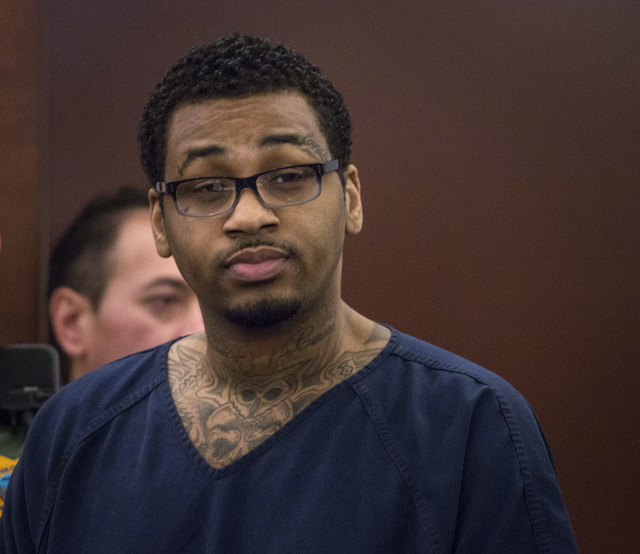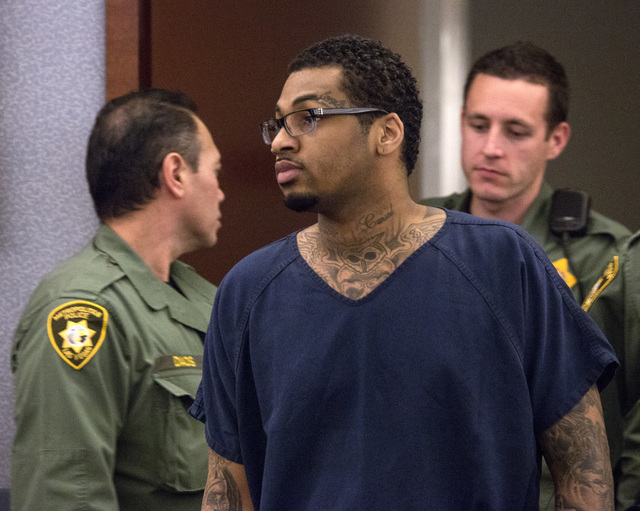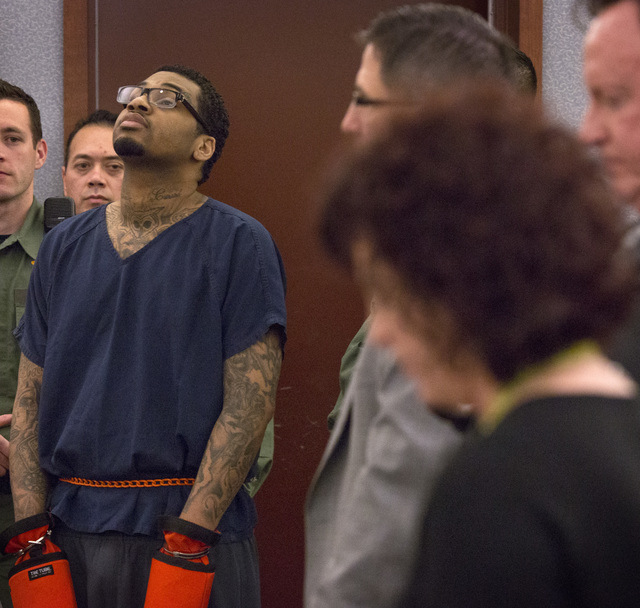 Ammar Harris stood silent in court Wednesday, watching with a slight smirk as a prosecutor asked a judge to give him the maximum punishment for raping and robbing a woman in 2010.
When offered an opportunity to defend himself or argue for leniency, however, Harris declined.
"No," he said simply.
District Judge Kathleen Delaney sentenced Harris, a self-proclaimed pimp and accused killer, to a minimum of 16 years to a maximum of life in prison after he was found guilty of three counts of sexual assault and one count of robbery at his trial last year. The jury deliberated for about an hour.
The sentencing is only the beginning of Harris' legal troubles. He's also charged with three counts of murder for a February 2013 shooting and ensuing car crash on the Strip that left three people dead. The fiery crash and week-long manhunt for Harris became an international story.
The murder trial still looms large, but Wednesday's case could mean the difference between death and life in prison for Harris. Prosecutors plan to use his new convictions as aggravating factors when seeking the death penalty.
The trial is set for September.
Delaney handed down her sentence after hearing arguments from prosecutors and defense lawyers.
Prosecutor Lisa Luzaich said Harris, 27, has a criminal history dating back to 2004, when he was arrested for possession of a stolen gun.
"He jumps out of the gate at 18 with a bang," she said. "He starts out violent and his entire life for the next 10 years continues to be violent."
After Harris was arrested in 2012 on a warrant on the rape case, he was mistakenly let out of jail, Luzaich said.
Harris lived the "high life" in California and Las Vegas as a pimp for several months before the infamous shooting last year, she said.
"He's an individual who spends his life living off women. Abusing women," she said. "There is nobody who can say that he's a productive member of society."
Defense attorney Robert Langford said Harris declined to speak in court because he planned to appeal his conviction.
"We all know courts want to hear that he's remorseful and sorry for what happened, but our position, again, is that it did not happen," Langford said.
He also said Luzaich was exaggerating Harris' life of crime. If Harris had been a "rabid" criminal, there would have been more convictions and arrests on his record, he said.
"Their job is to spin as hard as they can, and that's what they do," he said. "His history is not as bad as they say."
The key evidence in the rape and robbery case came from the testimony of three women, including the victim.
The victim said Harris forced her to perform oral sex on him before raping her in the shower in June, 2010. The Review-Journal does not publish the names of sexual assault victims without their permission.
About two weeks later, she accused Harris of choking her and stealing $600 from her wallet.
Jurors also heard from Harris' former girlfriend and roommate Briana Wright, who testified that Harris told her he had choked two women, including the victim, who were staying with them and working as strippers.
Wright corroborated much of the victim's testimony, aside from the sexual assault. Her testimony contradicted what Harris told investigators in an interview when he was first arrested.
During the interview, Harris described how the victim and her friend, Ashley, were taking advantage of his generosity. He explained how he bought items for the women and paid for one's strip club work permit.
Wright testified that Harris had no income and used the money she earned working at a greeting card company.
Harris told authorities the sex with the victim was consensual.
Harris denied to police that he was a pimp, though he embraced that lifestyle on numerous social media posts, the Review-Journal found. He did not deny taking the victim's money.
Authorities became more interested in Harris' pending rape case after Feb. 21, 2013. Harris was accused of shooting another reputed pimp, Kenneth "Kenny Clutch" Cherry Jr., as both drove separate vehicles on the Strip that morning after a nightclub confrontation.
Cherry crashed his car into a taxi, which exploded on impact and killed driver Michael Boldon and his passenger, Sandra Sutton-Wasmund of Maple Valley, Wash.
Boldon's brother, Tehran Boldon, was in court Wednesday.
Harris remained jailed at the Clark County Detention Center without bail.
After court, Luzaich told reporters that Harris "earned every minute of his sentence."
Contact reporter Mike Blasky at mblasky@reviewjournal.com or 702-383-0283. Follow @blasky on Twitter.