Prospects for Oriental medicine profession are bright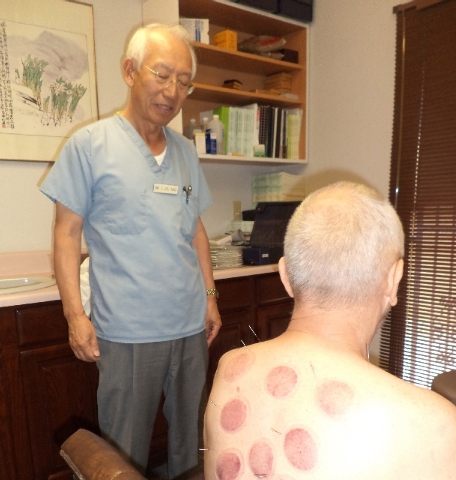 A pristine waiting room greets patients and guests of Lee's Oriental Medical Clinic on Maryland Parkway. Health and lifestyle reading materials abound on a coffee table while informative brochures fill a shelf lining the wall. The quiet, almost staid, atmosphere is periodically punctuated by cheerful greetings to patients by a man clad in a hospital scrub suit.
The gentleman is Sae-Eun Lee, a board-certified doctor of Oriental medicine, who 32 years ago established the Las Vegas clinic that specializes in acupuncture and traditional herbal medicine .
At Lee's Oriental Medical Clinic, patients come in to get relief from musculo-skeletal illnesses or chronic muscle pain as well as neurological disorders such as migraine, neuralgia and Bell's palsy. Lee also treats respiratory problems such as sinusitis, bronchitis, asthma and allergies. In addition, emotional conditions such as depression, anxiety and panic attacks are treated.
All these illnesses are treated at Lee's Oriental Medical Clinic by acupuncture.
"Acupuncture is highly effective not only as a preven tive medicine, but as a drug-free treatment of signs and symptoms," a clinic brochure states.
Acupuncture is one of the oldest healing practices and a major component of traditional Oriental medicine. As a system of medicine, this type of treatment uses natural laws and energetic principles rooted in Taoism with the application of needles, energy and pressure to specific points of the body, the literature stated.
Traditional acupuncture is based on ancient Chinese theories of the flow of Qi or energy and Xue or blood through distinct pathways that cover the body much like nerves and blood vessels. According to ancient theory, acupuncture allows Qi to flow to areas where it is deficient and away from where it is excess. In this way, acupuncture regulates and restores the harmonious energetic balance of the body.
In a typical acupuncture session, the doctor will gently insert needles in specific parts of the body while the patient is either lying down or seated. The needles may not be felt at all or may be a mild sensation when entering the skin, followed by a tingling numbness or traveling warmth, the brochure noted.
Trained Oriental medicine practitioners such as Lee use their refined skills and a number of techniques that include electrical stimulation through the needles as they aim to "open energy conducting pathways throughout the body."
Acupressure is used when the doctor uses his or her finger instead of needles to stimulate pressure points in a patient's body.
At the same time, practitioners may also use moxibustion, or the use of heated moxa, made from dried mugwort, to warm acupuncture points to stimulate circulation and relax muscle spasm. Meanwhile, doctors of Oriental medicine also prescribe herbs .
These are supposed to strengthen and regulate "flows of energy throughout the body." In addition, practitioners educate patients in nutrition and exercise, particularly Qi gong or the practice of rhythmic breathing and slow repetition of fluid movement similar to meditation.
Lee summed up all these treatments as an alternative to drugs and surgery. "Acupuncture is often very effective where modern Western medicine has failed or (delivered) little results," he said
These treatments, which also include Tuina and cupping, are recognized worldwide as being safe, noninvasive and effective, according to the Wongu University of Oriental Medicine website. Oriental medicine is an ancient traditional health care system encompassing complementary treatments that have been practiced in the East for millennia, it added. It offers a holistic approach to health through gentle, noninvasive treatment methods with the goal of restoring the body's natural balance.
"(Oriental medicine) is much older than Western medicine. Antibiotics (are) not even 100 years old. Surgical techniques are maybe 50 years old. Modern Western medicine is very (young). Before that we survived with traditional Oriental medicine," Lee said.
Lee, who has been licensed to practice Oriental medicine in Nevada since 1981, is considered one of the pillars of the Oriental medicine profession in the state.
But he defers to two "older" doctors who came to Las Vegas before him. "I'm only the second grandfather of Oriental medicine," Lee said.
Still, he is an esteemed member of the Oriental medicine community where he is an active member of several civic and professional groups. Currently, he is the secretary and treasurer of the Nevada State Board of Oriental Medicine.
Sae Eun-Lee's story
Lee had spent most of his professional career in Las Vegas. But it was in his home country of South Korea, from Kyung Hee University's College of Oriental Medicine in Seoul, where he received his degree in Oriental medicine.
"I graduated in 1972 in Korea and I practiced Oriental medicine for a few years in Inchon (Korea)," he said, adding he received his license from the Korean government that same year.
Dreams of an American life that were common in the early 1970s inspired him to find a way to migrate to the United States. "But there was no legal category for immigrants in my profession," he added.
Luckily, Lee's wife's profession was in demand. "My wife (was) a pharmacist in Korea at that time and she had colleagues who were immigrating to the U.S.," he said. The Lees came to the United States in 1977.
In 1978, he was licensed as assistant of acupuncture in Nevada and worked as assistant acupuncturist at Rhee's Acupuncture Clinic on Paradise Road. In 1981, he received his doctor of Oriental medicine license in the state and opened his practice .
"(I chose) Las Vegas because Nevada was the first state to legalize Oriental medicine. It was a unique state," Lee said.
He credits Oriental medicine for his flourishing practice. "The reason why we are existing here is because people realize the benefits of Oriental medicine," he said.
"For example, a patient has tension headaches, what his doctor will do is give (him) painkillers and order an MRI or CT scan. They will see nothing wrong. But the headaches are coming back," he said . Many of his patients were cured of constant headaches with acupuncture and acupressure, because "in many cases, stress makes headaches, too."
Lee said he treats patients for urinary infections with acupuncture and herbal medicine. "(Because) even strong antibiotics (from physicians) do not work, so (the patients) look for something else," he said.
The doctor said he often gets patient referrals from physicians. "I have quite a few medical doctors referring (patients) to me," he said.
"I try my best to be honest with patients. I tell them if I can't help them," he said, giving credit to his relationships with patients as a factor in making his practice successful.
"I am very fortunate I survived this long," Lee said of his practice.
Few survive
Indeed, few Oriental medicine practitioners survive, let alone establish a practice, in Las Vegas. In fact, the Nevada State Board of Oriental Medicine lists only 50 licensed doctors of Oriental medicine . The figure includes both active and inactive practitioners.
Lee blames the less-than-stellar image of doctors of Oriental medicine in society.
"To them, we are not physicians, we are just OMDs or acupuncturists," he said, adding this impression translates to few, if any, insurance firms covering a patient's acupuncture or other Oriental medicine treatment .
As such, only a few individuals aspire to be doctors of Oriental medicine, he said. "That means, not nearly a lot of highly qualified bright young kids interested (in) this field. The bottom line is (they need to) make a living.
"Why do people go to medical school or law school? They are interested in the profession but they also want a secure life," he said .
But this low number of practitioners is also what makes a career in Oriental medicine promising in Las Vegas, according to Richard Bowles director of admissions at Wongu University . Of the 50 licensed Oriental medicine practitioners in the state, 30 are in Southern Nevada, Bowles said, stressing the extremely low practitioner to patient ratio.
"With a population of approximately 2 million in Clark County, the per capita gap between supply and demand is the most extreme for any profession," Bowles said.
"Establishing the university in Las Vegas is based on a very favorable set of economic conditions. Growing awareness among non-Asian groups about Oriental medicine has contributed to the increasing demand for properly trained holistic healers," Bowles said.
The growing Asian population has also spurred demand for practitioners of Oriental medicine, the school official said.
"While the demand for natural, noninvasive health care treatment is apparent, what has not been so obvious is the extremely limited availability, or supply, of properly trained, licensed practitioners of holistic medicine," he added.
Wongu University is the only school of Oriental medicine in the state. Located on South Eastern Avenue, the university is Nevada's first school that offers a Master of Science program in Oriental medicine that is approved by the Nevada State Board of Oriental Medicine.
"The nonprofit school offers the country's most rigorous program in holistic healing," Bowles said.
To be accepted in Wongu's master's program, an individual needs to have a bachelor's degree in any discipline. "For those individuals whose efforts to gain admission to traditional medical or nursing schools has not been successful despite having competitive academic records and test scores, the opportunity to pursue a graduate level medical program is still very possible," Bowles said.
"The (master's) program is a viable alternative to those individuals who perhaps (want) a more personal and compassionate view of health care training … than the traditional path," he said.
The curriculum is comprised of six components: five didactic, one clinical. The five components are Western medicine, Oriental medicine, herbology, acupuncture and elective credits. The sixth is the clinical application component. The Western and Oriental medicine components provide the foundation upon which study in the other components is based.
"The elective credit component affords some interesting possibilities for students," Bowles said. "Coursework may be included that would address the informational requirements of establishing a new practice.
"This would include basic business concepts such as finance, marketing and regulatory requirements of establishing a new practice. Instruction in Native American holistic health care practices could also be a possibility," he said.
The internship provides 1,000 hours of training, and the intern will have participated in at least 350 patient visits. With 1,000 hours of clinical training, students develop acupuncture techniques, evaluation and diagnosis skills, professional conduct and "confidence in practice."
Take time
Lee is hopeful that having a degree-granting school of Oriental medicine right in the city will boost the growth of this profession in Southern Nevada.
Although he cautions it may take time for society to accept and give esteem to the Oriental medicine profession, he says Wongu University is a good start, particularly if the school maintains its high standards.
"Rome was not built in a day. It (might) take time for more people to recognize that Wongu is the best school and that it is as good as universities in other states," he said.
"But when that happens, insurance companies cannot deny coverage for Oriental medicine treatments," he said.
"Those people will make Oriental medicine's future bright," he said.
In the meantime, Wongu University has already brought in advantages to the local community.
"Wongu University has positioned itself to make an immediate contribution to addressing key community concerns," Bowles said.
"First, the (master's degree) training is predicated upon a balanced, preven tive, holistic approach to health care. With this foundation, the issue of rising health care costs is immediately addressed, as preven tive practices have been shown to be much less expensive than reactive types of treatment.
"Second, by emphasizing a balanced and holistic approach to health care, the university's program significantly diversifies the treatment options available in the area through its clinic operations," he said.
"And third, the (master's) program is a means through which a highly trained workforce can be produced to participate in a high-demand profession," Bowles added.
The official also noted that Wongu University will help promote Las Vegas as a desired world-class destination for alternative health care training and medical tourism.
"The training facilities of the school stand to attract students from around the world and potentially help address worldwide shortages in health care providers," he said.