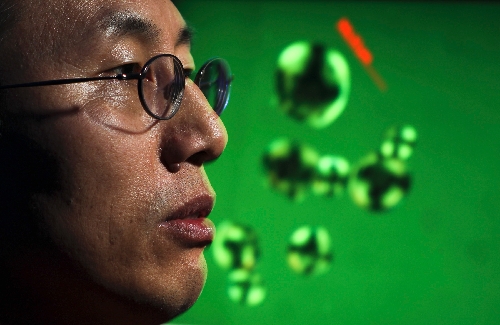 The enemy is invisible to the naked eye and exists in numbers hard to comprehend – hundreds of trillions of them at every depth and in every cove.
In the five years since they were first discovered in Lake Mead, the population of invasive quagga mussels has grown tenfold.
UNLV researcher David Wong estimates that more than 1.5 trillion adult quaggas and 320 trillion microscopic mussel babies now populate the reservoir.
That's 80 to 160 quaggas for every gallon of water in the nation's largest man-made lake. If mussels were dollars, there would be enough of them to pay off the national debt 20 times over, with a few trillion bucks to spare.
"They are everywhere in the lake," says Wong, one of the nation's leading experts on the aquatic invader. "Almost every single rock has some mussels on it."
With no hope of eradication, Wong and other researchers are focused on protecting vital underwater infrastructure and keeping quaggas from spreading to other waterways.
This weekend, the chips are stacked against them.
Memorial Day marks the first big boating weekend at Lake Mead, and it falls smack in the middle of a huge reproductive spike for the mussels.
If boaters aren't careful, they could wind up taking quaggas home with them and never know they are doing it, Wong says.
The real threat is the babies, also known as veligers. Invisible but plentiful, they could – and likely do – exist in even the smallest puddles of lake water.
Under the right conditions, veligers can survive for as many as 27 days and be spread on life jackets, waders, swimsuits or even the bumper of a car that is backed into the lake to drop off a boat.
Experts recommend draining all boating gear, cleaning it with hot water and then leaving it out to dry for at least five days in the summer heat.
The key, Wong says: "Don't bring Lake Mead water home or to another lake, river or stream."
AN EXPENSIVE PROBLEM
Each mussel is usually no bigger than a man's thumbnail, but their dense and fast-growing colonies have caused billions of dollars in damage and preventive maintenance costs in the Great Lakes region and elsewhere in the eastern half of the country.
Wong says quaggas are native to the Ukraine, but have spread across Europe. They arrived in the Great Lakes in the early 1980s, most likely in the ballast water of a ship.
Left unchecked, they can clog water pipelines, power plant cooling systems and marine equipment.
Wong believes the mussels likely arrived in Lake Mead sometime before the summer of 2005, at least 18 months before anyone noticed them.
Until then, the bivalve mollusk with the striped shell had never been found west of the Mississippi River.
They have since spread to lakes Mohave and Havasu downstream from Hoover Dam and into water systems in California and Arizona.
Wong says two dozen reservoirs in the San Diego area now have quaggas in them. They were likely delivered there as babies in water released from Lake Mead and diverted to Southern California.
"It seems like anywhere the Colorado River flows, the quaggas go," says Leonard Willett, quagga mussel coordinator for the U.S. Bureau of Reclamation at Hoover Dam. "It's been a good delivery system, and they have followed it."
They have also tried to colonize the dam itself, but they have not impacted power or water deliveries.
Willett says the little "bio-foulers" are more of a nuisance than anything. "If your radiator starts getting plugged your car overheats. It's just an additional maintenance issue."
In 2009, the bureau began installing microfiltration screens to keep mussels out of the dam. Willett said the agency plans to spend about $800,000 a year for the next decade on quagga counter­measures.
The mussels are also an issue – but not yet a major problem – for the Southern Nevada Water Authority, which draws 90 percent of the valley's drinking water through two intake pipes in Lake Mead.
Spokesman J.C. Davis says the region's wholesale water supplier anticipated the problem and installed countermeasures before the first mussels were found in the lake.
Davis says the authority now injects a low-dose chemical solution into the water at the mouth of the two intakes to keep quaggas from colonizing its pipes. Both the chemical and the quaggas get scrubbed from the water when it is treated for delivery to the valley.
HAS SHELLS, WILL TRAVEL
As far as Wong is concerned, Lake Mead is a lost cause. It's too big and the mussels too widespread to have any hope of eliminating them altogether.
"But that doesn't mean we are not going to do anything," he says.
The University of Nevada, Las Vegas has teamed with the water authority, Bureau of Reclamation, the National Park Service and the Nevada Department of Wildlife to study quaggas and test ways to stop them.
The methods tried so far include ultra­violet light, X-rays and a variety of chemicals. Wong and others have also tested different materials to see which ones are least likely to attract quagga colonies. He is now studying whether adding silt to water can choke the mussels out.
One of the most effective and ecofriendly treatments is to spray quagga beds with water heated to about 140 degrees, Wong says. It kills the mussels quickly without leaving any chemicals behind.
"We have to take care of the environment as well," he says from his lab on the UNLV campus. "You don't want to solve the problem but create another catastrophe."
If there is good news, it's this: Wong believes the quagga numbers in Lake Mead are unlikely to keep building as they have over the past five years. The current thinking is that the population will plateau or decline within the next 10 to 12 years, as the filter-feeding mollusks outgrow their food supply.
But the quagga has defied expectations before.
Rick Ianniello is a UNLV graduate student working under Wong. His research is focused on the mussels' reproduction patterns in lakes Mead and Mohave, where the species goes through two major spawning spikes a year instead of the one it experiences elsewhere.
As a result, Ianniello says, "They've expanded across the lake a lot faster than we've seen anywhere else."
Depth and darkness doesn't seem to bother them either. Ianniello says they have been found as far down as 300 feet.
"The crazy thing is how many of them are out there. What are they eating?" he says. "Every rock and hard surface is just covered with them, especially in Lake Mohave. There's just mussels stacked on top of mussels."
By way of proof, Ianniello pulls a zip-lock plastic bag from a laboratory freezer marked "Dr. Quagga." Inside the bag is a layered mass of mussels almost the size of a football. It is perched on top of a single, flat stone less than an inch thick and no bigger than the palm of your hand.
So can the quagga be conquered? Ianniello isn't optimistic.
"I think it's possible. It's more likely we'll be able to do that than get rid of them completely," he says. "But the lake is gigantic, and it's in two different states. You can take your boat out at 3 in the morning and no one is going to catch you."
Contact reporter Henry Brean at hbrean@reviewjournal.com or 702-383-0350.