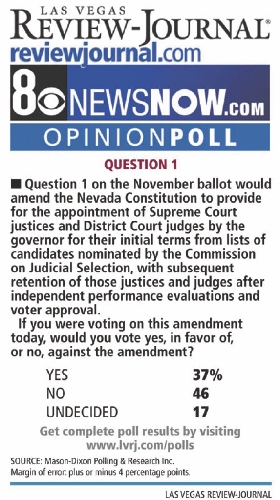 Nevadans continue to be steadfast in their opposition to Ballot Question 1, which if passed would change how judges are selected in the state.
The most recent Las Vegas Review-Journal 8NewsNow poll suggests only 37 percent of the state's voters favor the change to merit selection, which would have judicial candidates vetted by a commission with the names of the three top attorneys sent to the governor, who would make the appointment.
The judge would then be subject to a retention election and must earn 55 percent of the electorate's confidence to remain on the bench. The public would be provided a copy of the judge's judicial evaluation roughly one month prior to the election to assist in the decision-making process.
While disparate groups such as the Clark and Washoe county chambers of commerce and employee unions are united in their support for the measure, which is designed to take cash contributions out of judicial elections — and the appearance of impropriety that cash provides — the majority of citizens believe Question 1 is designed to take away the public's ability to pick its judges through popular elections.
"They need to know merit selection actually gives the people more power, not less," said Greg Ferraro, principal of The Ferraro Group, a public relations firm and a member of the merit selection advocacy group Nevadans for Qualified Judges.
Championed by retired Supreme Court Justice Sandra Day O'Connor and a host of prominent Nevadans on both sides of the political aisle, the merit selection would remove the need for judges to gather campaign donations, which are overwhelmingly provided by the attorneys who stand a good chance of appearing before them, they say.
While the public remains opposed, the latest poll suggests resistance is lessening. In July, 27 percent of respondents statewide said they would support Question 1. This week, the number is 37 percent. Democrats were more supportive than Republicans in both polls, and independents were squarely in the middle.
"We've come a long way in a short while," said Ferraro in an interview Friday. "The message is getting out here."
Nevadans for Qualified Judges began an aggressive advocacy campaign that included appearances by O'Connor, retired Nevada Supreme Court Justice Bill Maupin, key Las Vegas builder Irwin Molasky and others, late last summer.
There were fears an inadvertent automated voice message that woke people up in the wee hours Monday might have derailed the effort, but apparently not.
"Question 1 does three key things," said Ferraro. "It gives the people of Nevada more power over judges, not less, it takes cash out of the courts and it gives us more qualified judges."
Ferraro was pleased by the gains and hopeful the percentage of undecided voters statewide — 17 percent — pays dividends on Election Day.
"It's a three-day weekend," he said. "We'll continue to get the message out. We've got speakers who will talk to groups…we've still got a lot of work to do."
In an interview last summer, Dr. Rebecca Wood, a political science professor at the University of Nevada, Las Vegas, said there are "ups and downs" to both merit selection and the current system of direct elections.
Wealthy trial attorneys who represent clients involved in product liability and personal injury cases are heavy contributors to judicial candidates, said Wood, but on the other hand, she said, it would be difficult if not impossible to completely remove politics from merit selection.
Currently, Nevada is one of 13 states to elect its judges in nonpartisan elections; another nine states elect judges through partisan elections; and 28 states select judges through some form of merit selection.
The U.S. Supreme Court justices are appointed through congressional confirmation and the president appoints and Congress approves federal judges.
Lawmakers unanimously approved putting the question before voters in the 2007 and 2009 sessions of the Legislature.
Contact Doug McMurdo at dmcmurdo@reviewjournal.com or 702-224-5512 or read more courts coverage at lvlegalnews.com.