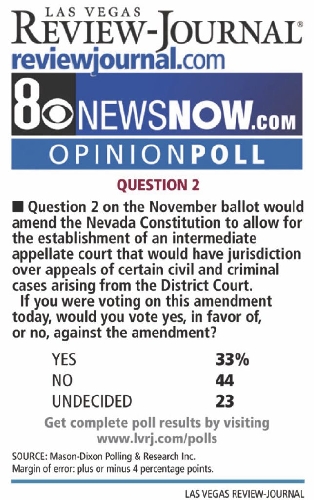 What a difference three months make.
In July Nevadans who were polled on the issue were strongly in favor of Ballot Question 2, which if passed would create an intermediate appellate court in the state.
This week? Not so much.
According to the most recent Las Vegas Review-Journal and 8NewsNow poll, only 33 percent of respondents are in favor of the measure, a full 25 percent turnaround from a July poll in which 58 percent said they would vote for creation of the badly needed court.
Nevada Supreme Court Justice Ron Parraguirre was stunned to learn of the results in a Friday interview, surmising poll respondents might have been scared off because of a potential budget shortfall of up to $3 billion.
"I think the thing that bothers folks the most is the belief this creates another level of government," said Parraguirre, who was quick to point out that isn't the case, at least in the strictest sense.
The need for an intermediate court is well documented. Nevada is one of 11 states that do not have such courts, which serve as a buffer between district and supreme courts.
With one of the highest per justice caseloads in the nation at 320 per year, second only to West Virginia, cases languish in an overburdened system. Litigants and their attorneys become frustrated waiting for their day in court.
Twice passed unanimously by the Legislature in consecutive sessions before coming before voters this year, Question 2 would work as a "pushdown" court in which the Supreme Court would "push down" cases that would not set precedent to a trio of appellate judges.
In other words, the more than 2,200 cases, and growing, that are appealed each year would still be filed with the Supreme Court, which would then redistribute the less critical cases to the appellate court.
"We've needed this for awhile now," said Parraguirre. In fact, voters in 1980 and again in 1992 rejected similar proposals, but the state has grown by nearly 1.5 million residents in the interim.
In the neighboring states of Utah, California and Arizona, which have appellate courts, per justice caseloads are sharply reduced from what Nevada's high court faces. "We hear everything from death penalty cases to driver's license revocations," he said.
Stressing that license revocations are certainly important to the appellant, it is unlikely one would result in new law whether the District Court decision is affirmed or reversed.
Parraguirre said the high court and lawmakers took great pains to minimize the fiscal impact. As an example, there will be no "brick and mortar" costs because the appellate court would operate out of existing Supreme Court facilities in Las Vegas and Carson City.
The current central staff with minimal additions would assume the workload created by the intermediate court. Also, the Supreme Court reverted to the state general budget nearly $3 million in the last biennium, money that if returned to the high court could pay for salaries for quite a while.
"We need that (added) level," said Parraguirre, who like many was surprised by the turnaround in voter sentiments. In July, 64 percent of Democrats, 53 percent of Republicans and 56 percent of independents favored passage. Those who were undecided outnumbered those in opposition by 14 percent across the state.
Three months later, those opposed increased 30 percent, from 14 percent to 44 percent and undecided voters decreased 5 points to 23 percent. Democrats remain the only party still in favor, but even their numbers dropped from 64 percent in July to 41 percent this week.
What is more amazing, as far as Parraguirre is concerned, is that there has been virtually zero controversy attached to the ballot question in the intervening months.
"Wow," he said. "What happened?" Parraguirre also noted both the Las Vegas Review-Journal and Las Vegas Sun editorial boards endorsed Question 2.
Contact Doug McMurdo at dmcmurdo@reviewjournal.com or 702-224-5512 or read more courts coverage at lvlegalnews.com.