Radio host rebuts Tarkanian's story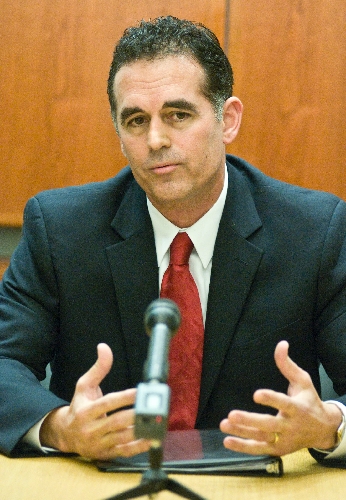 Talk radio host Alan Stock says the version offered by Republican U.S. Senate candidate Danny Tarkanian about their altercation at a GOP event Friday is "absolute crap."
"The slant he put on it was an absolute exaggeration and a twisting of facts," Stock told Vegas Confidential on Saturday.
The conservative host at KXNT-AM, 840 said Tarkanian was "manhandling me, grabbing me by the arm," during a tense discussion.
Stock, who emcees First Friday gatherings of conservatives at Stoney's Rockin' Country, said he saw Tarkanian start to exit and caught up to let him know he would be allowed to speak.
Stock said he had orders to make sure Tarkanian was given the chance because someone had complained to the station that he was being shut out.
Tarkanian, who was heading for a Las Vegas 51s game to throw out the first pitch, kept insisting, "They are not going to let me speak," Stock said.
"I said three times, 'I'm going to get you on.' When I turned away, that's when he grabbed me. … Instead of a thank you, I basically got a screw you."
Candidates were given speaking times based on when they responded and confirmed.
Others have witnessed Tarkanian's temper. A local journalist said he once saw Tarkanian "go to DefCon Four for no reason. He's got a real short fuse."
About two months ago, Stock said, Tarkanian lost his temper after a KXNT studio sitdown with Sue Lowden and Stock.
Tarkanian won a coin flip to see who spoke first, and "I made sure Sue got the last word," Stock said. "But he got pissed off. I said, 'You got to go first.' He said, 'My first word was a policy statement and her last word was a personal attack, a personal statement.' I said, 'What's fair is fair. You got first. She got last.'"
Tarkanian got angry and "took me by the arm again and pulled me down a hallway into the kitchen to tell me how pissed off he was, how unfair this was."
Stock said he has concerns about Tarkanian's
"thin-skinned" behavior. "He's so easy to anger. If challenged I could see him losing his cool in Washington. I think that would be embarrassing to the state of Nevada. This guy has anger issues. He's big. He's lanky. I guess he thinks he can intimidate people."
Tarkanian gave this version in an e-mail late Friday to Review-Journal political reporter Laura Myers:
"On my way out of Stoney's, Alan Stock stopped me and asked if I was leaving and if I planned on speaking. I told Alan they would not let me speak early," Tarkanian said.
"Before I could get to 'early,' Alan raised his voice and said, 'That is not true. You are lying. I have you on the list to speak.' Because Alan was raising his voice, I put my arm around him and asked him to speak with Heather Kydd,who knew the story. He pulled away and yelled louder, 'Don't touch me.' I then left Stoney's."
Asked to comment, Tarkanian's campaign manager, Brian Seitchik, e-mailed : "While Danny disagrees with Alan's view of the events, Danny has known Alan Stock for a long time and he is a fair host who even held the first radio debate of the campaign. He didn't mean to offend Alan in any way and will be reaching out to him to address any misunderstandings."
PAULA: 'IT AIN'T SO'
KLAS-TV, Channel 8 anchor Paula Francis had a three-word response to rumblings that she might be joining rival KVBC-TV, Channel 3 and new former news director Bob Stoldal.
A local Twitter follower of hers sent her a tweet Saturday, saying, "Say it ain't so Paula." Her response: "IT AIN'T SO."
I asked Stoldal to address the speculation, and he said, "I think Sue Manteris is a great anchor." After a prolonged pause, I asked if he wanted to add anything.
"I remember the day Channel 13 fired Paula," he said. "I heard about it and 15 seconds later I called her. And 30 seconds later we were having coffee and negotiating a contract on the back of a napkin. Paula has made a massive contribution to this community and we're great friends."
But that wasn't why Stoldal was on the phone. He wanted to make sure there was no misunderstanding about Jeff Gillan's move from the 4 p.m. anchor chair. "He's going to play a high-profile role on and off the air," especially in political coverage.
THE PUNCH LINE
"Will 'Don't Ask, Don't Tell' interfere with my Ricky Martin fan club?" — From David Letterman's Top Ten Questions You Should Ask Before Joining the Military
Norm Clarke can be reached at 702-383-0244 or norm@reviewjournal.com. Find additional sightings and more online at www.normclarke.com.