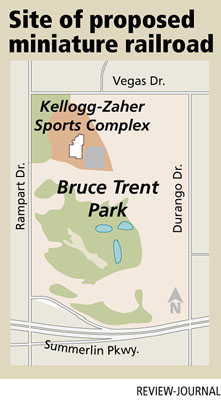 One thing's for sure about train people — they're really, really excited about anything involving a railroad.
And that enthusiasm has been crucial to Bruno and Trudy Platzer, who have spent eight years tangling with incremental government processes while trying to get a miniature train museum off the ground.
Despite the delays, and the freight-car load of work that's still ahead, they're committed to the idea. And today the Las Vegas City Council could approve a key next step for the park, by agreeing to find a route for the planned passenger mini-train to follow.
"That's what's so magnificent about it. We didn't give up," Trudy Platzer said. "It sounds like it's going to work now."
She and her husband incorporated the Las Vegas Railroad Society in 1999 and started approaching Las Vegas and Clark County officials about a location for the proposed park. The story dates back to 1977, though, which is when the couple first arrived in Las Vegas.
A lot has changed since then, but one aspect of local life hasn't: "As the years went by, I watched and I noticed that there was no improvement for children's activities," she said.
As she and her husband traveled the United States — they're originally from Austria — she noticed that many children were entranced with trains.
The Platzers were already active in the train hobbyist community, and finally she put two and two together.
"One morning I woke up and it just hit me like lightening. I said, 'We've got to do this,' " she said. "We have something right here where we could give back to the community."
They found an early supporter in City Councilman Larry Brown and tried for several years to have the train park included in the open space plan for Tule Springs, now called Tule Springs at Floyd Lamb State Park. Because of concerns about archaeological and paleontological artifacts, though, the railroad society idea was left out.
"At the last part of the public hearings, the group felt that it wasn't compatible with the passive uses out there," Brown said.
"It knocked me out for about a day and a half, two days," Trudy Platzer said. "Then it encouraged me to look for different avenues."
Now there's another northwest location under consideration, areas around Durango between Summerlin Parkway and Vegas Drive, using open space in Bruce Trent Park and the Kellogg-Zaher Sports Complex, Brown said.
"That's the canvas that we're looking at evaluating," he said. "They just need access to run the tracks through."
No city funds have been requested, Brown said. Trudy Platzer said they plan to seek corporate sponsors and grant money. Because of the uncertainty around the project's future, no fundraising goals have been set, she said.
The Platzers' plans also call for exhibits on the technical workings of old trains and the history of railroads and mining in Nevada and the West. The center would be open to the public, with a focus on children and school field trips.
Exactly where those facilities would be located hasn't been determined.
"It's a dream of theirs that they've been very patient with, and I hope the support is there to get them on their way," Brown said. "There's an opportunity there to create a true community asset."
Contact reporter Alan Choate at achoate@reviewjournal.com or (702) 229-6435.
ON THE WEB: More information is available at the Las Vegas Railroad Society Web site: www.lasvegas railroadsociety.org