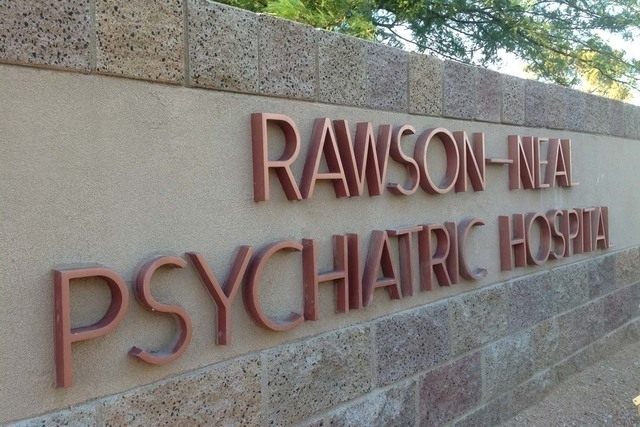 The blows keep coming for Rawson-Neal Psychiatric Hospital in Las Vegas after allegations of patient dumping in 2013.
Southern Nevada Adult Mental Health Services, which operates Rawson-Neal, on Thursday was warned by the federal Centers for Medicare and Medicaid Services that its participation in Medicare could be terminated on or before April 7. Also, Rawson-Neal was told it was in violation of the Emergency Medical Treatment and Labor Act.
State officials in a statement released late Thursday afternoon said they are still reviewing the extensive report to learn more about the findings.
"However, it appears the noncompliance issues mirror those identified by outside consultants," officials said.
The Southern Nevada Adult Mental Health Services agency went through a recertification inspection Nov. 8. The inspection found that the agency remains out of compliance with standards on oversight, quality assurance and performance improvement, and nursing services, according to a copy of one letter mailed to Administrator Chelsea Szklany by the federal centers.
The agency has until Jan. 22 to submit a plan of correction. If state officials don't agree with these findings, they can request a hearing.
At the same time, Rawson-Neal was found to be in violation of requirements of the Emergency Medical Treatment and Labor Act that cover the emergency room log, medical-screening exams and appropriate transfers.
The hospital has to submit evidence that those violations have been corrected or evidence that shows the violations did not exist, according to a second letter.
After allegations of patient dumping, Rawson-Neal was hit with several investigations and a federal lawsuit. Last year, the hospital lost its accreditation from the Joint Commission, an independent agency that accredits hospitals across the nation.
State officials said there won't be any disruption of services for patients and Medicare funding will continue.
If the federal agency accepts the correction plan from Nevada officials, it will conduct an unannounced inspection to determine that the problems have been fixed.