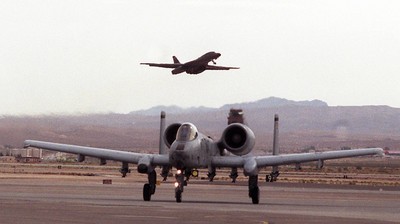 Military jets will be roaring out of Nellis Air Force Base for the next three weeks during a special Red Flag air combat exercise at the 15,000-square-mile Nellis range.
From Monday through March 13, as many as 80 aircraft will depart the base twice a day, in the early afternoon and evening hours, base officials said.
In addition to U.S. planes from Nellis and Creech Air Force Base in Nevada, aircraft from 12 other states and three countries — Germany, Australia and the United Kingdom — will participate.
The Red Flag exercise will involve an Army Patriot missile unit from Fort Bragg, N.C., which will set up communications gear in Delamar Valley, west of Caliente, to reach airborne units and identify friendly and enemy aircraft. The unit will use the Alamo airfield as a base, 90 miles north of Nellis.
Training involving aircraft and ground troops is needed to prepare for combat operations around the world, particularly in Afghanistan and Iraq, said Maj. Keith Lowman, the exercise's team chief.
"Our goal is to provide tailored training … by focusing on close air support and combat search-and-rescue for air crews who frequently support ground forces, sometimes dropping weapons within a few hundred feet of friendly troops," he said.