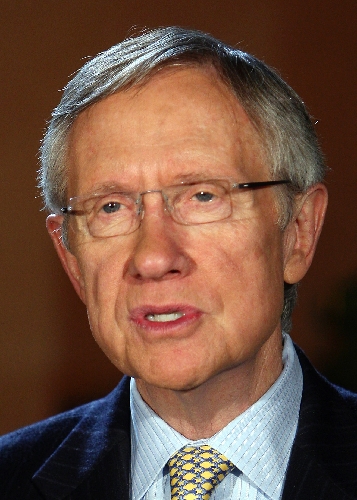 After Harry Reid won re-election in 2004 and became Democratic leader of the Senate, the devout Mormon set up a faith-based website to court religious voters who had just helped return Republican President George W. Bush to the White House.
Then Reid used the platform, called "A word to the faithful," to attack Bush's budget as immoral.
To make his case, Reid said he met with a group of ministers who told him the Bible story about a rich man who paid no attention to a poor man named Lazarus living outside his gates.
"But in death, it was Lazarus who went to Heaven and the rich men who suffered in Hell," Reid wrote in 2005 in criticizing Bush's budget plan. "Their purpose in telling me the story was to point out the immorality of turning a blind eye to economic injustice. And they wanted to make a larger point about the Bush 2006 budget, which, as they put it, has 'much for the rich man and little for Lazarus.' "
The commentary is striking in that it's one of the rare times in Reid's long legislative career that he has publicly used his private religious beliefs to sharply criticize the political opposition.
Now the tables are turned. Suddenly religion is the hot topic in Reid's 2010 re-election, as his campaign slams GOP opponent Sharron Angle for invoking God to criticize government policies in comments many political observers say have gone too far.
"Angle seems to talk about religion in a very different way," said Jennifer Duffy of The Cook Political Report. "It seems to go beyond just the role it plays in her life, but the role she thinks God should play in everybody else's life. My question is, does this turn off moderate voters she needs."
A devout Southern Baptist, Angle has said she felt a "calling from God" to run for the Senate, a comment opponents mocked. She also took heat for saying she doesn't believe in abortion in any case, including rape and incest, because "God has a plan and a purpose for each one of our lives."
But Angle drew the strongest criticism last week when an interview surfaced in which she invoked religion to bash Reid, House Speaker Nancy Pelosi and President Barack Obama for expanding federal programs "to make government our God" in what she said was a violation of the First Commandment.
"We have become a country entrenched in idolatry, and that idolatry is the dependency upon our government," she said in an April interview on Trunet, a Christian broadcaster. "We're supposed to depend upon God for our protection and our provision and for our daily bread, not our government."
John K. White of Catholic University of America said Angle's comments might have struck a nerve with some because they seemed to have "crossed the line from tolerance to intolerance."
"If you say that the Democratic agenda violates the First Commandment then, by inference, that agenda is sinful," White said. "There's a difference between being sinful and being wrong."
He said Angle would be better off following the example of Reid, who in most cases outside of his budget broadside at Bush in 2005, largely speaks of how his religious morals can affect policy.
"His religion informs his policy making, but does so in a way that makes him tolerant of people who have different points of view," White said. "That's not to say religion is absent."
Angle campaign spokesman Jarrod Agen said the former Reno assemblywoman is tolerant and believes "members of different faiths be given the freedom to practice their religion."
Agen also criticized Reid for playing the God card in the Senate race. He said Angle's point was that the Obama administration had become "all powerful" by passing legislation over the objections of a majority of Nevadans and Americans, including the health care law and divisive stimulus spending.
"It's shamefully hypocritical of Senator Reid to attack Sharron for discussing her religion, since Reid has publicly boasted that his faith and his political beliefs are deeply intertwined," Agen said. "The same man now attacking Sharron Angle is the same guy who not long ago said that he doesn't think he can separate his religion from his politics. Once again, Harry Reid is running from his record."
In 2005, Reid's Bible-backed budget critique came after Democrats lost control of the Senate and the House to "compassionate conservative" Republicans. They seemed to have a monopoly on faith-based groups under a born again president whose favorite philosopher was Jesus Christ.
"What you had Reid doing was very wise at the time," said White, who studies religion and politics from Washington, D.C. "Both parties have their own religious problems. Republicans clearly have a base that's church-going, but the country is secular. And what Democrats have tried to do is say, wait a minute, this division really ought not to exist. We're not an unreligious nation."
About four in 10 Americans say they go to church regularly, according to White. Meanwhile, most of the country's multireligious citizenry say they believe in God or a divine being, according to polls.
Reid has said many times that his religion is deeply embedded in his politics.
"I don't think you can separate your religion from your politics. It's part of your personality. It is part of who you are," he said in 2001, according to a Brigham Young University publication.
At the same time, Reid has made an argument against religion encroaching on government, which may be the starkest dividing line between what he and Angle believe.
"I really try to separate my religion from my politics," Reid said in a 2004 interview with the Las Vegas Review-Journal before he easily won re-election against Richard Ziser, an evangelical Christian who said it was God's will that helped Bush win the presidency in 2000.
"I believe in the Constitution. I believe there should be a separation of church and state," Reid said. "I think religion is a very personal thing. And I think it's not appropriate to wear your religion on your sleeve."
Angle contends separation of church and state isn't specifically mentioned in the Constitution, although Thomas Jefferson has expounded on the topic in letters.
And Angle, like many staunch conservatives who support school prayer, believes the Founding Fathers meant to allow religion in government while giving churches one-way protection from government interference.
Most of her comments about God have come in dozens of interviews she had done on conservative religious broadcasting networks on TV and radio.
On the campaign trail, she largely sticks to her message that Reid is responsible for Nevada's dismal worst-in-the-nation economy.
"When God calls you, he also equips you and he doesn't just say, 'Well, today you're going to run against Harry Reid.' There is a preparation," Angle said recently on the Christian Broadcasting Network in another interview that caused a stir. "Moses had his preparatory time. Paul had his preparatory time. Even Jesus had his preparatory time. And so my preparation began on a school board."
Reid spokesman Jon Summers said there is nothing wrong with politicians speaking about their faith, although the incumbent's campaign has spit out a stream of press releases criticizing Angle and asked donors last week to send Reid money to help stop "this dangerous radical in her tracks!"
"Angle doesn't believe there is a separation of church and state," Summers said. "She is trying to legislate her faith onto others, and the comments that she made on the radio make that very clear."
Asked about Reid's faith-based outreach, Summers said the goal is "to increase the dialogue with this important constituency, just as we do with other constituencies, including the business, labor and environmental communities, among others."
"That outreach has included people of many faiths, not just his own."
Both Reid and Angle have compelling personal stories of religious salvation.
Reid grew up in the small hard-rock mining town of Searchlight in a non-church-going home.
He was introduced to the Mormon religion by Marlan Walker, a seminary instructor and high school Spanish teacher who taught Reid and his then-girlfriend Landra Gould, who was Jewish.
"He was mesmerizing. For the first time in my life, I heard the message of Jesus Christ," Reid wrote about Walker in 2002 in a publication called Mormon Life.
Walker married the couple, who eloped while in college. They later joined The Church of Jesus Christ of Latter-day Saints and raised their five children in the religion.
Angle grew up in Reno, where her parents ran a motel for two decades. She and her husband, Ted, married in their senior year of university. She has said he influenced her religious growth.
Her belief in God deepened and she was led into politics, she said, after a serious medical scare in 1977.
A tumor blocked her spinal fluid, and she nearly was paralyzed. An operation saved her.
"When you see God move in these kinds of ways, you see God is real," Angle said in an interview with the Review-Journal for a March profile during the GOP primary. "Every breath I have taken since 1977 has been a gift. All of a sudden I was changed. My life had a purpose."
Angle, who believes ministers should be able to talk politics from the pulpit, regularly attends services with her husband at Fellowship Community Church, where Pastor Frank Bushey sometimes mixes Bible wisdom with advice about how to deal with economic hard times.
Sometimes the sermon has the ring of conservative politics.
"We are bailing everybody out," Bushey said earlier this year after telling people they need to take personal responsibility. "Did you get bailed out? No? GM got bailed out. The banks got bailed out."
In contrast, the Mormon religion strictly forbids talk of politics at church and only gets involved in some traditional family issues such as its opposition to same-sex marriage.
Reid, who isn't popular among some conservative members of his faith, had to cancel a series of talks he had planned this spring when church-goers complained he was playing politics in an election year. His staff denied the allegation, saying he has always given talks about his faith.
"The bottom line is that Senator Reid has an inspiring story about his conversion that people enjoy hearing," Summers said when the chats were canceled after Reid did only one of six.
Contact Laura Myers at lmyers@reviewjournal.com or 702-387-2919.