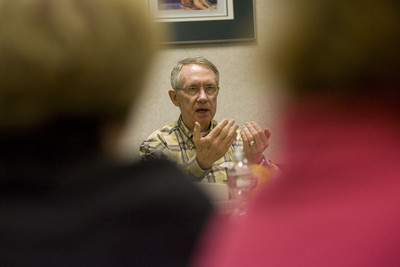 Senate Majority Leader Harry Reid, D-Nev., defended Connecticut Sen. Joe Lieberman on Wednesday after the former Democratic vice presidential nominee accepted a speaking slot at next month's Republican convention in Minnesota.
"He has a close personal relationship with John McCain. I don't fully understand why he does," said Reid, who said Lieberman called Tuesday from the Republic of Georgia to alert him to the move.
"I told him last night, 'You know, Joe, I can't stand John McCain.' He said, 'I know you feel that way,' " Reid said.
But Reid said he would continue to resist calls from the Democratic Party's base to strip Lieberman, now an independent, of his Senate positions for his disloyalty.
"All my close votes, he's always with me, whether it's the budget or energy issues," Reid said. "No matter what it is, he's always with us. He just does not vote right on Iraq. … Why would I want to throw away a good vote?"
Reid repeated his familiar criticisms of McCain in a discussion with Review-Journal staffers Wednesday, calling the Arizona senator wrong on the issues and saying the Republican, who arrived in Congress the same year Reid did, "does not have the right temperament" to be president.
Lieberman, who was Al Gore's running mate in 2000, has been mentioned as a possible running mate for McCain.
Reid said he hoped that wouldn't happen, because "there's a Republican governor in Connecticut," apparently meaning that's who would appoint a replacement if Lieberman resigned from the Senate to campaign.
Talking about Democratic vice presidential candidates, Reid momentarily had trouble keeping them straight.
Reid had just been talking up the credentials of Sen. Joe Biden, D-Del., whom he called the "odds-on favorite" to be this year's running mate, when he pivoted to take a question about Lieberman.
"I have a good relationship with Joe Biden. I have great respect for Joe," Reid said. "He was driven into some of the positions he's in because the far left took him on in the primary. … I've done a lot to protect Joe Biden."
Asked whether he meant Lieberman, Reid, whose stream-of-consciousness speaking style often leads to such flubs, corrected himself.
During the hourlong colloquy, Reid also forgot the name of former Virginia Gov. Mark Warner, a Democratic Senate candidate, and the Title IX legislation giving women access to school sports programs.
Although Reid cautioned that he was not privy to the vice-presidential selection process, he was effusive in his praise of Biden, who took a shot at the Democratic nomination and won praise for his long resume and debate performances even as he attracted few votes.
Reid said he admired Biden for his devotion to his family. Biden's wife and infant child were killed in a car accident just weeks after he was elected to the Senate in 1972, leaving him to care for two sons. He commuted from Washington, D.C., every day to raise the boys, one of whom is now Delaware's attorney general.
Reid also praised the international-affairs savvy of Biden, who chairs the Senate Foreign Relations Committee.
"You could take all 100 senators, Democrats and Republicans, and I think they would all agree that the most knowledgeable person on foreign affairs is Joe Biden."
Reid was less enthusiastic about two others he named as top contenders, Virginia Gov. Tim Kaine, whom he called "an interesting choice," and Indiana Sen. Evan Bayh. Reid noted that Bayh's father, Birch Bayh, was a senator and saved Massachusetts Sen. Ted Kennedy's life in a plane crash.
But Reid cautioned, "I know the press thinks they've narrowed it down to Kaine, Bayh and Biden, but I think there are other people in the running, and I think we could be surprised."
Reid said others who might be under consideration are New York Sen. Hillary Clinton and New Mexico Gov. Bill Richardson, both former presidential competitors of presumptive nominee Barack Obama's.
"I really don't know who's going to be the vice president," Reid said. "I have talked to Obama on quite a few occasions, mostly telling him who I didn't want."
Reid wouldn't specify who might have merited that list of undesirable running mates.
Contact reporter Molly Ball at mball@reviewjournal.com or 702-387-2919.