Reid steps in, sways tribe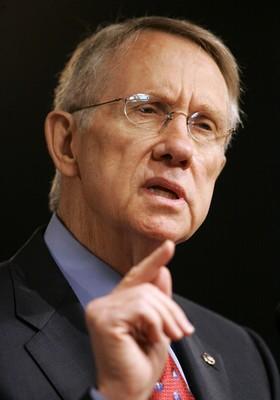 WASHINGTON — Once again showing his clout on Yucca Mountain, Sen. Harry Reid helped the Walker River Paiute Indians reach a decision against allowing nuclear waste to be shipped through their reservation to the proposed repository, according to government officials and lobbyists.
It is not clear whether Reid, D-Nev., used a carrot or a stick to persuade the Paiutes to withdraw from a railroad corridor study being prepared by the Energy Department. The tribe made a surprise announcement on April 17 pulling out of the project.
A number of factors almost certainly played into the decision, observers said, such as the Indians' environmental conscience, concerns about safety, discomfort among the tribe's rank and file, and growing vocal opposition from other Northern Nevada communities.
But tribal leaders have told the Energy Department that Reid's intervention played a role in their decision, according to sources in Nevada and Washington who have spoken with DOE officials, and several others familiar with the situation.
The Paiutes "explained it as Harry had just given them an offer they couldn't refuse," said a nuclear industry lobbyist who has spoken to DOE managers.
Reid told the Paiutes that he will look into the possibility of having the government relocate the railroad tracks that bisect the tribal community of Schurz in Mineral County, his spokesman Jon Summers said.
"There is nothing firm on the table just yet," Summers said.
The tribe long has wanted to move the railroad away from town, as it conveys ordnance to and from the Hawthorne Army Depot 40 miles to the south. Until Reid's promise, the tribe was looking to the Department of Energy to relocate the rail as part of any agreement to allow radioactive waste on the tracks.
The tribe also has sought Reid's help to obtain federal funding for fisheries and to settle disputes over water rights in the Walker River basin.
By stepping in, Reid once again displayed his influence on matters involving Yucca Mountain, both in Nevada and Congress where he has worked to cut funding and to block legislation that would speed up the nuclear waste project.
"Clearly we were aware of dialogue going on with the senator's office," said David Blee, executive director of the U.S. Transport Council, a pro-Yucca organization of waste shippers that had met with the Walker River Paiutes before the tribe's announcement.
"The feeling always was that Senator Reid would make a more attractive offer to the tribe than continuing to dialogue with the (Energy) Department," Blee said. "He did what I would have done if I was the senior senator from Nevada. The only surprise is that it didn't happen later in the process.
"You can't underestimate how important it was to the (Walker River Paiutes) to get the rail line moved," Blee said.
Reid said in a short interview he has been a champion of all Nevada Indian tribes, and that he continues to help the Walker River Paiutes pursue economic development opportunities.
"The Walker River tribe is going to be taken care of in many different ways," Reid said. "They don't have to ask for help."
As for the tribe's involvement with Yucca Mountain, "I am not going to get into specifics of negotiations but obviously the Walker River tribe was able to see this DOE thing as a pig in a poke," Reid said. "It was DOE's effort to buy something from somebody that they shouldn't have been dealing with.
"We'll look at any of the concerns the tribe has at this stage," Reid said.
Summers said Reid's intervention should come as no surprise.
"Obviously the senator would want to talk to the tribe about changing their mind on a position that would help out Yucca," Summers said. "Senator Reid is adamant about preventing the dump from ever being built.
"If there is anyone who is considering doing anything that could be helpful to Yucca he will have a conversation with them, or someone from our office will have a conversation with them about the cons associated with the dump," Summers said.
The Walker River Paiutes did not respond to an e-mail requesting an interview with chairwoman Genia Williams.
The tribe said in its April 17 statement that it had been contacted by business interests interested in economic development that could make use of a north-south rail route through the state.
The Paiutes said they contacted Reid's office to propose a cooperative effort to develop such opportunities that would allow the construction of new railroad tracks to bypass Schurz.
"A new rail line bypass could provide a safer community on the reservation and could have economic benefits to Nevada," Williams said in the statement.
"We plan to work cooperatively with Senator Reid to explore the benefits of this project and sincerely request his assistance in its development for the benefit of the Walker River Paiute Tribe as well as his constituents throughout Nevada," Williams said in the statement.
More about Yucca Mountain