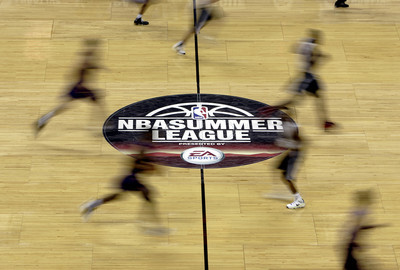 A RECENT STORY ABOUT 10-YEAR-OLD BRANDON RAYNER, who is trying to collect a record number of business cards while he battles leukemia, prompted a flood of support — and business cards — for the boy.
But judging from one comment posted on the Review-Journal's Web site last week, Brandon might get more than he bargained for.
"Here in Vegas, we have "special" business cards that are handed out on the Strip," wrote a reader named Chris. "Would these count and/or be appropriate for the collection?"
ANNETTE WELLS
LONGTIME DISTRICT JUDGE LEE GATES, who is not seeking re-election this year, was chatting with a reporter at the Regional Justice Center recently when he confessed he was suffering from "short-term fever."
"So anybody wants a continuance, I give it to them," he said with a laugh.
CARRI GEER THEVENOT
IT APPEARS AGING JOCK JOHN ENSIGN still has something left in the tank.
The Nevada senator, who turned 50 in March, played in his 12th Congressional Baseball Game on Thursday night, an 11-10 nail-biter won by Republicans on a throwing error in the final inning.
Wearing the uniform of the University of Nevada, Reno, Ensign took the mound for two innings at the Washington Nationals' ballpark and surrendered two runs on a couple of hits, his fan club (meaning his aides) reported. He also went 1-for-2 at the plate, with an RBI single.
Ensign was on a plane Friday, so there's no way to know for sure, but aide Tory Mazzola said there was a good chance the senator took an Advil in the morning to quiet the aches.
STEVE TETREAULT
PSYCHICS WHO COME BEFORE THE LAS VEGAS CITY COUNCIL for a business license should expect to get a little ribbing from Mayor Oscar Goodman, who usually prods them for predictions to help his sports betting.
Last Wednesday, though, he was just testing Lorraine Marks, who operates a shop on Fremont Street.
"Who do you like in the All-Star Game — American or National League?" Goodman asked.
"American," Marks said, after a brief pause.
"You won," said Goodman. "The game was played last night."
"I just followed my instinct," Marks said.
What — the spirits didn't tell her?
ALAN CHOATE
A NEIGHBORHOOD FORUM HELD WEDNESDAY to introduce Nevada Supreme Court candidates wasn't exactly a hot ticket.
The small gathering drew just 10 audience members, two candidates, and Dave Thomas, the husband of candidate Nancy Allf, whose sales pitch included, "I think she's the best candidate for this role. I love her. She's my wife."
The forum opened with the following prayer from Juanita Clark: "For those who are not here yet, guide them here safely."
ADRIENNE PACKER
Week In ReviewMore Information