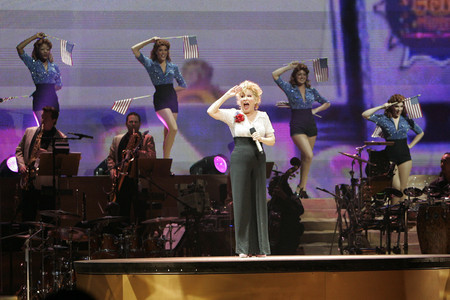 IN CASE YOU MISSED THE NEWS LAST WEEK, wildlife officials announced the suspected cause of a recent die-off of carp in Lake Mohave: Koi herpes.
Now, if you think the Week in Review department is classy enough to pass up a chance to make fun of Koi herpes, you don't know Week in Review very well.
Instead, we asked reporters to suggest some snide, secondary headlines for the fish story.
Here are the top five:
5. "You can't catch Koi herpes from contact with Koi, Koi say"
4. "Koi herpes: Can you get it from pigs?"
3. "French kissing fish at Lake Mead marinas discouraged"
2. "Nature is killing fish; PETA threatens to boycott Planet Earth"
1. "Ask your ichthyologist about prescription Gill-trex"
HEY, PARENTS, EVER WORRY ABOUT HOW YOU'LL PAY your kid's college tuition someday? Las Vegas Mayor Oscar Goodman can help.
All you've got to do is name the kid after him, hizzoner told a pregnant reporter at his regular Thursday news conference.
"I have an outstanding offer for all newborn babies if they're named Oscar or Oscarina," Goodman said. "I got a thousand dollar scholarship."
LYNNETTE CURTIS
MOST PEOPLE GET UPSET WHEN A NEWSPAPER STORY describes them as a big-mouthed rich guy who doesn't compromise and plans on keeping it that way. Libel lawsuits have been filed for less.
But higher education Chancellor Jim Rogers is anything but self-deluded, so he didn't even blink at the "big mouth" label when it showed up in a recent Review-Journal story about his upcoming retirement.
"That's the kind of guy I am," he said.
RICHARD LAKE
CLARK COUNTY COMMISSIONER CHRIS GIUNCHIGLIANI was chatting with a reporter at a local Starbucks when an engineer sitting nearby began lamenting how Americans no longer revere scientists.
"Who's your favorite living American scientist?" asked Bruce Gore, illustrating his point.
For fun, the reporter asked the engineer who his favorite county commissioner was.
"Chris G.," Gore replied.
Giunchigliani laughed and thanked him.
Gore swore he had no idea that was her.
SCOTT WYLAND
WITH THE OBAMA ADMINISTRATION DECLARING Yucca Mountain "not an option" for disposing of the nation's deadly radioactive waste, a congressional research specialist said Thursday the Energy Department probably will go back to Square One when it comes to dealing with the problem.
Among possibilities discussed in the presentation by specialist Mark Holt were launching the stuff into outer space, chilling it off in massive ice sheets, or finding a few volcanoes to dump it in.
If you thought Mount St. Helens was a mess, wait until those babies erupt.
KEITH ROGERS
Week In Review
More Information