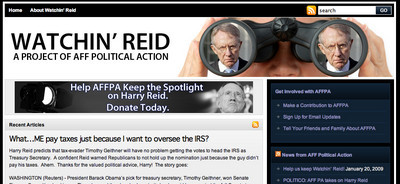 That target on the back of Sen. Harry Reid just keeps getting more tempting.
Multiple national and homegrown conservative groups are setting their sights on the Democratic majority leader from Nevada, aiming to make his life difficult as he gears up for re-election in 2010.
The latest on the bandwagon, the Legacy PAC, is a national effort founded by Ronald Reagan acolytes that hopes to drum up major moola and blitz Reid with antagonistic messages in his own backyard.
The PAC is a project of Jim Lacy, a California Republican activist, and Floyd Brown, the operative behind the notorious 1998 anti-Dukakis commercial featuring Willie Horton. In 2008, they collaborated on efforts to oppose now-President Barack Obama and to support GOP senators' re-election, raising about $1.5 million.
After the election, there was some cash left over in the PAC's account, Lacy said recently. At a meeting at Mandalay Bay in late December, they settled upon Reid as an appropriate next mark.
"It became very obvious to us that with Obama's election, one of his chief henchmen is going to be Harry Reid," Lacy said.
They plan to portray Reid as out of touch with his constituency back home in Nevada.
Legacy had hoped to get in on the anti-Reid action early, but they're not the first. The Iowa-based American Future Fund's political-action arm started picking on Reid last year and now has stepped up its efforts with a Web site — http://watchinreid.com/ — that hopes to train a spotlight on the somewhat gaffe-prone senator's every move.
In Nevada, the indefatigable conservative activist Chuck Muth has begun circulating a "Dump Reid Report" as an occasional supplement to his e-mail newsletter.
National Republicans continue to single out Reid for scorn. The new head of the National Republican Senatorial Committee, Sen. John Cornyn of Texas, wasted no time getting started, criticizing Reid last week as beholden to lobbyists. Meanwhile, a fundraising e-mail sent by the Republican National Committee and signed by former New York Mayor Rudy Giuliani carried the subject line "Stop Harry Reid."
Efforts like that one raise the question of whether Republicans are more concerned with actually ousting Reid or whether he's just a convenient boogeyman. Early polling shows the new president to be popular with the public; the GOP needs a foil to stir up the partisan base without generating a backlash.
Tim Albrecht, a spokesman for American Future Fund, allowed that part of the Reid site's purpose is "to make a splash nationwide." But he said the group also plans to air anti-Reid messages on his home turf in an attempt to wound him politically.
"We want to keep the heat on Harry Reid, let him know that Americans are watching and he can't run his liberal ideals roughshod over the country," Albrecht said. "The nice thing is, it virtually writes itself."
Legacy PAC, for its part, is planning to round up some wealthy donors on both coasts in late February. Its efforts will be focused intensively on Nevada, Lacy said.
Lacy and Brown's previous efforts against Obama, which included a site called Expose Obama, got them listed as enemies on the campaign's "Fight the Smears" site.
Cornyn took over the helm of the NRSC from John Ensign, who was hamstrung by a policy of not criticizing Reid. Committee spokesman Brian Walsh issued a statement saying, "Senator Reid's close ties to Washington lobbyists" raise "the very real question of whether he represents their interests or Nevada's interests."
Ensign told The Hill, "He's (Cornyn) definitely aggressive, and I think it can be very effective for him."
Reid spokesman Jon Summers said the attacks are nothing new given Reid's position as Democratic leader, which he has held since his predecessor, Tom Daschle of South Dakota, lost his re-election battle in 2004.
"The partisan attacks on him are something we've gotten used to," Summers said. "They probably will ramp up" as 2010 nears. "But Senator Reid is going to continue doing what he's always done, which is deliver everything he can to the state of Nevada."
STIMULATING NUMBER
Gov. Jim Gibbons has proposed big cuts to the state budget, but he notified lawmakers last week that they don't have to happen if the federal government comes through with money the state could use to plug its fiscal hole.
The $1.3 billion number Gibbons cited in a letter was not just pulled out of a hat, although it is quite preliminary, according to the proposal that has just passed its first vote, in a U.S. House of Representatives committee.
Under that proposal, nearly $200 billion in federal stimulus funds would go directly to states, said Budget Director Andrew Clinger, citing a breakdown the state received from a subscription-only information service.
According to Clinger's information, Nevada would get $521 million in state fiscal stabilization funds, money explicitly intended for just what Gibbons hopes to use it for: patching holes in state budgets.
Although Clinger said he was prohibited from distributing the document he was working from, the numbers he provided were not too far off those in a handout from the House Appropriations Committee.
Of that amount, at least 61 percent would be required to go toward education. Since Gibbons' budget took a hatchet to the state's university system — it would require cutting UNLV and UNR approximately in half — the federal dollars could be used to reverse those proposed cuts.
According to Clinger, other funds Nevada could be in line for under the bill include:
•$218 million for highways;
•$198 million in federal matching funds for Medicaid;
•$81 million for K-12 school repair;
•$78 million for special education;
•$75 million in Title I K-12 education funding;
•$33 million in weatherization grants;
•$30 million in clean water funds;
•$29 million for energy programs;
•$15 million in child care funding;
•Multimillion-dollar allocations for educational technology, community service block grants and employment and job training services.
Gibbons spokesman Daniel Burns said the governor's focus now is on lobbying the state's congressional delegation to "make sure the legislation has as few strings attached as possible," so the state can spend the money the way it wants to. Gibbons has been urging the state's members of Congress to support the stimulus bill, Burns said.
The Democratic proposal does not yet have the support of Sen. John Ensign or Rep. Dean Heller, the state's Republican representatives.
Burns said Gibbons' support for federal handouts for Nevada doesn't violate the Republican governor's fiscally conservative ideals.
"I know there are those who say this is some sort of state welfare bill," Burns said. "We look at the federal money as tax dollars that came from us in the first place. That's our money coming back to us, and we should have a voice in how it gets spent."
Contact reporter Molly Ball at mball @reviewjournal.com or 702-387-2919.