Republicans wrangle over who should challenge Horsford
February 19, 2014 - 3:43 pm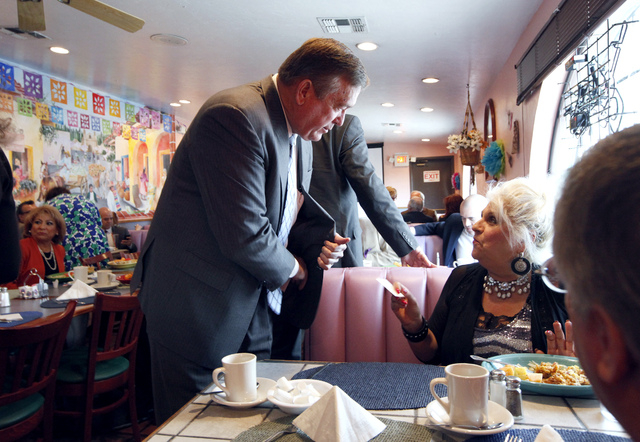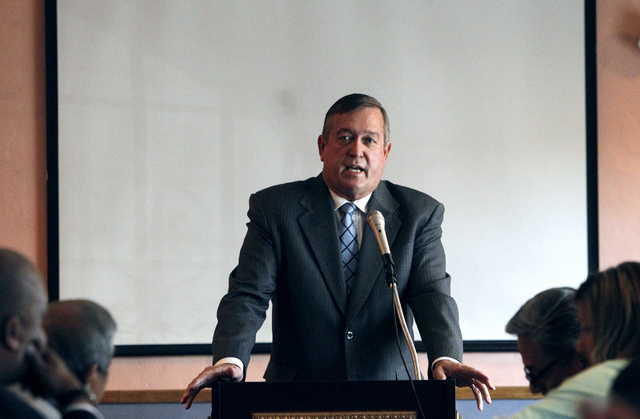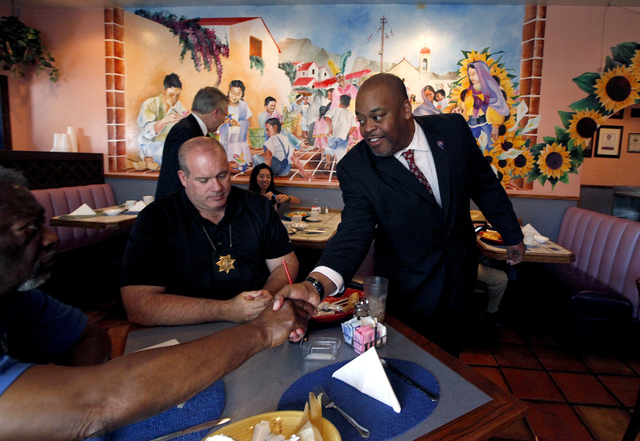 At a Hispanic forum Wednesday, the two Republicans vying for the right to challenge U.S Rep. Steven Horsford, D-Nev., in November came out against a Senate immigration reform bill, same-sex marriage and extending unemployment insurance, but differed on whether Nevada should retain early voting.
Both Assemblyman Cresent Hardy, R-Mesquite, and civil rights advocate Niger Innis said they oppose a Senate bill on comprehensive immigration reform. Yet each also said he supports providing undocumented immigrants the chance to legally live here while offering a path to U.S. citizenship for certain people — the young brought to the United States by their parents or those who serve honorably in the military.
"I don't think it went far enough," Hardy said of the Senate bill, adding he wants to secure the border first. "I do support a pathway" to legalization for most adult illegal immigrants and citizenship for their children. "They should have that opportunity to obtain citizenship."
Innis said any undocumented immigrant who serves in the military "sacrificing their lives and their limbs deserve to be a citizen tomorrow."
Innis has put together a comprehensive immigration reform plan, which he developed when he worked for TeaParty.net. He consulted with numerous GOP leaders, from U.S. Sen. Marco Rubio, R-Fla., to former Florida Gov. Jeb Bush, he said. The plan involves allowing most of the 11 million undocumented immigrants in the United States to become legal and offers citizenship to limited groups of people.
"I believe in comprehensive immigration reform," Innis said. "Legalization is the biggest part of it."
Hardy and Innis made their remarks at a breakfast put on by Hispanics in Politics. The forum was not a debate so each candidate was allowed to make opening remarks before taking questions from the audience of more than 70 people at the Dona Maria Tamales Restaurant in downtown Las Vegas.
"We do ask that we keep things as civil as we can," Fernando Romero, president of Hispanics in Politics, said before the candidates separately took the podium. "Please do not make accusations."
As a result, neither candidate criticized the other, making for a tame affair.
Both candidates, however, did attack Horsford, the freshman incumbent, using the same accusation: that he's a puppet of Democratic President Barack Obama, U.S. Sen. Harry Reid, D-Nev., and House Minority Leader Nancy Pelosi, D-Calif.
"We're teetering on the edge of fiscal ruin," Hardy said after accusing Horsford of voting with Pelosi and Reid and following Obama.
"Cresent's right," Innis said. "He's part of the Obama-Reid-Pelosi Democratic regime."
National Democrats, who are closely watching the congressional race, slammed Innis and Hardy for opposing the bipartisan Senate immigration bill "and the billions in additional border security resources it provides,"
"Washington Republicans are opposed to moving forward with reasonable solutions to reform our immigration system, and Niger Innis and Cresent Hardy would only make things worse," said Tyrone Gayle of the Democratic Congressional Campaign Committee. "Their joint appearance this morning begs the question: will they stand up to the Tea Party and support the Senate's bipartisan solution that helps grow the economy, creates jobs, and provides a pathway to citizenship? Or will they continue to provide nothing but empty rhetoric and misguided solutions?"
On another topic, neither Innis nor Hardy said they supported gay marriage. Instead, they both said they believe marriage is between a man and a woman.
Innis said government should stay out of private lives, but he said homosexual couples should be satisfied with civil unions.
"I do believe that civil unions should have all the same rights as a marriage," said Innis, who grew up in Harlem where he said the "breakdown of the family" caused problems such as high crime and drug use.
Hardy said he voted against same sex marriage for religious reasons. He's a member of the Church of Jesus Christ of Latter-day Saints.
"I do believe children should be brought up with a father and a mother," Hardy said, adding he "loves the individual" but disagrees with homosexuality.
Both Innis and Hardy also said they don't support extending unemployment benefits or raising the minimum wage, although Innis said he could back indexing the lowest wage to inflation so it's flexible.
Hardy, who worked in construction for a couple of decades, said he had laid off employees who refused to return to work because it would only last two or three months and they'd rather stay on unemployment.
"That's sad that people want to stay on unemployment," Hardy said.
Innis said extending unemployment benefits won't help the economy.
"The ultimate solution to someone who is unemployed is not more unemployment, but a job," Innis said.
In one area of disagreement, Hardy said he opposes early voting in Nevada and once sponsored a bill to get rid of it. He said he didn't like the fact that unions bus voters to the polls to "force people to vote when they don't have to." That often benefits Democrats instead of Republicans.
Innis said he doesn't like early voting, but would not reverse the law since many senior citizens and busy families rely on the flexibility to cast their ballots before Election Day.
"I'm not going to reverse it," Innis said.
Hardy was asked what he meant when he once said the nation's safety net should be reserved "for those who need it most."
Hardy said he didn't want to see people collect welfare when they are no longer in need.
"If somebody pulls up in a welfare district in a big fancy Escalade, do you think they need welfare at that time?" Hardy asked. "I believe what the founding fathers said: 'We're entitled to equal rights, not equal things.'"
Hardy said he was the best person to represent Congressional District 4 because he's a fifth generation Nevadan who knows the state. The district stretches across urban North Las Vegas in Clark County and all or part of six rural counties.
"I believe I'm the candidate who can win this race," said Hardy, who has been endorsed by GOP Gov. Brian Sandoval and other top Republicans.
Innis argued he wouldn't be beholden to any party or person if elected. He joked he was a seventh generation Nevadan, then said he came to Nevada in 2007 to help the needy on energy issues. He stayed and opened a business that teaches immigrants English and the Constitution.
"I'm going to be an independent choice for my constituents," Innis said. "I'm obviously not the choice of the Republican establishment."
Contact reporter Laura Myers at lmyers@reviewjournal.com or 702-387-2919. Follow her on Twitter @lmyerslvrj.