Retired Las Vegas officer wants you to feel safe when buying gun safe
November 18, 2013 - 8:05 am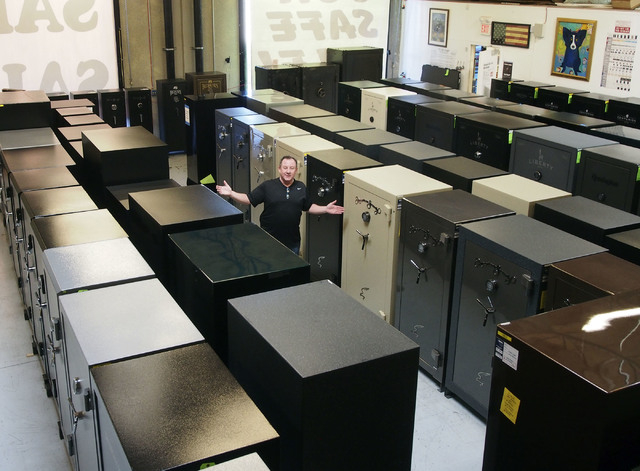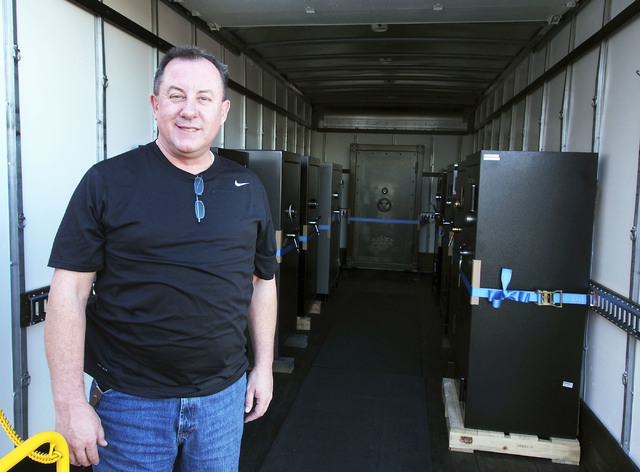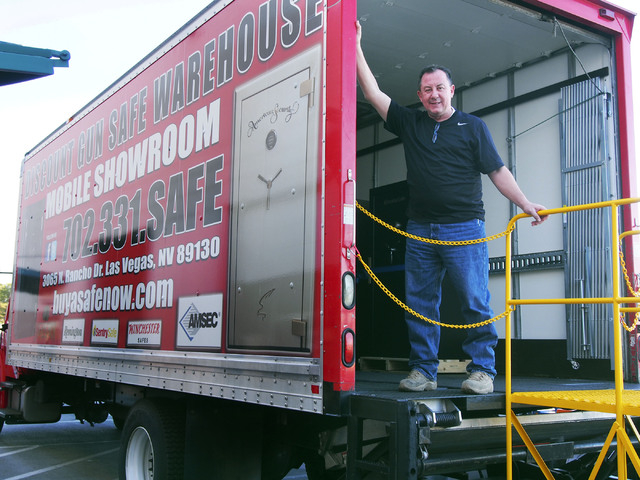 Anyone interested in buying a gun safe in Las Vegas would be hard-pressed to find a more reputable seller than Jim Dillon.
The former Las Vegas police captain retired in 2010 exactly 30 years after joining the department. But the 56-year-old, whom friends call "JD," wasn't done working.
He opened Discount Gun Safe Warehouse last year at 3065 N. Rancho Drive, pouring his retirement funds into the idea of a store with an enormous selection, no sales pressure and a top-rate delivery service.
He sells safes from five companies. His warehouse displays 500 safes and 90 different models. It's already the largest gun safe store in Nevada, Dillon said.
"All the safe companies in Southern Nevada put together don't have this selection," Dillon said. "We're the largest, and now we're trying to be the best and most successful."
Dillon already made a career for himself as a successful police officer. Of his 30 years, 23 were as a supervisor. He was a captain his last nine years, notably overseeing the O.J. Simpson robbery investigation and the New York-New York casino shooting while head of the robbery/homicide bureau in 2007.
He finished his career as commander of the training bureau.
"It was a great career, but I was tired of the corporate structure and the grind," he said. "I said if I'm going to do something, I'm going to do it on my own."
This was actually Dillon's second foray into the safe-selling business. While he was still at the department in 2007, Dillon ran a home business selling Winchester safes to local police officers and their close friends.
In his first go-round, he had 15 safes delivered to his home on a Friday. They were all gone the next afternoon.
Police officers are typically very cautious about where and with whom they do business, he said. Most people recommend businesses to their friends, but cops "do it at even a more intense level," he said.
His early success hooked him.
Dillon said he was inspired after a series of bad personal purchases. In all four of his safe buys in 20 years, Dillon said he was disappointed by a variety of factors — bad selection, jacked-up prices and dishonest salesmen.
But the kicker came on his fourth purchase, when Dillon noticed jailhouse tattoos on the arms of a man who delivered his safe.
"I questioned the delivery team and found out they were ex-convicts. Felony crimes," he said. "These people were delivering my safe into my home. And that can lead to tragedy days, or weeks, or months later."
Hiring dependable employees his customers can trust is now one of Dillon's biggest selling points, and he surrounded himself with a good team.
His girlfriend, Cheri Bingham, retired after 31 years at the department. She finished her career as director of the department's evidence vault.
Doug Gohr, who had 25 years of experience as a police officer on the East Coast and 20 more years in Las Vegas with Bingham in the evidence vault, also works at the store.
In addition to ex-officers, Dillon — a former Air Force airman — tries to hire veterans. All of his part-time employees undergo extensive background checks and are subject to random drug tests, he said.
"No other safe company in Nevada does that. Nobody," he said.
He also hosts concealed carry classes in his store.
The instructors are Las Vegas police firearm instructors working with Old Sheepdog Defense.
"There's a lot of people out there teaching CCW classes, but only a couple active-duty Metro police officers who are firearms instructors," he said.
Dillon said he realizes the risk of starting a business. He knows the small-business failure rate.
But he's been in Las Vegas for decades, having joined the department after nearly four years as an airman at Nellis Air Force Base.
He knows the security industry, he knows safes and he has the credentials. Former Sheriff Bill Young bought a safe from Dillon, although current Sheriff Doug Gillespie — who was in Dillon's academy class and is a former roommate — hasn't yet made a purchase, he said.
"I know the risks, and that's why I wanted to start with the best selection and the best business. In 15 months being open, I'm very proud. We're changing the game in Southern Nevada," he said.
"It's not that I'm working at some safe company. I created this, and I've worked very, very hard. There's life after our public service careers, depending on what you want to do."
Contact reporter Mike Blasky at mblasky@reviewjournal.com. Follow @blasky on Twitter.