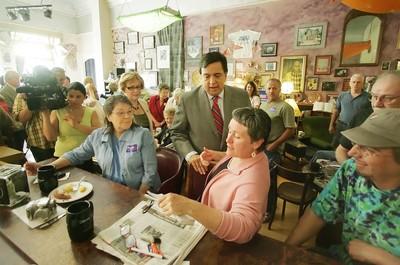 CARSON CITY — Democratic presidential candidate Bill Richardson told a crowd packed into a sweltering coffee house Monday that every American deserves the kind of health care coverage that the president and Congress receive.
Richardson, the governor of New Mexico, acknowledged he is an underdog in the race, but urged people not to vote "for the rock star" or the candidate with the most money, but the "one with the most experience."
"We have paid dearly for a president who didn't know foreign policy," added Richardson, the former ambassador to the United Nations.
He underscored his experience for the crowd of about 100 at Comma Coffee by saying he had just returned two weeks ago from North Korea where he discussed moves to shut down the country's nuclear reactor.
Over the years, Richardson has visited some of America's top foes and made unilateral efforts toward peace and the release of prisoners. He returned from North Korea with the remains of six American servicemen killed during the Korean War.
Monday marked his fifth visit to Northern Nevada this year. He made four stops during the day in Carson City, including one that involved chatting with Democratic leaders in the Legislature. He then flew to Las Vegas for two campaign events in the valley.
While noting the United States has a $8.8 trillion deficit, Richardson said universal health care must be implemented — without creating new bureaucracy. He proposed a system to allow Americans to continue receiving health care insurance through their current companies if they wish.
Others who can afford it would pay a health care tax. People without means would receive a tax credit to cover their health care insurance costs. Medicare should be made available for people 55 and over, he added. People now must be 65 to qualify for Medicare.
He added that 31 percent of the $2 billion the federal government now spends on health care goes to bureaucracy.
"It has to go into direct care," Richardson said.
As has been the case with other Democrat candidates, Richardson began his speech by calling for an end to the war in Iraq.
But, he said, before the United States leaves Iraq, the government there must have the ability to defend itself. He suggested the country be divided into sections.
"We have to get the ethnic and religious groups together and maybe divide up the territory."
Richardson said a new international coalition, which includes Muslim nations, must be created to help rebuild Iraq.
"America is not going to do it alone anymore," he said. "We are going to be part of an international solution."
He was the fifth Democratic presidential candidate to visit Comma Coffee, located directly across from the state Legislature.
The owner of the coffee shop, June Joplin, has two sons who served in the war in Iraq and Afghanistan, and she has organized weekly protests against the war in front of the Legislature.
Joplin also said she is nonpartisan and would welcome Republican candidates to visit her coffee shop.
"This is what a coffee house is supposed to be," she said. "People need a place to come and connect. This is a place to play checkers and talk to people of various ages. That is what I wanted it to be."
Darline Harper and five of her friends greeted Richardson and them watched him deliver his 15-minute speech from a table where they regularly play mah-jongg.
"This has been great," said Harper, adding the mah-jongg players have seen all five presidential candidates who visited the coffee house. "I like Richardson's credentials and, of course, I like the fact he is a Westerner. But I don't think he can do all the things he says he will do."
"Because of the money he doesn't have a chance," added Lynn Wuestenberg, another Comma Coffee regular.
State Archivist Guy Rocha said Sen. Barack Obama, D-Ill., (Richardson's "rock star") or Sen. Hillary Clinton, D-NY., (the candidate with the most money) "would have to stumble" for Richardson to have a chance at winning the nomination.
"If they do, he is the guy who can step in," Rocha added. "He will be the favorite son in the West. This is his turf."
Richardson said he is not concerned about being an underdog right now because the primaries, including Nevada's Jan. 19 caucus, are nine months away.
Richardson traveled to Las Vegas Monday evening, where he attended a fundraiser hosted by University Chancellor Jim Rogers and a rally of a grass-roots Hispanic group that supports his candidacy, Mi Familia Con Bill Richardson.