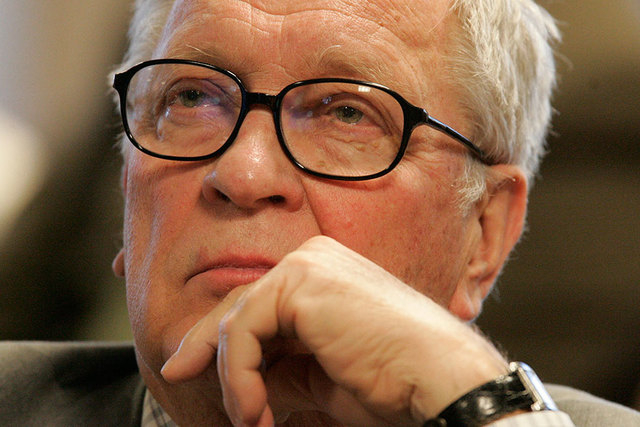 Obituaries are fine as far as they go, but the real news value isn't found in a person's death. It's how he lived that counts.
I was reminded of that after news of the death of KSNV-TV station owner and attorney Jim Rogers circulated through the local media. Rogers died Saturday. He was 75.
Given his personal style, I half expected Rogers to announce his own passing with one last firebrand editorial from beyond this world.
Rogers went 15 rounds with cancer. He was an even bigger battler on the subject of Nevada's shoddy education system. He invested his time and money into improving the status quo.
For that he was sometimes ridiculed, but his critics knew that they were taking on a scrapper when they duked it out with Rogers: He was sometimes in error, but never in doubt.
Late in his life, after his medical maladies began to slow him and the heyday of local television news had shown signs of waning, Rogers shook up TV 3 and transitioned the station to a news-first format. It wasn't a wise business strategy. I doubt it was a decision he would have made 20 years earlier. But late in his life Rogers clearly wanted to squeeze every ounce of the opportunity to make his voice heard and, in short, make a difference in the community.
If you didn't know where Rogers stood on topics ranging from education to taxation, you weren't paying attention. Lord but that man was loud.
But when he got behind a cause, he was tenacity defined. That was part of the charm of the hell-roaring fellow who turned the local NBC television affiliate into a bully pulpit.
Given to expensive collections — from cars to Hollywood Western memorabilia — Rogers was a man of diverse tastes. Travelers through Lone Pine, Calif., will find a museum and theater dedicated to the Golden Age of the Hollywood Western, underwritten by Rogers.
He could be a bear to work for — reporters with messy desks or unwashed automobiles ran the risk of suspension — but late in his life he also saw TV news as more than a collection of fire and murder stories. He was willing to invest at a time others were cutting and running.
A memorial celebration for Rogers is set for 4 p.m. Saturday at UNLV's Artemus W. Ham Hall.
I hope Rogers rests in peace.
But given his remarkably loud life, what do you suppose the odds are of that happening?
HOA SHOWDOWN: Homeowners association scandal bit player Kenneth Allen is due for sentencing today in U.S. District Judge Gloria Navarro's courtroom, but it could be an even bigger day for Leon Benzer, the central figure under indictment in the ongoing FBI fraud investigation.
If Allen receives more than a year, it could bode ill for Benzer, who if convicted figures to face a stiff sentence.
SWEET CAROLYN: It's a week to acknowledge the passing of remarkable characters, and I'd be remiss if I didn't pay tribute to a lady of the first rank, Carolyn Trelease. During her working days she was known as a top-notch legal secretary for future state Supreme Court Justice David Zenoff and the wife of the late city official Art Trelease. A Las Vegas High graduate, Carolyn attended the now-Historic Fifth Street School and was proud of her ties to the local schools.
In one of countless projects during her retirement life, Carolyn took a shine to a certain local kid with childhood cancer and became a favorite aunt, bolstering the girl's spirits through a difficult decade.
Carolyn was a genuinely fine and good soul.
VIVA JACKIE: The Vegas history-loving owners of the El Cortez have created a memorabilia-laced exhibit as a tribute to the late casino man Jackie Gaughan. Jackie would be proud. Of course, he would give people free key chains and slot coupons for checking out the exhibit, but that's the kind of guy he was.
Speaking of Jackie, thanks to former casino man Bernie Sindler the East Las Vegas Center has renamed its poker room in his honor. Jackie played his last Hold 'em hands in that friendly confines.
ON THE BOULEVARD: The late gaming attorney Bob Faiss was remembered by friends and family this past week. UNLV history professor Michael Green, who interviewed Faiss for an oral history that turned out to be just as humble and understated as the man himself, said, "Bob Faiss was a towering figure in Nevada's history, and he would be the last person to say so." … Casino baron Steve Wynn is being featured in an upcoming story in Success magazine. … The story is still developing, but it looks like the fingerprints of longtime political phone bank operative Tony Dane are on the shenanigans associated with a couple of district court races.
Have an item for Bard of the Boulevard? Email comments and contributions to jsmith@reviewjournal.com or call 702-383-0295.