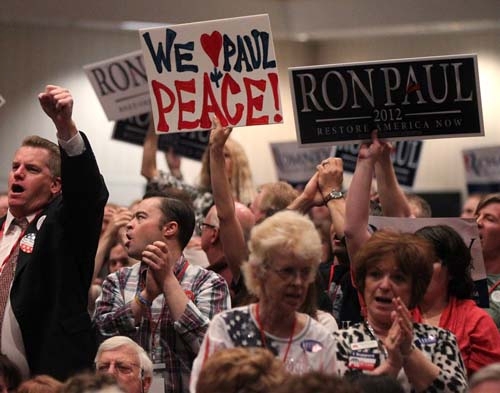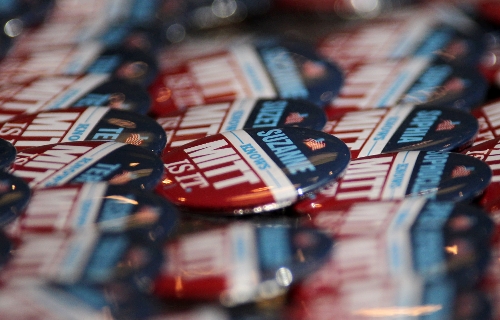 TAMPA, Fla. – Forget Isaac, the tropical storm that forced GOP officials to delay until Tuesday the opening of the Republican National Convention.
The real storm threatening Tampa is churning inside Nevada's Republican delegation.
The state's 28 delegates plus alternates attending the national convention have been buffeted for months by political tempests tearing the party apart.
Supporters of U.S. Rep. Ron Paul of Texas have packed the Nevada Republican Party and the convention delegation. Against the odds, they're hoping to nominate the congressman from the floor for president, although Mitt Romney is the GOP nominee-in-waiting who will face President Barack Obama in the Nov. 6 election.
After organizing for years, Paul backers have taken over the Clark County Republican Party, which is at war with the Washoe County Republican Party, which has filed papers to separate from the state GOP.
One happy family Nevada Republicans are not, as they arrive at the party's marquee event where activists meet every four years to give their presidential nominee a celebratory send-off.
"The party's in turmoil right now; that's just a fact," said Wayne Terhune, a longtime Paul supporter from Washoe County and the elected chairman of the Nevada delegation. "It's a very interesting situation. I'm not sure what's going to happen. It's politics. It's power play stuff."
Four years ago, supporters of Paul's 2008 presidential candidacy were literally shut down at the state GOP convention as establishment leaders ended the meeting to prevent a takeover. In the end, only four Paul delegates from Nevada were seated at the national convention, and his backers vowed to take over the party from within.
To some extent, they succeeded. Romney won Nevada's Feb. 4 GOP presidential caucus with 50 percent of the popular vote while Paul came in third. After all other Republicans dropped out of the race, Romney was awarded 20 delegates bound to vote for him at the national convention and Paul won eight delegates.
At the Nevada Republican Convention in May, however, Paul delegates dominated the meeting and elected most of the delegates. As a result, about 22 of the 28 Nevada delegates attending the national convention are really Paul supporters, although all but eight must vote for Romney on the first nominating ballot.
Cindy Lake, chairwoman of the Clark County Republican Party, is a Paul backer who will be allowed to vote for the Texas congressman.
Carl Bunce, vice chairman of the Clark County GOP and Paul's Nevada campaign chairman, is required to vote for Romney on the first ballot. Bunce said he will follow the rules.
But Lake and Bunce are among those leading the effort to nominate Paul from the floor. They've got a notarized list showing support from more than half of the Nevada delegates, the first requirement to nominate from the floor. The rules, however, require at least five states to have a majority of its delegates back a candidate in order to formally nominate him or her from the convention floor.
The Romney campaign and his backers on the Republican National Committee spent the past few weeks and days leading up to the convention negotiating, using legal maneuvers and changing the rules to remove or unseat Paul delegates from other states, including Louisiana, Maine, Massachusetts, Oregon and Oklahoma.
As a result, the only states Paul appeared to control heading into the start of the convention were Nevada, Iowa and Minnesota.
On Tuesday , the convention plans the "roll of the states" vote on the presidential nomination to get any drama out of the way so Republicans can focus through Thursday on praising Romney and slamming Obama.
"The game plan from the Romney side is to attack our side and try to minimize our chances" of nominating Paul, Bunce said. "It's unfortunate they took those tactics. All we really want is respect for the process. We've played by the rules. Now we're being kind of choked out."
Lake said there's still "a glimmer of hope, a slight chance" the Nevada delegation will be able to nominate Paul anyway – and all eyes are sure to be on the Silver State to see what happens. If the move fails, Lake said some Paul supporters may go home angry and not work to help elect Romney.
"A lot of us have been working for four or five years for this man and his message and the movement," Lake said of the Paul Revolution. "And it would be nice if people were to stay motivated and understand that his message is getting louder and people are hearing us. And it hasn't been for nothing."
Romney, who long ago surpassed the 1,144 delegates needed to seal the nomination, will win in the end. Paul amassed about 175 delegates, according to an Associated Press count, during the GOP primary season.
PAUL'S SON TO SPEAK
Lake said Republicans have drifted away from Paul's values of broad democratic freedoms and limited constitutional government, although many of his ideas have been gaining ground in the GOP in the past few years. The GOP platform includes some of his proposals, including auditing the Federal Reserve, for example.
The national Republican Party, in a move to appease the Paul movement, plans to honor the 77-year-old Paul during a video tribute to him during the four-day convention in Tampa.
U.S. Sen. Rand Paul, R-Ken., also is scheduled to speak at the convention, although he is not as popular as his father and he endorsed Romney – something Congressman Paul did not.
Russ Schriefer, a senior strategist for Romney, said Friday the convention planners were trying to accommodate Paul acolytes and noted "there's a lot of mutual respect between" Romney and Paul.
"We know that not everybody is going to agree with us all the time," Schriefer said when asked whether Paul backers might disrupt the convention. "But I know in the end we will unite."
It's unclear, however, whether Paul backers will help Romney at the polls in states such as Nevada.
Lake, for example, said every­body is asking her what she will do as chairman of the Clark County GOP.
"I just can't answer that at this point," said Lake, although she added she is dedicated to the Republican Party. "We want to get all of the Republican candidates that we can elected at the state and local offices. As far as commenting on Romney, I'm bound to Ron Paul. He's still my candidate for now."
Bunce said he'll stay active in the party going forward, too, no matter what. That could mean backing Rand Paul in the future as a presidential candidate or a Ronald Reagan-like Republican, he said.
"We're going to stick it out," Bunce said of the Paul brigade. "We're going to let them know we're not going to go away. We're the only growing part of the Republican Party right now. There are a lot of Ron Paul Republicans now. There's nobody racing to become a Mitt Romney Republican."
Although Ron Paul won't be speaking at the convention, his supporters will hear him at a special daytime rally on Sunday when he'll address up to 12,000 people inside the Sun Dome at the University of South Florida.
"You're going to see a lot of different flavors of Republicans," Bunce said. "Sunday's going to be a ball."
DIVIDED NEVADANS
In Nevada, the party divisions could complicate efforts to elect Romney over Obama, who won the state four years ago by 12 percentage points. This year, Obama is running neck and neck with Romney in most Nevada polls or just ahead of his GOP challenger, making the Nov. 6 race too close to call.
The Democratic Party has a well-run, coordinated effort across the state, from populous Clark County around Las Vegas to the swing Washoe County up north and throughout rural Nevada, which leans Republican.
The Republican Party, on the other hand, appears to be working at cross purposes at times.
The Clark County GOP is run by Paul supporters, who have recently objected to the Washoe County GOP's effort to form a separate organization from the state party. Washoe County asked the Federal Election Commission to organize separately so it can raise its own money to support federal campaigns.
Dave Buell, chairman of the Washoe County GOP, said his sole intention is to allow his party organization to raise the maximum $10,000 from separate groups instead of having to share the money with the state party.
Buell said infighting is coming from only a handful of Paul activists and, overall, Republicans are on the same page, intent on electing Romney and GOP candidates in key Senate, House and legislative races.
"All this other stuff is just a sideshow," Buell said of the Paul rabble-rousers. "They're going to do what they're going to do. I'm hoping that after the convention, we come back and get to work electing Republicans."
Michael McDonald, chairman of the state Republican Party, is working closely with the Romney campaign and the Republican National Committee running "Team Nevada" offices. But he doesn't appear to have any influence with the Clark County or Washoe County parties, which are going their own ways.
Nonetheless, McDonald said he's making the best of a difficult situation, focusing on traveling across the state to encourage Republicans to register voters, knock on doors and raise money to win in November.
"We have our shared goals as the Republican Party set," said McDonald, who may stay home from the national convention to care for his ailing father. "I'm optimistic always. I have to be."
Heidi Smith, an outgoing Republican National Committee­woman, said she's prepared for the Paul contingent to try and roil the political waters in Tampa – just as she's prepared to face possible stormy weather.
Tropical Storm Isaac is threatening to affect the convention city and may grow into a hurricane.
Smith said she bought four rain ponchos, since umbrellas aren't allowed at the convention.
"We knew it was coming and there was no way to stop it," Smith said, referring to the Paul nominating effort and not the storm. "Are they going to play nice? You've got to be kidding. They're going to do what they're going to do. It doesn't change anything. We're still working for Romney here in Nevada."
Contact Laura Myers at lmyers@review
journal.com or 702-387-2919. Follow @lmyerslvrj on Twitter.