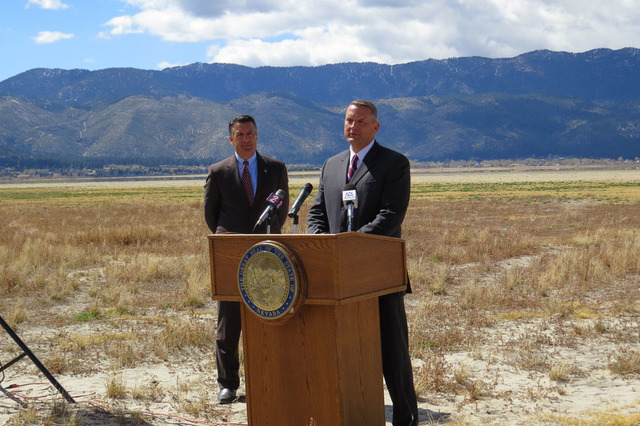 WASHOE LAKE STATE PARK — Gov. Brian Sandoval stood on the dusty shore of a shrinking lake bed Wednesday to sign an executive order creating a forum to study Nevada's lingering drought and recommend state policies.
Sandoval, joined by state and local government water officials, said the Nevada Drought Forum, comprising water managers and climate experts from around the state, will craft a blueprint on best practices for water use and conservation.
The Republican governor stressed Nevada is not in the dire straits as its neighbor to the west, where California Gov. Jerry Brown last week ordered a mandatory 25 percent reduction in water use.
"This is not California," Sandoval said, adding that as the driest state in the nation, Nevada is familiar with drought and has taken steps to curb water use and encourage conservation.
He said he feels "really good about what we're doing" but added the state needs to plan for the future because no one can predict how long the drought will continue.
Sandoval spoke at Washoe Lake State Park north of Carson City. The lake in scenic Washoe Valley on the east side of the Carson Range has withered in size in the past four years.
Once about 2 miles wide and 4 miles long, it now measures about one-quarter-mile square and is only a few inches deep. Sandoval stood at a podium that in normal years would be covered in 3 feet of water.
Northern Nevada is in its fourth year of drought, with last winter being the driest on record. Snowpack in the Sierra Nevada that feeds rivers, lakes and streams was a miniscule 3 percent of normal.
John Entsminger, general manager of the Southern Nevada Water Authority, said Nevada is very familiar with drought, noting that Clark County, which receives most of its water from the Colorado River feeding into Lake Mead, has been under drought conditions for 15 years.
Still, he said, the region, home to about 2 million residents and 40 million visitors annually, has managed to cut water usage through efficient landscaping, low-flow appliances and recycling gray water.
Entsminger said Southern Nevada uses 40 percent less water than it did 15 years ago despite a growing population.
"Nevada is a poster child for the rest of the nation," he said.
But the region continues to plan, and Entsminger touted the water authority's $1.5 billion third intake draw to be able to continue to pump water from Lake Mead should the lake's level continue to recede.
"Nevada's been doing things," he said. "We're not at the point of an emergency."
He said the goal of the forum is to "bring real-world, pragmatic solutions to the governor by the end of this year."
In Northern Nevada, Truckee Meadows Water Authority General Manager Mark Foree said the Reno-Sparks area has enough upstream reservoir storage to meet water demands.
Still, the water authority has asked residents to cut back water usage by 10 percent.
Foree said that would save the region 5,000 acre-feet of water this summer.
Lake Tahoe, a majestic alpine lake that feeds the Truckee River, dropped below its natural rim in the fall and is not expected to rise above the rim this summer.
Despite signs of relief that Nevada is not on the brink of a water disaster, Sandoval said coming up with a long-range plan will not be easy and will require input from residents, farmers, ranchers, utility managers, wildlife officials, climate experts and water managers.